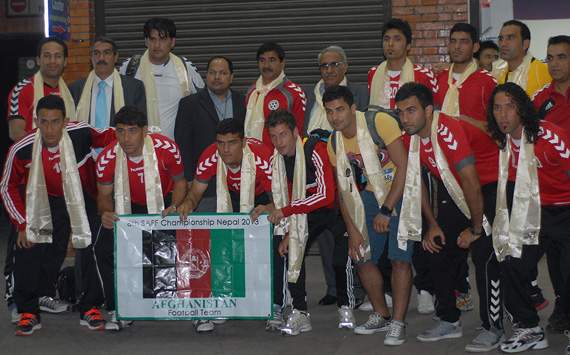 COUNTRY NAME:
Afghanistan
GROUP:
B (along with Maldives, Bhutan, Sri Lanka)
ADMINISTRATIVE BODY:
Afghanistan Football Federation (AFF)
FIFA RANKING:
139
NICKNAME:
Lions of Khorasan
Last Official Match Played:
Afghanistan 3-0 Pakistan (20th August 2013)
History And Team Highlights

For a country that has been plagued by political turmoil for so long, Afghanistan has a rich footballing heritage, being one of the founder members of the Asian Football Confederation (AFC) in 1954.
The AFF was actually formed way back in 1922, and officially joined FIFA in 1948, having played their first international game in 1941. They played in the preliminary round of the 1948 London Olympics but lost toLuxembourg 0-6. In the 1951 Asian Games they finished fourth out of the six participating nations after getting a bye in their quarter final. However a soviet invasion, followed by the Taliban regime meant that the Lions of Khorasan could never establish themselves in world football.
In fact after their participation in the qualifying campaign for the 1984 Asian Cup they did not play a single match till 2002. Afghanistan returned to the international stage at the 2002 Busan Asian Games and initially were at the end of some poor results, but in due course, showed signs of recovery.
This has been mirrored in the SAFF Championship, where they have gone from being the initial lightweights, to 2011 finalists.
A sign of their improvement is that they have now qualified for the main AFC Challenge Cup, a tournament that India failed to make the cut for. With a FIFA rank of 139, they are also the highest ranked team in the competition, and warmed up for the tournament by playing their first home game in ten years, and thrashing Pakistan 3-0, in-front of a packed home crowd.
SAFF Championship
Due to the issues documented above, the country did not participate in the SAFF Championship until 2003, where they lost all of their three games to Pakistan, India and Sri Lanka, finishing rock bottom. It was also their worst performance in the competition.
In 2005, they registered their first ever win in the tournament, beating Sri Lanka, and thus finished third in their group, while in 2008 they drew against their group winners Sri Lanka, as well as Bangladesh, but still finished fourth, on goal difference.
2009 saw a downturn in their performance, as they yet again lost all three of their games, to finish last.
However it was the 2011 competition that led to an improvement in their status in International football, as they reached all the way to the final, and were holding India to a 0-0 draw, until a penalty was awarded against them, and eventually ended up losing 4-0.
2013 SAFF Championship Preliminary Squad
Goalkeepers:
Hamidullah Yosufzai, Mansur Faqiryar,Bashir Daman
Defenders:
Ali Ahmad Yarzada, Muqadar Qazizadah,Johib Islam Amiri,Mujtaba Faiz, Faisal Sakhizada, Fardeen Shaiwany
Midfielders:
Wahid Nadim, Rafi Barekzai,Eta Yamrali, Mohammad Mashriqi, Mustafa Azadzoy,Ahmad Arash Hatifie,Sabur Khalili
Forwards:
Hamidullah Karimi, Hashmatullah Barakzai, Sandjar Ahmadi, Balal Arezou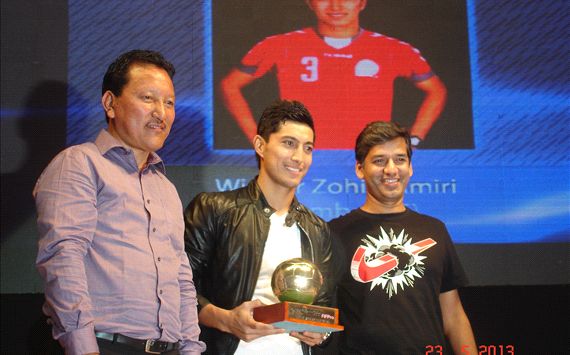 Zohib Islam Amiri –
The defender, who has become a fan favourite during his stint with Mumbai FC, is also the most capped player of Afghanistan, with 31 caps. In his time in the I-League, he has become known for his versatility, playing at centre-back, left-back and midfield. He is also an integral part of the national team, bringing a wealth of experience and quality to the side. If the team reach the latter stages of the competition, and as per the player's wish, face-off against India in the final, his know-how of the players and the playing philosophy of the Blue Tigers, could prove to be vital to his team's chances of glory.
Mohammad Mashriqi –
The attacking midfielder is another player who has spent some time in India, playing for Bhawanipore in their second division campaign last season. The 26 year old, who had a successful trial at PSG as a kid, only to stop short of signing for the club due to personal reasons, is the player through whom most of the Afghanistan attacks are conducted. The player, who even represented United States of America at the age-group level, before switching to the country for whom his father also player International football, is responsible for a quick switch of play and helps bring the forwards like Balal Arezou into the game.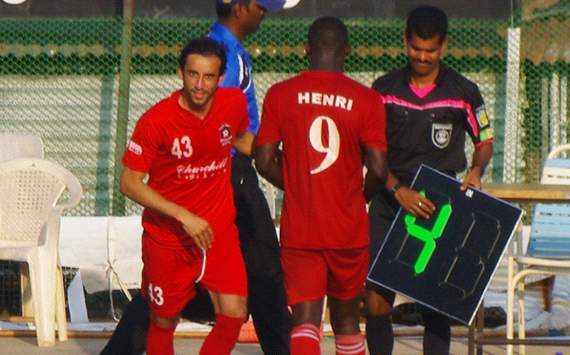 Balal Arezou –
The striker's inclusion means that all three of Afghanistan's players to watch have previous I-League experience. Arezou was ofcourse, a part of the Churchill Brothers team that won the league title last year. He has an outstanding record for his national team, scoring nine goals in ten appearances, with six of them coming in the last SAFF Championship, including one against India in the group stages.
If the Lions of Khorasan are to have any chance of winning the tournament or even reaching the final again, the striker will have to be in prime form.
How do you stay up with football when on the move? With http://m.goal.com –your best source for mobile coverage of the beautiful game.