India were last in action in two International Friendlies played in Siliguri in November against Philippines and Nepal. They drew 1-1 against the Filipinos while avenging the SAFF Cup loss by beating Nepal 2-0.
There has been a host of changes to the team that represented India at the SAFF championships with players like Balwant Singh and Amrinder Singh earning their first call-ups. Wim Koevermans addressed the media in Goa ahead the clash and had a lot of positive words about the team and the playing conditions.
"First of all, a big welcome to our friends from Bangladesh. We were looking to play a team after November and we are very happy that they are here. We played against them in the SAFF cup and it was a very exciting game, frustrating for them, because we equalized in the 93
rd
minute as this man (pointing to Sunil Chettri) scored a great free-kick. I expect tomorrow to be a huge competitive game, and we want to win."
The Dutchman went on to discuss the changes in the squad stating, "There are a few changes we have in the squad now and I'm very happy to have this team at the moment. It's a talented group, we have brought two guys in (Balwant Singh and Amrinder Singh) who are working for the first time with International players, and we will give them some time to play."
"We are looking forward to this game. The stadium and the ground is just wonderful, they have done a great job in the Lusofonia Games. They have renovated the stadium, the ground is in very good condition. We are very happy that we can play in Goa and of course we expect a good turnout from the crowd, so hopefully we can see a full stadium like we had in Siliguri" he said.
Koevermans hinted that the he might give one of the new players a chance in Wednesday's game and also stressed the importance of giving more play time to the youngsters in order for them to grow.
"We have already seen a few players who are showing good form and quality but we have to rely on how many times they play. Sometimes I see he plays one week and I don't see him for the next three weeks. So it's not based on one game, it's based on a couple of games, if they are showing good form then they might be called up," he explained.
As this is a World Cup year, Wim spoke about how difficult it is to arrange an International game because of the clubs' league schedule and unavailablity of dates.
"This is the only date before the World Cup and after that there are no FIFA friendlies and then we go into a period of the World Cup and I-league stops here, so it is very difficult to organise trips. The first FIFA week that we have is in September and because of the organisation in India, the IMG-Reliance and the I-league, I will have to see whether it's a good idea to start in September," he said.
He added, "[It] depends on IMG-Reliance and the I-league. If players don't have a series of competitive matches it is very difficult I think to organise matches. It's not easy".
Chettri was in a joyous mood ahead of the friendly and extremely happy at finally getting a chance to play on the lush green grass of the Fatorda Stadium.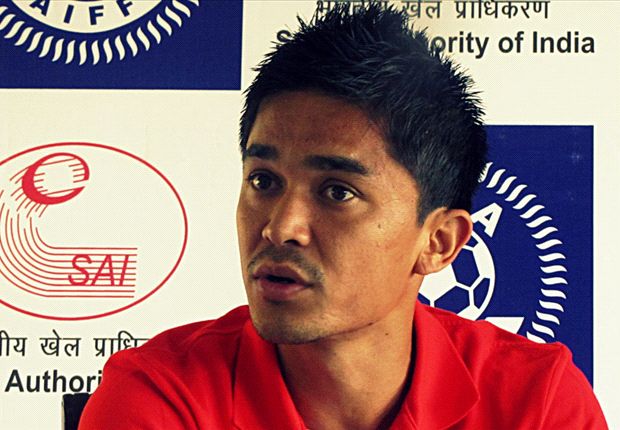 "We play 70% of our games on turf, which is not the ideal way to play. When you get a grass ground you feel really really good and we enjoyed yesterday's training even if the gaffer wanted to end it, we didn't want it to end. So we are looking forward to it, the ambience is great, just hope that a lot of people come and support us. Couldn't have asked for anything more," the Indian captain said.