After the cancellation of India's tour to England, the Blue Tigers' faithful were looking forward to the tie against Tajikistan, to gauge how much the national team had learned from its past ills.
However all that optimism was dashed in the 12th minute itself, as India conceded yet another early goal, with a second one following six minutes later, meaning that since the start of 2012, of the 10 games India has lost, in seven of them, India has conceded in the first half hour of play.
It should be noted that this is not an ill which was born during Wim Koevermans' reign, but rather one he inherited. The Dutchman though, has similarly failed in getting rid of the problem.
Under him, the side has largely had Gouramangi Moirangthem and Raju Gaikwad in central defense, with a double pivot of Lenny Rodrigues and Mehtab Hussain in front of them, though Subrata Paul, Subhashish Roychowdhury, Karanjit Singh and Sandip Nandy have all started in goal.
However this consistency in selection in midfield and defense has definitely not been matched by an improvement in results or in rectification of past errors.
What cannot be denied is that if India are to progress in the FIFA rankings and also be taken as a serious opponent by higher placed teams, this is the most obvious defect that must be addressed.
However how does Wim Koevermans do that?
An obvious alternative that has been offered is a change of personnel, but the Dutchman has largely stuck to a settled eleven, even though the results have steadily gone southwards.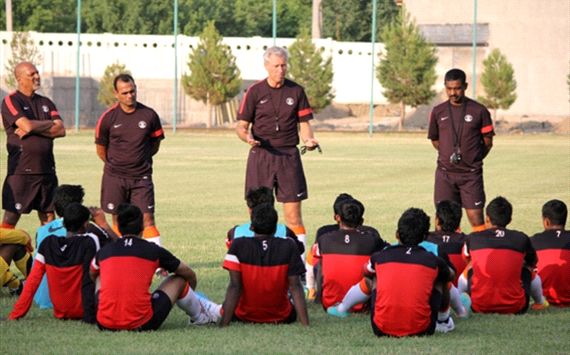 The need to play more friendlies
But as mentioned above, it's an issue that has plagued India for a long-time, and maybe what is needed is more regimented training under the head coach's tutelage, to iron out the flaws in the system, and further integrate the players in his playing philosophy.
However, having not qualified for the main edition of the AFC Challenge Cup, it might be a while before the Blue Tigers take part in a major tournament, after the SAFF Championship.
It thus becomes important that India starts utilizing the dates for international matches on the FIFA calendar, to give Koevermans the chance to correct this issue. But repeated pleas for sustained international exposure for the national team has fallen on deaf ears.
Since 2011, a total of 31 FIFA match days have been made available. India have played on just 6 of these days. In 2011 they played three games, in 2012 only one of the official FIFA days was made to count and in 2013, so far, India have made two. Paltry commitment.
The lack of international friendlies played by the Indian team has been a recurring theme since the days of Bob Houghton as national coach and continued on as tradition to his successors. All have lamented in the dearth of exposure the players have experienced at international level.
As the trend continues, the Blue Tigers will not only rue missed opportunities, but the spectre of improvement also diminishes. An important fallout to India's lack of international game time is evident in the team's performances. As, the team don't make FIFA match days, they lose vital practice.
Japan, Asia's footballing superpower, has made each and every FIFA match count apart from entering into their regional competitions.
While Koevermans' side are far from matching those levels, playing together regularly will help breed familiarity, which could help the team to rise above its present mediocre levels.
Even if India manages to win the SAFF Championship to be held in Nepal yet again, the All India Football Federation (AIFF), would do well to listen to their Dutch coach's pleas for a consistent road-map for the future, involving utilization of FIFA matchdays.
Else, India could look forward to being similarly dismantled and caught unawares by early raids of superior oppositions, whom they face only once or twice every year, as is the case as of now.
How do you stay up with football when on the move? With http://m.goal.com –your best source for mobile coverage of the beautiful game.