Sunil Chhetri, who was the top scorer for India at the SAFF Championship, hailed Bhaichung Bhutia ahead of what will be his final appearance in the national colours.
While Chhetri was disappointed on missing out on Bhaichung's farewell match against Bayern Munich due to an ankle injury, he was quick to add that he would be cheering from the stands.
"It's disappointing. He has always been my idol and the last time we played together in the Asian Cup against South Korea, I always felt we would be playing together again for the national team. But the situation is different now. For any Indian player it's a huge honour to be a part of the match. Unfortunately my injury forces me to sit out. My heart will stay on the field but I would be cheering from the stands," said Chhetri.
He also thanked his former skipper for teaching him a lot over the years and not only on the field but also his demeanour off the field.
"It's an endless list. But apart from the technical aspects, I have also learnt a lot off the field. The manner he has carried himself has been a lesson for me. The way he looks at and thinks about the game has accelerated my maturity as a player. I owe a lot to him. Apart from Bhaichung, Renedy Singh has also gone out of the way to help me evolve as a footballer."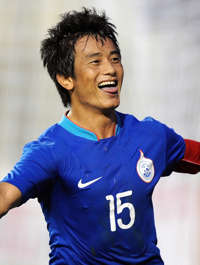 Indian Icon Bhaichung Bhutia Bids His Farewell


Chhetri could not pick up any single moment he cherished while playing with Bhaichung, and added that his presence was an inspiring one.
"There have been loads of moments, the memories of which I will carry forever. In the six-and-a-half years that I have played with him at the national team, we have won the Challenge Cup and two Nehru Cups. His presence has been an accelerating agent for the entire squad."
"It was very easy playing with him as he always makes one comfortable. It's his nature to encourage everybody and I was no exception. And we gelled well off the field too. Our mentalities matched, we loved to hang out together, dine together. For any advice, I just pick up my mobile and dial him. The telepathy just grew up."
"That's what makes him great. This is Jeje's (Lalpeklua) first match with Bhaichung but never for a moment has Bhaichung thrown his weight around."

Sunil also spoke about Bhaichung having a funny bone, and there too he had variety that one associates with his goals.
"I can tell you he is a big prankster. We all stayed on our toes as to when he would target us. I wish I could explain his pranks; and he always had the variety. Even Jeje hasn't been spared."

Chhetri concluded with a personal message to Bhutia saying,"You are an icon. You stay my idol, my role model. It was a privilege playing alongside you. Thank You for all what you have done for me."
Catch India vs Bayern Munich On January 10, 1800 IST Only On Ten Action!
How do you stay up to date with football when on the move? With http://m.goal.com – your best source for mobile coverage of the beautiful game!