NETHERLANDS
Stekelenburg: 6.5 – Made one magnificent save from Kaka's curling effort, but could do little with Robinho's goal. Left Dutch hearts in mouths when he made a mess of a near post corner as they were left holding on near the end.
Van der Wiel: 6 – Was run ragged early on, then picked up a suspension-inducing booking for diving. Lost concentration at times too, maybe showing inexperience, but did enough to help his side across the finish line.
Heitinga: 7 – Was excellent at the back as Netherlands kept a close eye on a powerful Brazil attack early on, and then fought like dogs to keep out their attempts at a rally at the end.
Ooijer: 7 – Came in at the 11th hour for Mathijsen and did a more than able job up against Luis Fabiano and the onrushing Kaka, making one particular great tackle on the No. 10 late on.
Van Bronckhorst: 6.5 – Made one excellent half-clearance to a bouncing ball as his side got stretched down their right yet again. His experience definitely served him well as he was able to deal with the dual threat of Maicon and Dani Alves.
Van Bommel: 7 – Not just the organiser at the base of midfield, as he nearly got on the end of a low Kuyt cross to equalise. But his main contribution was in setting his stall out to help his more attack minded team-mates and he did that to perfection.
De Jong: 7 – Tried his best to keep up with Brazil's sweeping football through the midfield, but was reduced to niggly fouls at times and was booked. Held his temper and his nerve towards the end to help his side over the finish line.
Robben: 7 – The early foul by Dani Alves suggested Brazil knew he was the main danger, the one by Gilberto Silva suggested he was a clear target. Failed on a couple of occasions to get a shot in early enough and wasted chances as a result, but was the perfect foil for man of the match Sneijder.
Sneijder: 8 – Will claim the first goal as his, but there was no doubt about the second as he exerted his influence on the second half and steered the game in the Netherlands' favour. His influence was clearly growing in the moments before the equaliser and he won't ever have scored a more pleasing header.
Kuyt: 7.5 – Had to work even harder than usual given his opposite number was Maicon, but was more than up for the challenge, setting up two of Netherlands' best chances in the first half. Later flicked on superbly to set up Sneijder's crucial second and was seen battling back to help the defence on countless occasions.
Van Persie: 6.5 – Reduced to the role of a target man role early on as Brazil dominated, but then led the charge early in the second period as Holland exposed the Selecao's defence.
Substitutes:
Huntelaar: N/A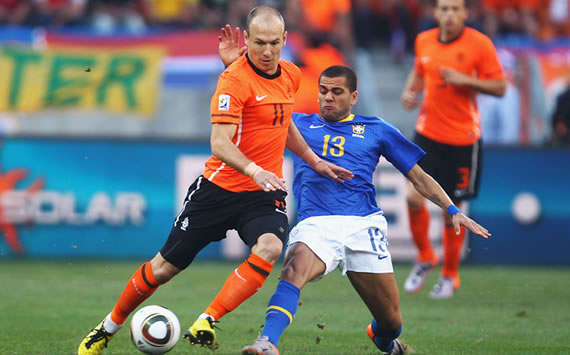 No man is an island | Robben was hassled and harried at every turn
BRAZIL
Julio Cesar: 5 – Not always as convincing as usual when tested in the first half, and completely misjudged club team-mate Wesley Sneijder's cross to allow the Netherlands to level. He will have nightmares about returning to Inter training to be reminded of the error, which turned the game.
Maicon: 6.5 – Tried to make his trademark runs down the right at regular intervals, but the final ball wasn't always there and when it was there were only Oranje defenders on hand. Cannot be faulted for his defensive performance.
Lucio: 6 – Was typical Lucio to begin with, but suddenly looked ill at ease when the Netherlands pushed early in the second half and was one of a collection of Brazilian statues as Sneijder headed in the winner.
Juan: 5 – Tough as boots at the back in the first half and almost a scorer from Dani Alves low cross. But after the break he suddenly looked vulnerable as Sneijder and Van Persie really got into the game, even nearly handing them a third when lingering on a loose ball.
Michel Bastos: 5 – Regularly struggled to read Robben's cuts inside and was lucky to remain on the pitch when he brought the winger down on the break when already on a yellow. No surprise that he was then replaced by Gilberto.
Felipe Melo: 4 – Charged around making many a silly foul early on before he misjudged Sneijder's cross and beat his own keeper. Then performed an even more ridiculous act to earn a fully deserved red card.
Gilberto Silva: 5.5 – Looked controlled enough in the first half but went missing as Netherlands got on top after the interval.
Dani Alves: 5.5 – Showed his fearlessness in his regular runs at the heart of the Dutch side, but too often failed to produce the killer final pass that Brazil so desperately needed.
Kaka: 6.5 – Seems to be getting his touch back, if not his outright top form. His great effort was well kept out by Stekelenburg, but his influence wasn't that of a player who was likely to pull his side out of their difficult corner late on.
Robinho: 7 – He'd already made two runs to warn Holland before being left unmarked to coolly fire him inside 10 minutes. Continued to be a threat throughout and will be disappointed that his team-mates didn't seize on the advantage he gave them.
Luis Fabiano: 6 – Showed his dogged, hard-working side during the first half, when his runs away from goal often led to better opportunities for his team-mates to exploit space, but in the second he was left with little support and replaced by Nilmar.
Substitutes:
Gilberto: 5.5 – Came on for Michel Bastos but was overrun by a Holland side who by that stage had whipped up a real enthusiasm to attack down the Brazil left.
Nilmar: N/A