BRAZIL
Julio Cesar: 6 – Forced into one real save of note from Suazo at his near post, other than which he had a fairly straight-forward evening thanks to his side's extended periods in possession.
Maicon: 6.5 – Used his sense of injustice in the right way by bouncing back from not getting a penalty call to whip in an excellent corner for Juan's opener. From there the game became a superb exhibition of football, exactly the environment in which Maicon looks at his very best.
Lucio: 7 – A real problem for Chile at both ends of the pitch as he was notoriously tough at the back and tricky at the other end. He will claim that Contreras' foul on him deserved a penalty.
Juan: 8 – To cap a superb defensive display, his magnificent header set Brazil on their way. He was vital in the Selecao's backline getting the better of the normally lively Chile attack.
Bastos: 7 – His ability to keep Sanchez under wraps was questioned in the build-up to the game, but he had the winger's number for most of the game. Even found the time to still get forward at times, and his crossing was sometimes excellent.
Gilberto Silva: 7 – The usual hard-working shift from the engine-room leader, who gets on with his job when all around are loving their football.
Ramires: 8.5 – A magnificent display which should have Dunga thinking twice about re-introducing Felipe Melo. His tackling was spot on, but his drives from midfield were magnificent, not least when he tore Chile apart before teeing up Robinho for the third goal.
Dani Alves: 6.5 – Seems more comfortable playing in a more advanced position, but sometimes that just means he gets more chances to waste. At his best when joining his side in one and two touch passing moves.
Kaka: 6.5 – His elegant first time pass put Luis Fabiano in for the second as he showed he's getting somewhere near his international peak again, though he still seems a touch short of his very best.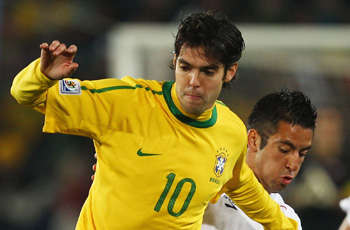 Robinho: 7.5 – His beautiful finish for the third capped off another in a string of excellent performances which probably continue to baffle club fans.
Luis Fabiano: 7 – After a couple of reasonable early efforts he managed to foil a great Brazil counter-attack with a foolish backheel, but seconds later got himself on the scoresheet when he coolly rounded Bravo after Kaka's touch. Always, but always a danger.
Subs:
Nilmar: NA
Kleberson: NA
Gilberto: NA
CHILE
Bravo: 6.5 – Couldn't really be blamed for any of the goals, though he could perhaps have stayed on his feet longer in the one-on-one with Luis Fabiano for the second. Made one or two saves which saved Chile from embarrassment.
Jara: 6 – Didn't look comfortable on the right in the first half, but his positional switch didn't make things any easier for him as Brazil continued to dominate.
Isla: 5.5 – Run ragged for the most part as he tried to keep up with Brazil's blistering attacks. Eventually beaten into submission and replaced by Millar.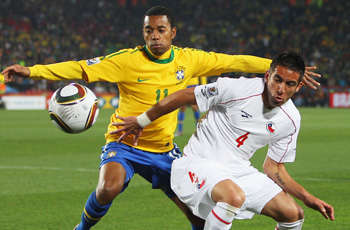 Contreras: 5 – Probably lucky not to concede a penalty when he fouled Lucio, and generally looked vulnerable whenever Brazil attacked before being replaced at the break.
Fuentes: 6 – Could hold his head up high after a brave performance despite the nature of Brazil's football making it difficult for the Chile backline at time.
Vidal: 6.5 – Was left to fight a losing battle as he attempted to stifle as much Brazil pressure as possible, but dealt with the task reasonably well for the most part.
Carmona: 6.5 – He and Vidal deserve credit for sticking to their tasks with important challenges as la Roja became increasingly overrun.
Beausejour: 7 – Never gave up trying to find the killer through-ball or provide the vital run as he attempted to keep his side in the game... even at 3-0.
Sanchez: 6 – Was nullified for the most part as Brazil limited la Roja to very little possession on the right hand side. When he had a rare chance to create in the first half he made the wrong choice when shooting despite having Suazo free on his right.
Suazo: 6.5 – Overhit a pass towards Beausejour when Chile broke early on, but was largely marked out of the game until he came close with a couple of efforts late on. Would have loved to see more of the ball as he seemed a true livewire when he got his rare opportunities.
Gonzalez: 5.5 – Did his best to limit Maicon's threat on the ball by putting him under pressure with his pace. However, he didn't always have the necessary final ball in him and his shooting was wayward at times. He paid for such ineffectiveness by being replaced at half-time.
Subs:
Tello: 6 – Brought on at half-time as Chile went for broke but was unable to find the little extra that Marcelo Bielsa's men needed.
Valdivia: 7 – Probably Chile's best player in the second half as he really put himself about and threw himself forward in attempt to conjure a comeback.
Millar: 6 – Failed to provide anything to really trouble Brazil after replacing Isla just after the hour. But to be fair, it was reaching desperation time by then with his side already three down.