BARCELONAVictor Valdes - 7:
Very shaky at the start, making a couple of mistakes that could have proved costly but made a couple of smart saves when Barca were in control.
Daniel Alves - 7.5:
Surged forward to good effect and made some telling deliveries into the box. Had little to do in defence.
Carles Puyol - 8:
Vital block from Manucho early on. Rallied his side when they looked nervous in the early stages and played a real captain's part.
Gerard Pique - 7:
Never really put under any pressure at the back. Did well early on, particularly in the air but had little to do after the the first quarter hour as Barca cruised home.
Eric Abidal - 7.5:
Got forward to good effect to link with the front men and got the ball rolling providing Pedro with possession to force the opener.
Sergi Busquets - 7:
A little sloppy with his passing at times but otherwise it was a tidy midfield performance from the youngster.
Yaya Toure - 9:
An excellent all round performance from the Ivorian. Central to almost everything Barcelona did in attack and a commanding presence in defence. Great energy and drive and put two on a plate for Messi to equal Ronaldo's 34 goal haul.
Seydou Keita - 7.5:
Very good performance. Provided a lot of the early attacking impetus as Barca slowly got a stranglehold on the game.
Bojan - 7.5:
Lacked nothing in terms of effort but perhaps some greater composure would have seen him net a couple on the night.
Lionel Messi - 9:
Typically lethal Lionel Messi display. Provided Pedro with the insurance goal with a well-timed pass and added two goals after the break to take his tally to 34, level with Ronaldo.
Pedro - 8:
Tireless team performance. Forced the first goal and took the second clinically, he was always a willing runner to help his sides cause.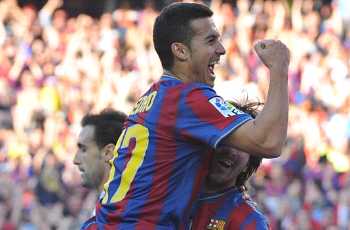 Substitutes

Thierry Henry - 6.5:
Showed great enthusiasm when he came in, even though the result was long beyond doubt.

Zlatan Ibrahimovic - 6:
Probably should have scored with his first touch but failed to hit the target. Little involvement besides.

Andres Iniesta:
Not on long enough to rate.
VALLADOLIDJacobo - 6:
Made a few decent saves early on but was eventually overrun after Prieto's unlucky own goal opened the floodgates.
Pedro Lopez - 5:
Constantly on the back foot and struggled to cope with Barca's movement up front.
Raul Navas - 6:
A couple of timely interceptions kept the score respectable for a while but Barca eventually added two more to condemn Valladolid to the Segunda Division.
Luis Prieto - 5:
Horrible touch opened the scoring for Barca when Valladolid were in the game and his night went from bad to worse as Messi, Bojan and Pedro ran riot. Replaced on the hour mark.
Henrique Sereno - 5.5:
Showed some fighting spirit and aggression even when the cause was lost, made two excellent blocks from Alves and Toure in the first half to keep the tie alive.
Antonio Barragan - 6:
Can't be faulted for effort he was a bright light on a dull evening for Valladolid, great energy at both ends of the field but ultimately it wasn't enough.
Javier Baraja - 5:
Put himself about in the early stages but was outclassed by a far superior midfield.
Pele - 5.5:
Tried hard early on as Valladolid started with an impressive intent but faded as the game wore on.
Jonathan Sesma - 4:
Poor performance. Never got into the game or showed any sign that Primera Liga survival was on the line.
Diego Costa - 5:
Ran his socks off in the early stages but didn't see the ball after the first 20 minutes.
Manucho - 4:
Had Valladolid's chance early on but spurned a great opportunity to fill his side with confidence. Was anonymous other than that effort and one mistimed tackle.
Substitutes

Nuazet Aleman - 5:
Did little to influence the game.

Hector Font - 7:
Acquitted himself quite well and gave Valdes a little work to do late on.

Keko - 5:
Never really got involved.
Become a fan of Goal.com India's Facebook fan page for all the latest news and insight into everything related to the beautiful game!