ROMA

Julio Sergio: 6
- No chance of saving Lazzari's inch-perfect shot but otherwise had very little to do other than make a couple of routine saves.
Motta: 6.5
- Defended well and was also constructive in attack. He was very unlucky to see a long-range strike crash off the post in the first half.
Burdisso: 6
- Kept a tight watch on Matri and was focused for the entire 90 minutes, despite the absence of any real pressure from the Isolani.
Juan: 6
- Dominant in the air and won nearly every challenge that he went in for. Jeda struggled to get much change at all out of the Brazilian international.
Riise: 6.5
- In truth he had very little to worry him in defence, but he did well when he got forward and won the crucial penalty when his cross hit Biondini's arm.
De Rossi: 6
- Creditable performance in the midfield but lacked consistency in the final third as his shots flew off target or his passes went astray.
Pizarro: 6.5
- As has been the case so often this season, he was the driving force in the Roma midfield. Moved the play around the pitch well and was committed in the tackle.
Perrotta: 6
- Given more of a licence to burst forward from midfield and did so to good effect, cleverly teeing up Totti in the first half only to see his captain's shot hit the post.
Menez: 7
- His dynamism and creativity in attack was in stark contrast to what was in front of him, but he created numerous opportunities for his team-mates and caused problems for the Cagliari defence.
Toni: 5
- Waved goodbye to the Stadio Olimpico with a disappointing performance. Looked very immobile and clearly doesn't dovetail well with Totti as there was very little movement between them.
Totti: 8
- Received great support from the home fans after his red card in the Coppa Italia final. Hit the post early on and while he was guilty of perhaps the miss of the season, his two goals kept Roma in the title race.
Substitutes:
Taddei: 6.5
- Provided some much needed pace and guile in attack as Menez began to tire.
Cerci: 6
- Didn't do anything wrong in the 15 minutes he spent on the pitch.
Baptista: N/A
- Replaced Menez in the final minutes.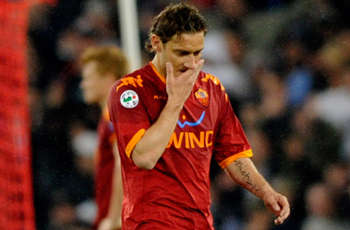 CAGLIARI

Marchetti: 6
- Rode his luck as two shots hit the post during the first half but he did make a couple of good saves and was confident in the air. Substituted at half time.
Dessena: 6.5
- Occasionally caught out by a quick set piece but the 22-year-old largely defended well against the tricky threat of Menez.
Canini: 6
- Thought he had given away a penalty when the ball struck his elbow in the penalty area but the referee adjudged it not to have been deliberate and waved play on.
Astori: 6.5
- The better of the two Cagliari centre halves. He was composed in defence and limited Roma to taking pot-shots from distance, but he couldn't stay close to Totti as the Giallorossi captain struck the equaliser.
Agostini: 5.5
- He did win all six tackles that he went in for, but the problem for Cagliari is that he didn't make more and he often struggled against Menez and Taddei.
Biondini: 6
- He kept the Rossoblu midfield ticking over but he conceded the penalty for a handball that led to the decisive third goal.
Conti: 6.5
- Impeccable in possession and despite the close ties that his father has with the Giallorossi he fought doggedly against the home side.
Nainggolan: 5.5
- Looked a bit nervous. Made a few mistakes and committed several fouls in midfield, eventually earning himself a cheap yellow card.
Cossu: 5.5
- Didn't do his case for an inclusion in Italy's World Cup squad any favours as he was often guilty of holding onto the ball for too long and had very little influence on the match.
Matri: 6
- Tried to use his pace to cause problems for the Roma backline but only had one sight of goal, bringing a decent save from Julio Sergio.
Jeda: 5
- Missed a clear opening while the game was still goalless but was otherwise barely noticeable until he was replaced by Nene.
Substitutes:


Lupatelli: 6.5
- Made some very good saves after replacing Marchetti at half time, and could do nothing to stop either goal.
Lazzari: 7
- Stunned the home fans as he opened the scoring with a fantastic strike from 25 yards that nestled into the bottom corner.
Nene: 5
- Replaced Jeda on the hour mark but was even less involved than his Brazilian compatriot had been.
Become a fan of Goal.com India's Facebook fan page for all the latest news and insight into everything related to the beautiful game!