Welcome to Goal.com's regular feature: Goal.com World Player of the Week. Each week our worldwide team of editors will put forward a selected candidate, as chosen by Goal.com International, who deserves recognition for achieving something special that matchday. It won't necessarily be the best player in the world - at least not usually - but whoever we nominate will have done something amazing. It might be for a particularly awesome performance or for something praiseworthy off the pitch - either way, the person in question deserves special attention...
Goal.com World Player of the Week #79: Lionel Messi (Castrol Ranking: 1)
Club: Barcelona
Country: Argentina
Age: 23
Role: Forward
Achievement: Scored the winner for Argentina against Brazil & netted a hat-trick for Barcelona against Almeria


It was yet another episode in international football's biggest soap opera and this time the best player in the world came out of the shadows to take the centre-stage by storm. Deep into injury time, when it appeared that the friendly international between Argentina and Brazil at the Khalifa International Stadium in Doha would end in a stalemate, up popped a certain Lionel Messi to conjur up one of the best goals you will ever see.
Receiving the ball near the halfway line, the 23-year-old successor to Diego Maradona's throne flicked it forward to Ezequiel Lavezzi with quicksilver intelligence right through two Brazilian players, then received the ball back and surged towards the Brazil goal. Cutting inside quickly down the centre with cunning smoothness, Messi darted a left-footed shot past a flying Victor into the net.
It is the stuff of legend that movies are made about, only no one had scripted this particular story and no one could ever have premeditated it. Because if Messi is anything, he is unpredictable; rather, he is
predictably unpredictable
. That goal, and that goal alone, against Argentina's fierce rivals Brazil is enough for Messi to register his name in Albiceleste's folklore.
Inside three days Messi was back to scoring goals, this time for Barcelona. The Spanish champions were expected to win at Almeria in the Primera Division and they did just that, but not without some help from ' El Messiah', who netted yet another hat-trick. Barca went on to win 8-0 to equal their best ever away victory in La Liga and Messi was the conductor of the orchestra, further enhancing his chances of winning the Pichichi this season.
Messi has already won
Goal.com's World Player of the Week
award earlier and has regularly been in the honourable mentions list. One can forsee the Argentine ace winning this particular accolade in the future.
Congratulations to Lionel Messi, Goal.com's 79th World Player of the Week!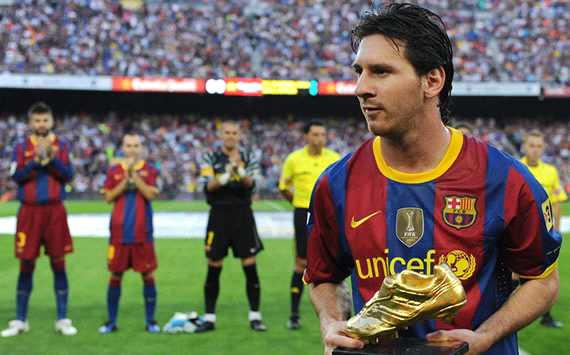 Honourable Mentions



Carlos Tevez - Manchester City (Castrol Ranking: 18)
The Argentina international is Manchester City's best player and he showed that on Sunday against Fulham as he produced one of the most accomplished performances of the season to lead his side to a 4-1 triumph. Tevez scored the first and the fourth goals and also set up Yaya Toure for the Ivorian's strike with a pass that was simple but penetrative.
Rafael Van Der Vaart - Tottenham Hotspur (Castrol Ranking: 7)
The Dutch international playmaker wasn't exactly overly imposing against Arsenal in the north London derby on Saturday afternoon but he played important roles in all of the three goals in Spurs' 3-2 victory. Van der Vaart teed up Gareth Bale for the first goal and converted the second from the spot. The former Real Madrid midfielder then gave the assist for Younes Kaboul's winner four minutes from time. In this respect, one should also acknowledge the contribution of Bale and Kaboul in the derby win.

Cristiano Ronaldo - Portugal & Real Madrid (Castrol Ranking: 2)
The Real Madrid star has often failed his national team but against Spain in the Iberian derby on Wednesday Ronaldo was brilliant for Portugal in the 45 minutes that he played. The former Ballon d'Or scored a sensational goal when he fooled the highly extolled Spain defence, though it was unfortunately disallowed, and ate Sergio Ramos for dinner down his flank. Then on Saturday in one of Spain's most historic rivalries, Ronaldo scored a hat-trick as he led Madrid to a 5-1 win against Athletic Bilbao at the Bernabeu.
Raul - Schalke (Castrol Ranking: 776)
The Real Madrid legend has performed on intermittent times for Schalke this season but he was at his best against Werder Bremen on Saturday. Raul netted a hat-trick for his side to help his side out of the bottom three and provide a platform for them to resurrect themselves.
Sergio Pellissier - Chievo (Castrol Ranking: 363)
The Chievo talisman was at the heart of the Flying Donkeys' memorable defeat of Italian and European champions Inter in Serie A on Sunday afternoon. Pellissier rose high above Davide Santon to break the deadlock after 29 minutes and although he could have added his name at least once in the subsequent minutes, he was a constant threat to the Beneamata defence throughout.

Conor Casey - Colorado Rapids (Castrol Ranking: N/A)
Casey was the inspiration behind Colorado Rapids' first ever MLS Cup triumph. His goal against FC Dallas in the final was scrappy but he created the extra-time winner as Rapids won 2-1. The 29-year-old worked his socks off as he did the work of two forwards.
Leave your notes of congratulations for Lionel Messi below, or discuss who else deserves a place in the sun this week...