They say you should never count your chickens before they hatch. But as far as the Spanish press is concerned, Jose Mourinho became Real Madrid's next coach as soon as the final whistle of Saturday's Champions League final sounded - which, of course, means that Manuel Pellegrini will be yet another name in a laundry list of coaches who have come and gone at the 'Casa Blanca' in the past seven years.
On Wednesday evening, Madrid president Florentino Perez announced that Pellegrini has been officially relieved of his position as Blancos coach, meaning that since Vicente del Bosque was ousted as Madrid's trainer in 2003, the Merengues have chewed through nine different coaches (counting Pellegrini) during which time the club won just 2 Spanish Supercups and 2 La Liga titles.
If one takes into account the players who have come and gone through the club during that same span of time, the rate of turnover becomes even more mind-boggling - just Iker Casillas, Raul, and Guti have been around long enough to see the many faces that have headed the Madrid bench and after this summer, that number could dwindle to just one as Casillas becomes the sole carry-over.
For readers who have been following my Madrid-themed editorials for the past year or two, one thing I have always championed is the need to return to a sense of stability in the Spanish capital. The hirings and firings at Real Madrid have become commonplace and every summer it seems, as if the team is looking to rebuild instead of build on that which was accomplished the previous year.
Juxtapose such a lack of direction with that which occurs in Barcelona, a club that has gone through just two coaches in the past seven years, during which time they have contrastingly won 4 Liga titles, 3 Spanish Supercups, 1 UEFA Supercup, 1 Copa del Rey, 1 Club World Cup, and 2 UEFA Champions Leagues. As far as players are concerned, five Barca players have remained at the club during that time - Carles Puyol, Xavi Hernandez, Rafa Marquez, Andres Iniesta, and Victor Valdes - and they continue to be integral members of the team.
Before even coaching his first match in the Spanish capital, Manuel Pellegrini's appointment as the coach to head Florentino Perez's vision brought a storm of criticism and bewilderment from the ever-chattering Madrid press. While a majority felt there was no question that Pellegrini was a capable coach, it was also widely voiced that he was not of the tactical calibre needed to guide one of the largest clubs in the world into some of the most competitive matches in football.
To add even more heat to an already hot seat, Pellegrini began the season with a team that had just added €250 million in value and eight new players to their ranks.
As with any new team project, there were growing pains. Los Blancos could score goals and did so in a number of their matches. But overall, their style of play seemed to stagnate, as they shut off during long stretches of matches, but would still manage to take three points by a flash of brilliance from one of their superstars.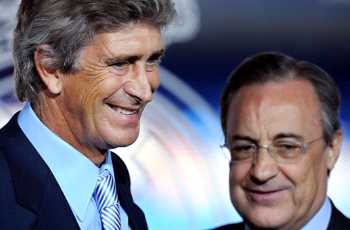 Happier days | Pellegrini & Perez
Pellegrini's first gaffe came in the Copa del Rey against Alcorcon when Madrid took an historic 4-0 thrashing at the hands of the Segunda B minnows. The already-fickle Madrid press roared into a frenzy calling for the Chilean's head, but such talk was gently defused as Jorge Valdano and the rest of the club hierarchy stood by their coach, reminding that success is not instantaneous in the wake of so many changes.
The Copa del Rey elimination in the second leg did draw the ire of a few more pundits, but the Madridistas seemed to agree that there were far bigger fish to fry in the season and the Copa del Rey could be swept under the rug if more coveted trophies were on the way.
Over the rest of the season, Los Blancos actually showed encouraging signs of improvement. Had their finishing been better in El Clasico, they might have actually been able to beat Barcelona at the Camp Nou and overall, many Madrid fans felt good about their team going into the winter break, especially after a 6-0 drubbing of Zaragoza at the Bernabeu.
But it was in the Champions League that the ground seemed to give way beneath Pellegrini and the Madrid media began to lick their chops. Like a pack of treacherous wolves, the media tabloids used the 1-0 defeat at Lyon to persistently and relentlessly ratchet up the pressure on the Chilean coach - all in the name of selling papers. No amount of support by the club hierarchy can save a coach when the media sharks smell blood; it is simply a matter of time.
When the Merengues inevitably crashed out of the Champions League last-16 for the sixth consecutive year, Madrid's leading media outlet
Marca
ran a headline stating, "Adios Champions, Adios Pellegrini": Goodbye Champions [League], Goodbye Pellegrini.
It was by that point in the season that the coach's fate was well and truly sealed. The second Clasico defeat only finalised it and the club record for goals scored and points in a season did little or nothing to mitigate it.
That is not to say that there are not good reasons to fire Pellegrini. There are valid explanations for not winning a title in one's first year, especially after nearly half the squad was altered. But in Madrid's big matches of the season, the 'Men In White' looked out of their depth and without ideas in finding a way through tight defences; that speaks to a lack of tactical invention (as clearly some of the best players in the world are on the pitch) and in that sense, perhaps Pellegrini's sacking is merited.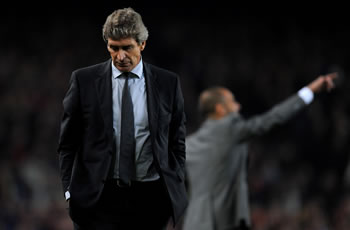 El Ingeniero couldn't quite engineer Barca's downfall
But even if Madrid would have preferred to keep Pellegrini and thought he might be better off with another full season to get the best out of his players, the truth is that whether it would have been good for the team or not, Los Blancos have very little real choice in their decision to axe Pellegrini.
Instead, they are bound to an institutionalised soap opera that the Madrid media propagates in a continued effort to sell papers and sway public opinion. In Madrid, the real power seems to lie in the volume of the media mouthpiece, not in the club leadership that has come under such pressure in recent years.
Despite touting themselves as Blanco-leaning publications, tabloids such as
Marca
and
AS
actually do very little to support their allegedly favoured team. Their bottom line is to sell an eye-catching narrative and in doing so, they give credence to rumours and doubts that tend to destabilise the organization.
The current flavour of the press seems to be Mourinho and in the Portuguese, it is very clear that Madrid are getting a superb coach: one way or another, the Special One finds ways to win titles. Titles are what Madridistas want and with Barcelona collecting them by the handful, it doesn't matter how they arrive.
Of course, Mou's contentious statements, fiery temperament, quotable one-liners, and his air of (albeit earned) arrogance will also do wonders to sell papers across the Spanish capital in the short term.
But eventually, the Spanish press will sink their teeth into the Portuguese tactician as well. Fabio Capello was shown the door in spite of a title for not being able to draw entertaining football from his team. Mourinho's style of play will be equally frustrating for Madridistas over time and that will engender the perennial instability that seems to dominate the media narrative... if it is allowed to go on for that long.
The other possibility, of course, is that Mou comes into Real Madrid, wins the trophies he wants to win and then, like an unfaithful lover who has had her fill, moves on to the next team. After all, he has always made it clear that he would like to return to England someday.
And perhaps in those dark lonely days, those Madridistas who did not fully buy into the media smear campaigns will then wonder where Pellegrini went and why they didn't have more patience to develop a team that could compete for the future rather than the instant gratification of the here and now.
Become a fan of Goal.com India's Facebook fan page for all the latest news and insight into everything related to the beautiful game!