Goal.com's Paul Macdonald comments that CR9 has been a bargain, in the wake of another game-saving display...
Everyone always complains about value for money these days.
In the current global recession, prices are under increased scrutiny. People hate paying over the odds for a product, only to find it wasn't quite as good quality as they believed.
Football fans are no different. If they see a prima-donna more interested in fixing his alice band than giving his all to earn the immense pay package he receives, they, en masse, will make their feelings abundantly clear that they expect more. Similarly, inflated transfer fees bring tumultuous levels of expectation, and often the level of demand is unachievable.
So, when the Santiago Bernabeu and all of its surrounding streets flooded with frenzied Madridistas, clamouring to catch a glimpse of
Cristiano Ronaldo
donning the white of
Real Madrid
for the first time, there has never been a transfer in football history more anticipated from all quarters of the game.
Supporters, colleagues, peers, and all forms of media placed an inordinate amount of pressure on the Portuguese superstar to succeed. Under the weight of adulation from the Bernabeu faithful coupled with the snipers waiting to pounce should he miss a step-over, the circumstances could easily have overwhelmed a weaker footballer.
But weak just isn't a word in Ronaldo's vocabulary. On Wednesday night, he proved just as important to Real Madrid as his rival Lionel Messi is to Barcelona, by single-handedly demolishing Mallorca 4-1 to ensure that the Blaugrana will have to win La Liga rather than have it handed to them on a plate. In short, he is worth every single cent of his world record €94 million transfer fee.
The match at San Moix was a microcosm for how Real Madrid's season has transpired; nervy defending, disjointed offensive formations and a tepid approach, punctuated by Cristiano Ronaldo being on hand to bail them out of trouble. It has been the recurring theme, both home and away, and while Gonzalo Higuain's goals have provided able assistance, when Los Blancos have been toiling, Ronaldo has dragged them kicking and screaming to salvation.
Mallorca have an enviable home record, built on solid foundations, but either side of half time, CR9 had turned a banana skin into a cakewalk, netting three goals from three clear chances. Last weekend, lowly Osasuna were threatening to prematurely end the Primera Division title race, but who was there in the 89th minute to clinch a 3-2 win? Ronaldo.
Who was there in the away matches in Villarreal and Almeria, in the tricky home games versus Valencia and Sevilla, and countless other occasions where Madrid needed a lift and no-one was willing to stand up and be counted?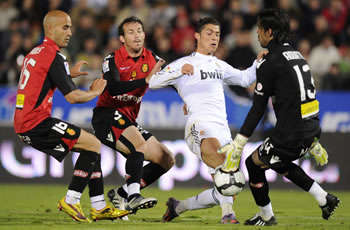 CR9 nets the second of his hat-trick
Ronaldo was there. 32 goals in 31 starts highlights how often he has been there, and for all of president Florentino Perez's cheque-book waving and big-name luring, Cristiano has been the only signing who has truly been worthy of the hype. When you cast your gaze over to Catalunya and analyse what Barcelona have had in return from a lacklustre Zlatan Ibrahimovic, Ronaldo's acquisition appears all the more shrewd.
Indeed the inconsistency of the summer signings at Madrid has been a major concern for Pellegrini; Kaka has flattered to deceive, Karim Benzema has been an unmitigated flop, while Xabi Alonso hasn't looked entirely comfortable. Ultimately, their unpredictable form led to Manuel Pellegrini employing industrious water-carriers such as Esteban Granero and Fernando Gago, and offering them a simple message – get the ball to Cristiano.
Because the Chilean coach may purport to have an in-depth tactical influence over this side, but in truth Real Madrid's season would have been obliterated months ago had it not been for the ability of the former Manchester United winger. Even discounting his super-human La Liga performances, were it not for his goals home and away in the Champions League against Marseille, Los Blancos would not have made it past the group stages.
On that fateful night versus Lyon, Ronaldo did everything in his power to pull them through, knowing full well the ramifications of defeat, and he felt obliged, as a tickertape purchase, to take the weight of the Spanish capital on his shoulders. At the final whistle, he was as crestfallen as any of those in attendance – the fact that it means so much to him only endears him all the more to the adoring masses.
Yes, he has his flaws. The petulance remains an irritating sideshow, where team-mates are berated for not being in the right place to collect his pass and referees are lambasted for not offering him protection. There remains malice in his personality, too, albeit borne out of frustration, and his two dismissals this season were probably deserved but definitely avoidable.
Then there is the self-satisfaction and the arrogance, which means that anyone receiving a pass from him when in full flow should regard themselves as privileged. His linear approach can isolate his team-mates, and lead to a Ronaldo-versus-the-world mentality that is to the detriment of the club as a whole.
But attempt to nullify his negatives and you may detract from the innumerable positives that make up Cristiano Ronaldo the footballer. In an over-priced marketplace, €94m still seems cheap at the price, and Real Madrid have one man, and one man only to thank for prolonging the title race to the penultimate weekend of the season.
Become a fan of Goal.com India's Facebook fan page for all the latest news and insight into everything related to the beautiful game!