Italian champions Inter finally edged into the top three on Thursday evening with a 3-0 win over last placed Bari, and once again thanked a January arrival for inspiring the triumph as Houssine Kharja broke the deadlock 20 minutes from time.
Coach Leonardo started the game with the mouth-watering trident of Samuel Eto'o, Diego Milito and Giampaolo Pazzini but some obvious problems were there to see as the Nerazzurri struggled in attack for the best part of an hour. Despite setting the San Siro alight on his Inter debut just four days earlier, Pazzini clearly had problems combining with Milito and coach Leonardo duly altered his side by sacrificing 'El Principe' for Wesley Sneijder. The move paid off against the Galletti as the Nerazzurri cruised to a three-goal success but it left many questions lingering as to whether Milito and Pazzini can co-exist in attack.
Whilst both Pazzini and Milito have a deadly record inside the box, neither has the ability to play as a second striker and drop deep. By utilising all three Inter were left short for numbers in the midfield and looked far more rounded after the introduction of Sneijder. 'The Pazzo' remains a super arrival for the Beneamata, scoring three goals in just 180 minutes but in that same time it has become evident that the coach will have to alternate him with 'El Principe' in order to get the best from both hitmen.
The Italian experienced similar problems alongside Alberto Gilardino at Fiorentina and was eventually sold on by the Viola despite his undeniable potential. A fox in the box who often pops up in the right place at the right time, Pazzini demonstrated his talent for sniffing out goals by netting a spectacular brace during his Inter debut against Palermo on Sunday.
Other Unworkable Partnerships

Mazzola/Rivera -
Italy
Overath/Netzer
- B. Munich
Del Piero/Totti -
Italy
Gilardino/Pazzini -
Fiorentina
Gerrard/ Lampard -
England
The Inter pairing clearly don't compliment each other because of their similarity but Roma's big name forward duo of Francesco Totti and Marco Borriello have experienced the same inability to co-exist this term despite being rather different in nature.
There was much commotion in the Italian capital following the arrival of the former Milan hitman this summer and Borriello has lived up to his billing scoring 15 times in all competitions. Despite the positive haul from the 28-year-old hitman, coach Claudio Ranieri has been consigned to accepting that Borriello and Totti simply cannot forward the line alone together.
Borriello, similar to Pazzini, thrives from crosses and marking his own territory from which to do his damage. With this in mind it is no surprise that he has looked most effective alongside Jeremy Menez or Mirko Vucinic, who both attack from deep thus leaving the striker with space in the box.
At the age of 34, Totti has been forced to play further up the field in order to provide a threat in and around the area. As such 'Er Pupone' has failed to live in harmony with Borriello, who is unable to combine as effectively when in close vicinity of his forward partner.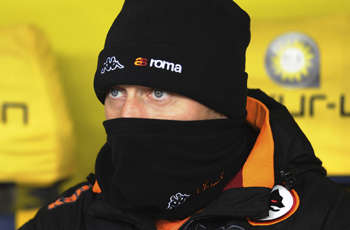 Finding the net from open play on just one occasion this term, it has been a difficult year for Totti who has often been forced to endure life on the bench. The Lupi captain was a passive spectator the last time the club visited San Siro in the victory against Milan shortly before the Christmas break and such occurrences underline the coach's lack of faith in the Totti-Borriello partnership.
As Inter and Roma prepare to do battle in what could prove to be a very important encounter for both sides' Scudetto ambitions, both Leonardo and Ranieri will have to make some tough choices as they decide whether to leave out the likes of Milito and Totti for Sunday's game. With Sneijder and Vucinic ready to fill in and provide both teams with more rounded starting XI's, it seems that utilising the unworkable partnerships in such a big game is simply not worth the risk.
Follow Goal.com on

. Get the latest football news direct... Check out Goal.com's

page; be part of the best football fan community in the world!