When asked on Friday night what I thought of this week's distasteful episode, and just as ugly aftermath, between Francesco Totti and Mario Balotelli, I fired the question straight back at my barman-cum-inquisitor. His reply was succinct, and one which smacked of a true Romanista: "I hate Balotelli... and Totti is a champion." This afternoon here at the Olimpico, the Roma captain proved the second part to be exactly on the money, just as his team looked to have handed the Scudetto to Inter on a plate.
Er Pupone's week has been an eventful one. Sent off in Wednesday's Coppa Italia final defeat for a ridiculous kick on Inter's controversial striker, he then initially failed to apologise, instead trying to justify his action by pointing to Balotelli's own list of misdemeanours. Afterwards came claims of racist taunting by Totti from the Nerazzurro, which have prompted a huge backlash in the Eternal City. Having reportedly considered his future as a footballer amidst the media furore and received word that Marcello Lippi is almost certain to refuse his candidacy for a place in Italy's World Cup squad, his response today was to prevent Balotelli walking off with another league championship... if only for another week.
After a largely lifeless first 70 minutes in front of thousands of Roma fans wearing 'Totti 10' shirts old and new in support of their leader, it took a superb finish by Cagliari's Andrea Lazzari from a short free-kick to force the Giallorossi into top gear. When they eventually got there, it was Totti who bailed them out, bagging a four-minute brace to record a 2-1 victory.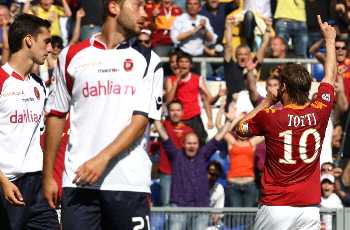 The win takes the Scudetto race into the final weekend, though for long spells it looked like there would be a title party over at San Siro this evening. But it was the Roma skipper who almost single-handedly ensured that he still has a slight chance of being an Italian champion for a second time this year. And his late, late show was just the kind of under-pressure performance which many – your correspondent included – believe could be lacking from the make-up of Lippi's Italy squad next month.
It may be going on for four years since he last played for the national side, but his ability to stand up and be counted at the pressure moment may be just what the current ramshackle national squad needs. Certainly, his Roma team-mates looked like a team without real belief at times, and looked all set to buckle under the pressure as chances continued to come and go late into today's fixture. Without Totti, their title chance would be gone, and it may well be a situation which is replicated in South Africa this summer.
So whilst Roma's faint Scudetto hopes remain alive, the reaction of the crowd should also have put to bed any fears of Totti's premature retirement. His club needs him, and so does his country.
Become a fan of Goal.com India's Facebook fan page for all the latest news and insight into everything related to the beautiful game!