Brendon Netto


COMMENT | Champions League

Follow on
There's an awful lot of doom and gloom around Old Trafford at the moment and understandably so. With just 7 points in 6 games, the Premier League champions languish in the bottom half of the league table in 12th place, the familiar figure of Sir Alex Ferguson isn't around to guarantee an instant revival and they're still reeling from their 4-1 humbling at the hands of their fiercest rivals Manchester City.
Things aren't getting any easier for Manchester United as they've made the long trip over to Ukraine to face the strongest team in the land. Shakhtar Donetsk have already flexed their muscles in the last edition of the Champions League as they qualified for the knockout stages at the expense of previous winners Chelsea. For a United side that lost to West Bromwich Albion at home over the weekend, Shakhtar are just the kind of team they'd want to avoid at the moment.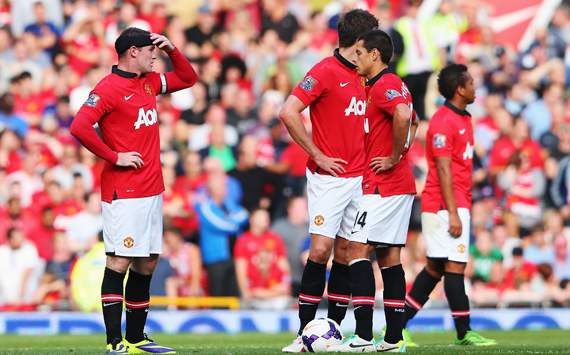 United aren't in the best spirits
The Ukranian outfit may have lost a few of their star players with Fernandinho, Willian and Henrikh Mkhitaryan opting for moves elsewhere but the influx of Brazilian talent in Wellington Nem, Fred, Bernard and Fernando have helped them maintain their devastating pace and fluidity in attack that can be so lethal. It's this type of tricky European fixture away from home where a manager's tactical acumen is put to the test and given that he's already under the microscope, David Moyes must set his team up wisely.
United's set-up in a 4-4-1-1 formation:
So far, the Scot has religiously persisted with a 4-4-2 or perhaps a 4-4-1-1 formation with Wayne Rooney operating as the second striker while Danny Welbeck took up that role in his absence. It's a tried and tested system that's proved successful for United in the past but is starting to render them vulnerable of late.
Every team tries to incorporate a system that plays to their strengths but at the moment, United's is simply exposing their weaknesses. If you play with only two central midfielders, they've got be dynamic, all-action individuals or one needs to be the adventurous and creative kind while the other sits back. In Michael Carrick and Marouane Fellaini, United have two deep-lying midfielders with little pace to burn. A two-man central midfield can't be that stagnant, it needs to have a greater level of mobility to it.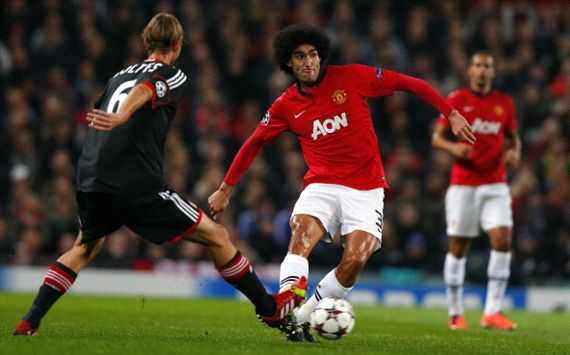 Fellaini plays just as deep as Carrick
Perhaps it's time Moyes considers switching to either a 4-3-3 or a 4-2-3-1 system. A 4-3-3 would mean using either Rooney or Shinji Kagawa operating as an attacking midfielder ahead of Carrick and Fellaini with the other playing down the left wing. The attacking midfielder would be closer to the two central players and would hence be able to work with them to keep possession and be more involved in the build-up play while also being deep enough to pick up one of the opposition's midfielders at times.
How United could set-up in a 4-2-3-1 formation:
The 4-2-3-1 formation is perhaps only a slight variant of the 4-4-1-1 system United have employed but it makes all the difference. As mentioned above, Fellaini and Carrick sit quite deep in midfield but this system actually requires that. The idea is that the four players ahead of them go all out in attack without being shackled by the responsibilities of tracking back on a regular basis. The two holding midfielders in turn, sweep things up in the middle of the park.
That ploy does pose a bit of a threat but United have always been known to take risks and it's up to Moyes whether or not that trend continues. Using a 4-2-3-1 would mean shuttling the ball from defense to attack quickly. With the lack of dynamism in the center of the pitch, it's clear that passing the ball around the halfway line is getting United nowhere very slowly. Their strength lies in the attacking third particularly with the likes of Robin van Persie, Rooney, Nani and Kagawa.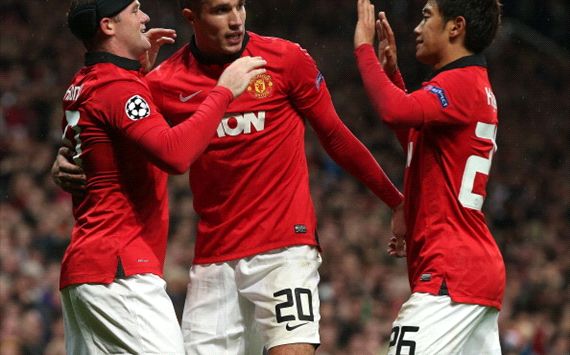 Play to their strengths| Attackers must see more of the ball
It only makes sense then to play to their strengths and get those attacking players on the ball as much as possible and trust them to link-up with one another in order to create opportunities. When Kagawa was at Borussia Dortmund, they used that tactic very well. They got the ball up front swiftly which often saw the Japanese international facing the goal with two or three of his colleagues darting forward, a dream scenario for the playmaker.
Even if Moyes insists on playing Kagawa on the left in light of Rooney's sensational form, the 4-2-3-1 formation would suit him a lot more. The United boss pointed out that Kagawa features on the left for Japan and so it's not a new role for him but the difference is that he plays as a left winger for his country, not a left-sided midfielder.
When played on the flanks in a 4-4-1-1 formation, the player undertakes defensive responsibilities as well and spends less time in the final third. They are rarely ahead of the ball when the team wins possession and the break is on. As a more advanced winger, Kagawa would have freedom in attack and can interchange and drift inside more efficiently like he does for Japan.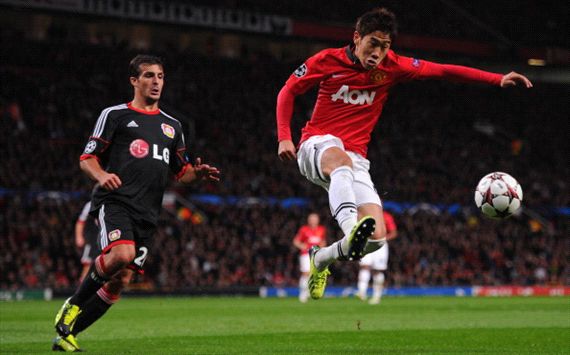 Kagawa could flourish in a 4-2-3-1 system
A near-flat four in midfield is an outdated concept in Europe and the Champions League may call for more innovative tactics from United. Of course, Bayern Munich won the treble with a 4-4-1-1 system last season but the key difference is that they had the players to do so.
Liverpool played with three at the back against Sunderland on Sunday so that Daniel Sturridge and Luis Suarez could both feature as strikers. The ploy paid off with the duo scoring three goals between them and it worked so well because the system was tailor-made for their best players to flourish.
United need to be compact in their own half but flexible in attack. At the moment they're caught between keeping their shape and pushing forward. If they played a formation that gave their attacking players the impetus to stride forward freely, they may be far more effective.
United aren't in crisis mode just yet and suggesting an overhaul in their tactics at this stage is premature but with the way they're playing already, they may only be a few tweaks away from a 4-2-3-1 system that could give them so much more in attack. Either way, Moyes will need to change something quickly if United are going to compete in Europe.
How do you stay up with football when on the move? With http://m.goal.com –your best source for mobile coverage of the beautiful game.