Following a stalemate against Chelsea and Sunday's 1-0 defeat to Liverpool, Brendon Netto discusses why David Moyes must throw caution to the wind and be fearless as United boss.
Brendon Netto

COMMENT | England

Follow on
David Moyes has had a mixed start to life as Manchester United manager. After an average pre-season in truth, he lifted his first piece of silverware when they beat Wigan Athletic for the Community Shield and then won their first Premier League game 4-1 away to Swansea City. While a 0-0 draw against Chelsea was a decent result, a 1-0 defeat at Anfield has raised a few questions while the pressure generated from the lack of transfer activity has been bearing down on the Scot.
One of Sir Alex Ferguson's best qualities was his ability to exude confidence no matter how dire the situation. He always projected an air of defiance in the face of adversity and that gallantry was contagious for those in his camp and often translated to belief. Moyes doesn't have that yet, he's still gathering the self-belief he needs to carry out what must be an overwhelming task of replacing his predecessor.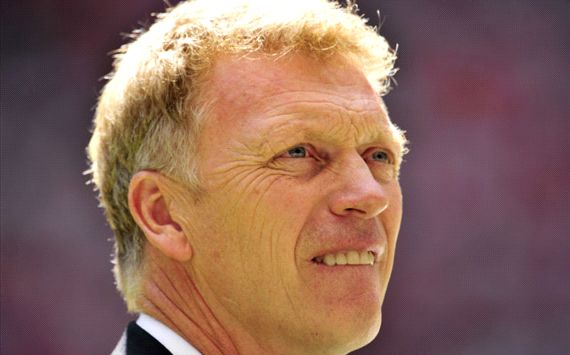 A mixed start to life as United boss
Prior to the new season, the former Everton manager voiced his discontent over the fixture list in which United were handed a particularly difficult start. Although you'd expect most managers to complain about that, there was a touch of anxiety to his comments and perhaps that's shown through in his rather cautious approach in the opening few games.
From his line-ups itself it was evident that he was giving his opponents a lot of respect. Antonio Valencia and Danny Welbeck on either flank against Chelsea pointed towards his desire to have two hard-working players on in wide roles who would track back and do their defensive work. Ashley Young and Ryan Giggs for the game versus Liverpool was also a strange decision when United clearly would have needed more penetration with Wayne Rooney out injured.
The interesting bit is that United played some very decent football at Anfield. Away to a Liverpool side whose game revolves around possession, United managed to retain 57% of it. They were consistently vulnerable in defense last season but deadly in attack. This time around, they seem more assured at the back but lack that cutting edge up front. Moyes needs to find the right balance.
Apart from the futile attacks from their wingers, there was no penetration from central midfield either with Michael Carrick and Tom Cleverley sitting fairly deep and rarely getting forward. It's clear that they desperately need a midfielder to carry the ball forward and create openings whilst scoring the odd goal as well but perhaps they will by the end of 'deadline day'.
Midfield lacked creativity
One goal from Daniel Sturridge proved to be enough for Liverpool to defeat a United side that desperately lacked any bite. Where was the exciting skill of Wilfred Zaha, the breath-taking creativity of young Adnan Januzaj or the former Bundesliga Player of the Year Shinji Kagawa of whom so much is expected? – They were all left entirely out of the squad.
Moyes is no longer manager of Everton and needs to shed the caution he's accustomed to when facing the likes of Chelsea and Liverpool. United seem desperate to bring in a couple of players before the transfer window slams shut but the fact is that they aren't using the ones at their disposal yet. Moyes must realize that he doesn't always have to employ workhorses against the big sides because he has the quality to face them head-on.
Now he probably felt that the likes of Kagawa, Zaha or even Januzaj wouldn't do the kind of defensive work he wanted done as effectively but maybe that's okay when they offer so much more going forward. It could have paid off to gamble and be more attacking. It may have invited more Liverpool attacks but it most certainly would have engineered more United ones as well and when you have someone like Van Persie on your side, you must offer him more service than they did on Sunday.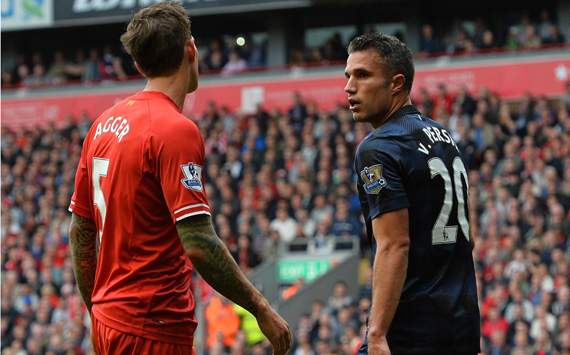 Van Persie wasn't afforded much service
The Dutchman was restricted to just the one opportunity from a tough angle which went wide in the last 5 minutes. Opting for more attack-minded players could have opened things up. Liverpool consistently trust Philippe Coutinho to be one of their main men so surely United can afford their youngsters a similar chance or at the very least put faith in a two-time Bundesliga champion in Kagawa.
The team can't be criticized excessively because they failed to score against two good sides in Chelsea and Liverpool but the extent to which they pushed their opponents can certainly be questioned. There was a lot of neat patches of play in midfield but they seemed to run out of ideas in the final third. United dominated the second half at Anfield but hardly threatened Simon Mignolet's goal.
They did push for an equalizer but they didn't flood forward like they normally do to force the issue. It has to be said that Sir Alex had a massive influence on games when he took to the touchline and Moyes just doesn't have that yet. In fairness to him, not many managers do and perhaps it will come in time but worryingly, the belief the players normally projected towards the end of games seemed to be replaced with frustration.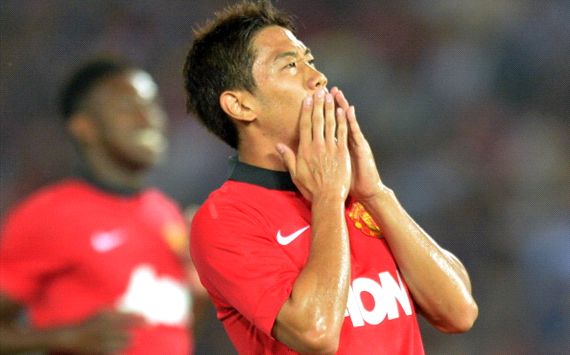 Where is Kagawa?
It's been tough on Moyes, taking over United can't be easy, the fixtures haven't helped but most importantly, their transfer activity in the summer hasn't gone according to plan. With a new manager in, it would have been ideal to strengthen the areas of the squad that clearly needed reinforcements early on. At the moment, United still look like a team waiting on a signing or two to come in and galvanize the rest of the troops, not unlike the impact Van Persie's arrival had last season.
However, whether or not there will be new signings, Moyes must be bold enough to use his attacking players. Ross Barkley has been in fine form for Everton this season but had initially threatened to break through as a 17 year-old. Granted, injuries hampered his development but Moyes didn't afford him much of a chance when he was fit last year either. Will he be equally weary of giving Zaha or Januzaj a vote of confidence?
Sir Alex was stubbornly attack-minded at times. He knew full well of his side's defensive frailties last season and their weakness in central midfield but persisted with a 4-4-2 formation apart from the rare occasion. He wanted to attack even the best sides and had the audacity to peg only Ryan Giggs and Michael Carrick against Sergio Busquets, Xavi Hernandez and Andres Iniesta in the 2009 Champions League final.
In retrospect, that may not have been the most sound decision but his intention to score goals was always made unmistakable. Moyes can't be expected to be a carbon copy of Sir Alex, no one can, but there are certain principles he must maintain as United manager. So the very least he can do is to discard his cautious Everton ways and be the fearless, cold-blooded manager his new club deserves.
Has Moyes' approach been too cautious so far? Send in your thoughts in the comments below or discuss with the writer on Twitter @BrendonNetto.
How do you stay up with football when on the move? With http://m.goal.com –your best source for mobile coverage of the beautiful game.