COMMENT
By Jonathan Birchall at Anfield
Be it posturing for funds by a manager who is known to enjoy a delve into the transfer market or merely an excuse for recent form not befitting that of Champions League quarter finalists, Harry Redknapp once again made clear his desire to invest in his Tottenham squad this summer after defeating Liverpool to take pole position in the race for fifth.
Since the transfer window closed in January, the Spurs boss has spoken frequently of the club's need to freshen up, seemingly convinced that new faces are required if his side are to return to European football's top table once again.
He said: "I'm looking for a good front man if I can find one. I went to the cup final in France last night and I'm going to go abroad one or two times this week and keep following up leads and see what we come up with.
"It's very difficult to come up with something better than you've already got."
That couldn't be truer of the one player that Spurs themselves will be desperate to keep away from the whirlwind of the window. For on Merseyside on Sunday afternoon, the inadequacies of Redknapp's squad were a mere side note to the mastery of Luka Modric, a man whose influence is becoming irreplaceable.
Gerard Houllier, the Aston Villa boss and one of the games most astute technicians, once said of the Croatian: "He did not just work hard, he made the other people play well around him." It was the case again at Anfield and has been the case all season. The omission from Houllier's quote is that he can also make the opposition look very, very ordinary.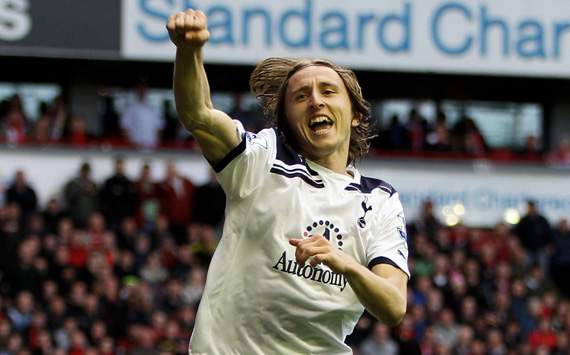 Luk-away now? | To cash in on Modric would be a massive gamble from Spurs
Lucas and Jay Spearing, two players who have both rightfully gained plaudits in recent weeks for their own personal roles in the Kenny Dalglish transformation, had no answer to the wizardry of the man once dubbed as "the Croatian Cruyff." No shame in that, European champions Inter were equally caught up in his spell earlier this season.
This is not to say that Tottenham should be happy with their lot. A top quality striker is desperately needed at Spurs if they are to become as clinical as they were against Dalglish's men with any sort of consistency.
Also, despite having delivered a performance that belied another season spent on the sidelines, Ledley King needs replacing. A tragedy that arguably the country's finest defender is only allowed to display his obvious quality on such inconsistent terms. To say the 30-year-old was good in spite of his injury woes would be to do him a disservice – a fully fit King would have beamed with pride at a performance that left Luis Suarez, Andy Carroll and the fans of the hosts all but tearing their hair out.
But it is the little man from the coast of the Adriatic that made more waves on Merseyside than any other at the weekend, where his ability to slow the game to an almost metamorphic pace alongside an energy that makes him so much more than a simple attacking threat.
Redknapp has already stated that the 25-year-old has "the heart of a lion," and as is his unwaivering work ethic, Modric is as much play-breaker and he is playmaker.
Little surprise then that Manchester United and Juventus have been linked with him in recent weeks. For the champions, the dynamism of the former Dinamo man would make him a seemingly perfect replacement to Paul Scholes, whose Old Trafford career looks likely to have ended on 10 titles at Ewood Park on Saturday.
He wouldn't come cheap. Redknapp and Tottenham know the value of their midfield gem but if the pound signs start flashing - especially with no Champions League next season - the temptation to cash in and rebuild again would be too big a risk to take.
The Croatian's domination of the game in front of the Kop will have reminded those present of another of the Premier League's great creators in Xabi Alonso. Liverpool fans will tell you that the riches that they received for the Spaniard from Real Madrid would never be a sufficient comfort for the loss of a player who ran the show at Anfield.
Tottenham can't afford a similar fate in this upcoming transfer window; they simply won't get better than Luka Modric.