SPECIAL
by Cesare Polenghi | Managing Editor, Asia
At the age of 37, Alessandro Del Piero netted two goals and provided an assist in Juventus' latest three games. His tally with the Old Lady is now up to 288 goals. However, it is unlikely that Del Piero will hit 300 goals in black-and-white.
Speculations of a transfer next summer have been floating after Juventus president Andrea Agnelli repeated several times over the course of the season that this will be the last year for Del Piero as as a player at the club.
It has been widely accepted that the black-and-white number 10 will finish his career as a footballer somewhere far away from Turin.
A Goal.com international panel of experts evaluates the five options the Juve legend has for the 2012-13 season, beginning with what seems the most likely destination: Major League Soccer.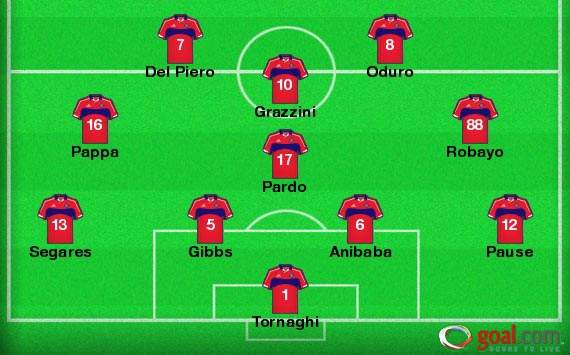 Del Piero has been rumored to land with several MLS clubs, including the Los Angeles Galaxy and the New York Red Bulls, but both seem unlikely given the current restrictions on MLS rosters, leaving the Fire as the next largest and the most reasonable fit in the league.
It's worth noting that Chicago had great success with a similar player in Cuauhtemoc Blanco, who was considered older and slower by the time he came to the team but was able to use his technical ability to spearhead the club's attack for a couple of years.
Del Piero would fit well in a team that is blessed with both pace and technically gifted attacking players, and would likely replace one of the club's two speedy forwards in front of the diamond midfield.
He could also possibly play at the tip of the diamond in a free role, with Sebastian Grazzini dropping to the right side of midfield - leaving a very potent attack trio of Del Piero, Grazzini and Marco Pappa supplying balls to the two speed merchants up front.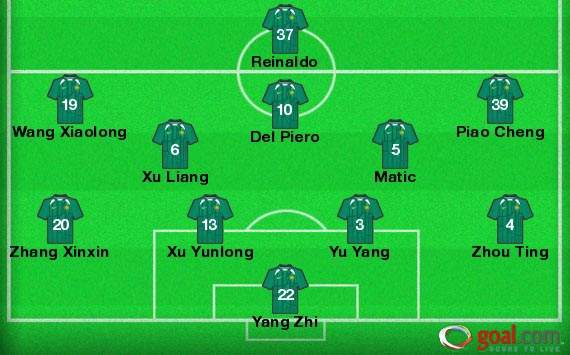 As the Chinese League is going through a renaissance, thanks to massive investments, the captial city's club really need a superstar player to climb up to the level of their rival clubs; Shanghai who hired Nicolas Anelka and Guangzhou who were successful in signing Dario Conca.
Of course, bringing over Del Piero would be good not only for matters on the pitch but also for business. The Italian would bring a new flavour to the Chinese League, and not only Beijing's supporters, but also Juventus and Serie A fans in general would cheer for him around the country.
With Guoan, Del Piero would likely play in a shadow-attacker position, behind 1.94m tall Brazilian Reinaldo, who is a powerful though not particularly skillful. The Chinese league is not as technical as the European leagues, but both sides usually play long balls up the field and commit many fouls. It would be in anyway a great experience for Del Piero as adapting to this league could be a new challenge for the Juve legend.
Last weekend the ex-NBA Star Stephon Marbury, 35, helped the Beijing basketball club to clinch the championship. Maybe Beijing Guoan could try to achieve the same in football with the 37-year-old Del Piero.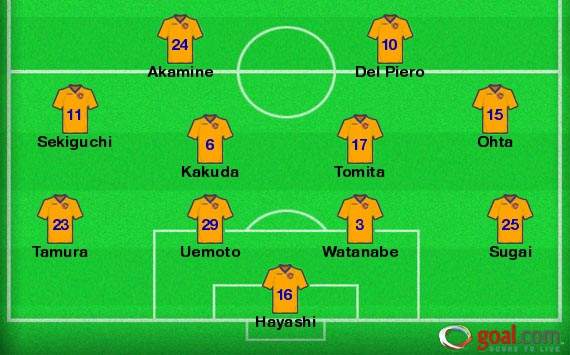 At the Eastern edge of the Asian continent, there have been rumors of Del Piero moving to a J.League club, though a big sponsor would be needed to finance the transfer.
Among the possible destinations, the most likely could be the J.league leaders, Vegalta Sendai. The bond between Del Piero and the city of Sendai was established when in 2011 the Italian started his fund to support the victims of the tsunami.
Under Teguramori, a young, intelligent and open-minded manager, Del Piero could pair up with Akamine or Ryang, to form a deadly two-pronged attack, supported by the dynamism of Sekiguchi and Ota on the wings and the solidity of Kakuda in midfield.
At Vegalta, Del Piero would also find some of the most fervent supporters in Japan. His presence and his ability would bring an extra injection of hope to what is becoming a very solid team; even possibly making them a contender for the title.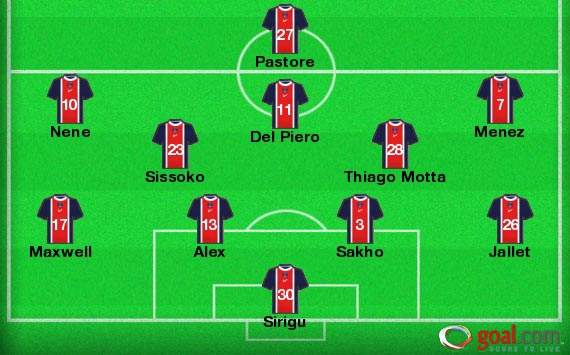 Paris Saint-Germain are still aiming to enhance their brand as they seek not only success on the field, but recognition and a greater fan base away from it. As a result, they want to sign an icon of the modern game. David Beckham may have turned them down, but that's not stopping them from chasing Del Piero, who would undoubtedly attract the kind of media attention that the their Qatari owners would relish.
The Italian legend could be attracted by the strong Serie A influence that is clearly present in their team. From coach Carlo Ancelotti and sporting director Leonardo off the field, to the likes of Salvatore Sirigu and Javier Pastore on it, this is a side that has drawn strongly from Italy.
Del Piero would, of course, add to this, but he could provide the kind of craft and experienced head that PSG have been missing in their offence this season, although finding a regular spot in the team could be something of an issue as PSG's attack is already packed with talent.
With Pastore firmly embedded in PSG's starting XI, and a favourite of the coach if not yet the fans, Del Piero's best chance of featuring regularly would be for the Argentine to play in a more attacking role, where he has played on occasion this season. This would allow the Italian to play in a playmaker's position.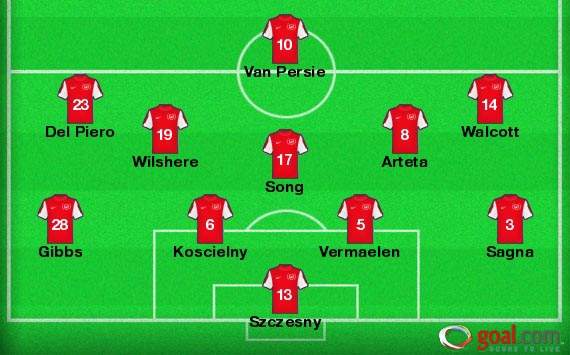 With Andrey Arshavin shipped out on loan to Zenit, Tomas Rosicky's inconsistency and Alex Oxlade-Chamberlain's inexperience, Del Piero could make a telling impact on the left wing.
His renowned guile, commitment and eye for a pass would compliment the Gunners' counter-attacking play tremendously and with his contract set to expire in the summer, we all know of Arsene Wenger's preference for a bargain.
Plus, with Arsenal heavily linked with a move for Lukas Podolski, Del Piero's experience in the hole supporting two frontmen will serve the north London side, and himself, well if a 4-5-2 formation is adopted next season.
But we must not forget Del Piero's ability to play up front. With Marouane Chamakh and Park Chu-Young hardly setting the world alight, it has left Arsenal heavily dependent on Robin van Persie to lead the line all season. The Dutchman's fitness issues have been well documented, and Del Piero could also provide the much-needed reliance of a striker 'safety net' if the worst happens to Van Persie.
Follow Cesare Polenghi on Twitter @CesarePolenghi


with
Allen Ramsey (@AllenRamsey, Goal.com US); Tony Mutong (Goal.com China); Robin Bainer (@RBairner, Goal.com International/France Editor); and Alex Young (Goal.com UK).