COMMENT
By Greg Stobart

Louis Van Gaal has admitted that Manchester United need a "miracle" to win the Premier League title this season. Enter the Messiah.

The arrival of Angel Di Maria for a British transfer record of €84 million is a statement that United still belong in the big time and that the Argentine could become the saviour of their season.

After a dreadful start in the league - a home defeat to Swansea followed by a draw at Sunderland - Di Maria's transfer from Real Madrid is just the boost the 20-time English champions have been crying out for.
The whole club will be lifted by the signature of a genuine world class player at the peak of his powers at the age of 26. Di Maria is a thrilling, bums-off-seats player in the tradition of the greats of United's past.

You can already sense the change in atmosphere among the supporters - just search for Di Maria's name on Twitter - and no doubt that buzz will be mirrored among the United squad at Carrington today.

In many ways, United are repeating the trick used by Arsenal to dig themselves out of a hole last summer.

The Gunners started the season terribly, losing at home to Aston Villa, and fans expressed their anger with the club's lack of transfer business.

The whole complexion of their season changed when Ozil signed - from Real Madrid, of course - on the final day of the transfer window for a club record €50m. The immediate bounce resulted in Arsenal sitting at the top of the table for more days than any other side last season before they won the FA Cup in May, their first trophy in nine years.

After the disaster of the Moyes era and an unconvincing start under Van Gaal, Di Maria is the man who can switch the lights back on at Old Trafford.

The comparisons between Ozil and Di Maria stretch beyond just the circumstances in which they joined their new clubs.

Both played in the same position at Real Madrid and their statistics from that attacking midfield role are eerily similar in their final campaigns at the Santiago Bernabeu.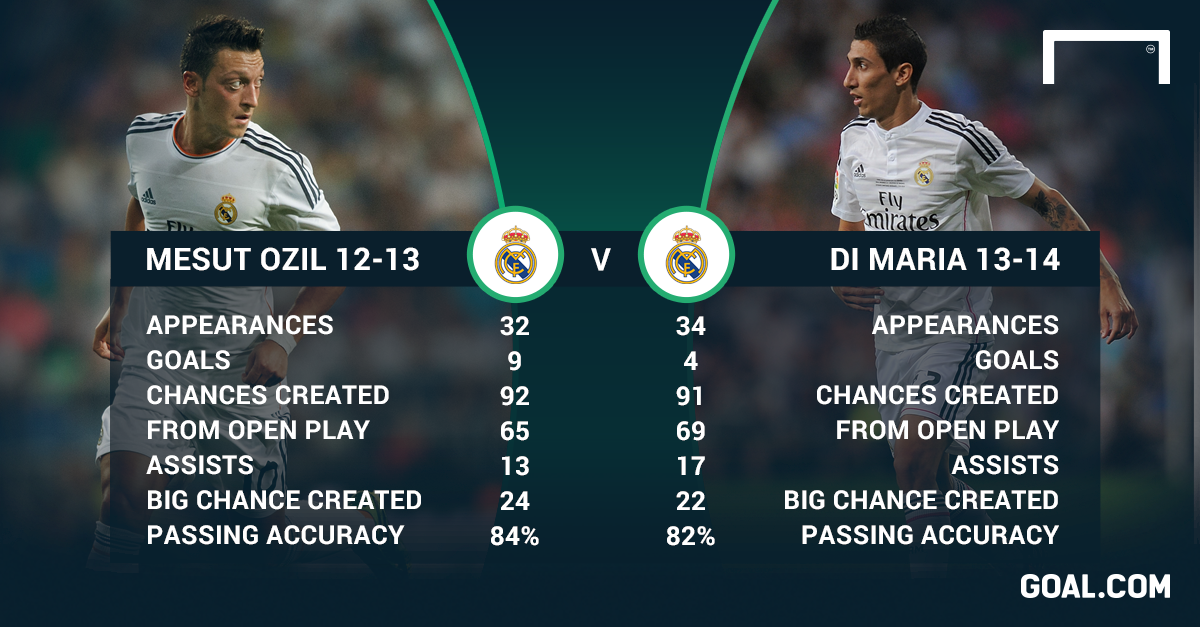 In the 2012-13 season Ozil provided 13 assists and created 92 chances in total. Last season, Di Maria claimed 17 assists in total and created 91 chances overall.

In fact, only Ozil and Lionel Messi have provided more assists than Di Maria's 49 since August 2010.

Anyone who watched United's listless first two league matches will concur that Di Maria's attacking qualities will be welcome in a side struggling to create chances despite boasting the likes of Robin van Persie, Wayne Rooney and Juan Mata in attack. Di Maria is overpriced, but United were left with little choice after spending another summer floundering in the transfer market.
They have now flexed their financial muscles with a deal which could be worth over €190m once wages are taken into account and proved they can sign top players even without the lure of Champions League football. Maybe more will be tempted to follow his lead.
But the Argentine will not solve the problem on his own.

Van Gaal may be able to field a Fantasy Football attack, but they are currently backed up by a Football League defence and midfield.

The most pressing issue for several years has been to sign a central midfielder who can dominate matches. For all the positives Di Maria will add, would the money not have been better off diverted towards convincing Juventus to part with Arturo Vidal, the most dynamic all-round midfielder in the world?

Or perhaps even more importantly, a central defender like Mats Hummels or Mehdi Benatia given neither Nemanja Vidic or Rio Ferdinand have been properly replaced.

Ironically, a year after signing Ozil, Arsenal are wrestling with the same problems. They too signed Ozil as a luxury and have neglected more important concerns such as their glaring need for a defensive midfielder.

While Ozil undoubtedly provided a much needed boost in north London, the Gunners did not address the other issues in their squad last summer or even in January. A year down the line and with just a week to go of the latest transfer window they are scrambling to sign a central defender, a central midfielder and a striker.

Even so, Arsenal are in a considerably stronger position than United so the money men at Old Trafford must learn from their old rivals' mistakes.

They must make sure that Di Maria is more than just a vanity signing like Juan Mata's €46m move in January. There is only so long you can paper over the cracks.

If United back up Di Maria's signing with more players in the final six days of the transfer window, then anything is still possible, but they have been warned.