By Peter McVitie
Devastatingly quick, skilful, technically excellent and incredibly determined, Memphis Depay has shown in his short time in top-flight football that he is a player destined to be amongst the very best.
The winger is by far the brightest prospect the Netherlands has seen for some time and it says a lot about his ability and potential that, at 20 years of age, he is central to PSV's bid to break Ajax's dominance of the Dutch league this season.
Sitting ahead of Frank de Boer's team on goal difference after two games, the Eindhoven outfit travel to Amsterdam on Sunday, looking to throw down the gauntlet by defeating the four-time defending champions in their own stadium. And crucial to their chances of doing so is their precocious winger of Ghanaian descent.
Buoyed by a very promising World Cup campaign with Netherlands, Depay has started the season perfectly. With four goals and one assist from two games, he is already the Eredivisie's top goalscorer. The youngster has been the best performer in the opening two weeks and has justified the many critics who believe he will light up the Dutch top flight this term. In fact, so heavy are the expectations that anything less would be a huge disappointment.
His record sounds less impressive when you consider that three of his goals have been set-pieces (two remarkable free kicks and a penalty) and one a complete stroll in wins over tame Willem II and NAC Breda sides. However, it's what the forward does elsewhere that makes him such a crucial player for PSV.
His pace, skill and technical ability are all remarkable. So far, Depay has completed all six of the dribbles he has attempted in the league this season - last season he completed 101 of the 198 he attempted. All four of his shots on target have found the net and his passing accuracy stands at 77 per cent – a respectable figure for a winger.
He is central to everything PSV do well, covering a great deal of ground as he swaps positions with attacking partners Luuk de Jong and Jurgen Locadia to drift inside, influnce the game and unsettle defences. He will also drop deep to bring midfielders into the attacks and inject some pace into PSV's moves. His defensive work rate has improved a great deal too.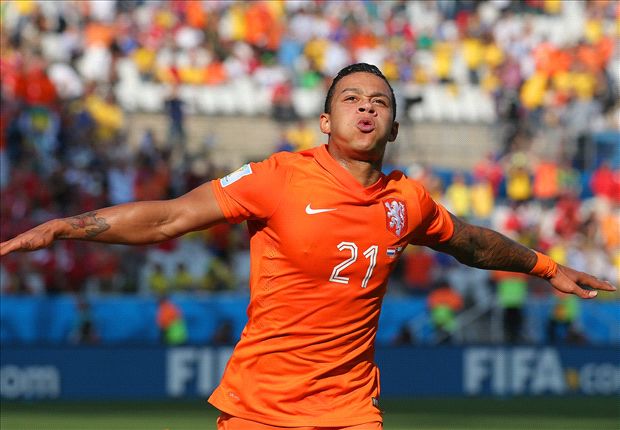 Wonderkid | Depay's excellent form has impressed Manchester United and Tottenham
It's no surprise, then, that the youngster has caught the attention of top clubs across Europe, with Manchester United and Tottenham Hotspur being heavily linked with Depay this summer. Despite such speculation, though, it is impossible to say that the Moordrecht-born player has outgrown the league and it is clear he feels the same way.
On Friday, he brought an end to all uncertainty over his future when he signed a four-year contract to ensure he will stay in Eindhoven until the end of this season at least. "I want to develop myself in this team," he said after putting pen to paper. "Last season we have embarked on a path to success. I want to play for the titles and be important to the team."
The decision was a wise one, for as thrilling and electrifying as Depay has been, he is still developing as a player and this season has shown that he is still quite wasteful, having missed the target with two thirds of his shots.
But if he can improve on last year's record, it will go a long way to proving he is developing well enough to become an exceptional player.
In the 2013-14 campaign, Depay hit more shots than anyone else in the Dutch top flight – 28 more than the next trigger-happy figure in the league, Graziano Pelle, and 36 more than Alfred Finnbogason.
But while Finnbogason and Pelle topped the goalscoring charts with 29 and 23 goals, respectively, Depay hit the net just 12 times. His conversion rate of a mere nine per cent was shocking.
One of the main reasons for his woeful shooting figures is that, after a bright start, PSV completely capitulated, winning just one of the nine games that followed the 4-0 demolition of Ajax. As they slumped into the bottom half of the table, Depay, then 19, looked to try and win the game all on his own.
However, the youngster became more of a hindrance than anything else. His desire to make the difference by himself saw him become a one-trick pony – cutting inside and shooting any time he got the ball, despite having team-mates in better positions.
After the winter break, PSV came back stronger. Their transition to become a much more efficient team was significantly down to Depay, whose tact completely changed. He began playing with his head up, thinking about the situation in front of him and looking to link up with a team-mate before simply unleashing a hopeless shot. As a result of this new found patience and faith in his colleagues, Depay played a crucial role in his side finishing the season with just five defeats in the 16 games they played after the New Year. The player himself scored six and set up three in his last 11 matches, guiding PSV to a Europa League spot.
He was able to carry that form onto the World Cup, where he netted twice and set up one goal, playing an important role on the field for the bronze medallists while learning a great deal from the likes of Arjen Robben, Robin van Persie, Nigel de Jong and Louis van Gaal.
Depay's potential appears to have no ceiling and his ability is already exceptional, but the youngster has made the correct call to stay in Eindhoven. While his excellent displays have shown he can develop into a world star, Depay needs to show that he can be an influential figure for a full season. He can prove it by helping ensure PSV end Ajax's era of dominance. And he can start by knocking a few goals past the champions on Sunday.
Then, perhaps a year from now, we will see his impeccable pace and skill light up the Premier League.
Follow Peter McVitie on