By Greg Stobart at Wembley
This time last year,
Arsenal
fans were frothing at the mouth, calling for
Arsene Wenger
to step down and planning protests to express their anger with the club's lack of transfer activity.
On Sunday, 35,000 Gunners supporters bounced out of Wembley convinced they have the squad to genuinely challenge for the Premier League title this season following the 3-0 victory over champions Manchester City in the Community Shield.
Alexis Sanchez has arrived to spice up their attack, Aaron Ramsey has picked up where he left off last term and Mesut Ozil returns this summer as a World Cup winner with a year of Premier League experience under his belt.
The addition of fitness expert Shad Forsythe to the backroom team has also offered encouragement that the Gunners could avoid the annual injury crisis that usually corresponds with a drop in form.
In the first-half against City, Arsenal played with the attacking skill, technique and speed that the fans want to see. Sanchez provided the pace that has been missing since Theo Walcott's knee injury in January, the midfielders interchanged with slick passing and movement with which City failed to cope.
They were up against an almost unrecognisable City defence. Joe Hart, Pablo Zabaleta, Vincent Kompany and Martin Demichelis will all expect to start when Manuel Pellegrini's side face Newcastle next week and will form a far more stable back five.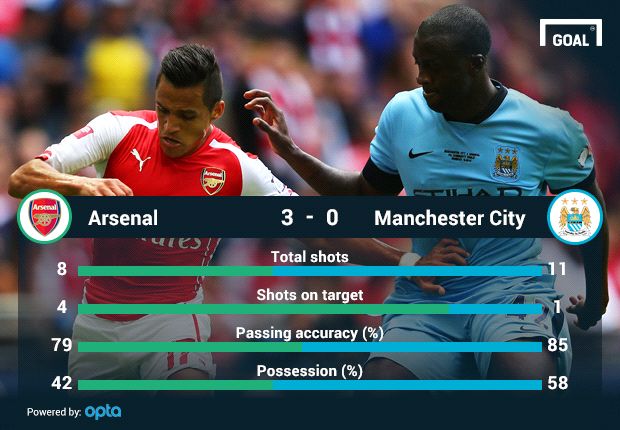 VICTORIOUS | Arsenal got their campaign up & running by winning the Community Shield
But Arsenal can only beat what is put in front of them and Wenger has built an enviable group of technically gifted attacking players.
And yet there is still something missing.
Arsenal are so close to being able to boast a starting XI as strong as any in the division, but there are still two glaring weaknesses in the team that can be easily addressed.
Mikel Arteta, the new club captain, is a tidy player but not the dynamic and proactive defensive midfielder that Wenger needs in front of his back four.
A player like Morgan Schneiderlin or Sami Khedira would automatically improve the Gunners, providing a screen for the defence, a player to start attacks and provide a base for Sanchez, Ramsey and Co.
Without a genuine defensive-minded midfielder, Arsenal risk getting torn apart again against the better sides who will exploit any space in the final third. They won only once against the rest of the top four last season and suffered thumping defeats away at City, Liverpool and Chelsea.
The money is there for Wenger to spend £20m-plus on a new midfielder, just as it is to sign a top class centre-back replacement for Thomas Vermaelen.
PERFECT FOR ARSENAL? | Khedira's 2013-14 La Liga stats

Vermaelen's £15m move to Barcelona means that, as it stands, Arsenal will spend the whole season relying on the form and fitness of Per Mertesacker and Laurent Koscielny. 
They formed a solid central defensive partnership last season, but Wenger needs to sign a player who can put pressure on them for a place in the side.
Mertesacker's late return from the World Cup and the Achilles injury that forced Koscielny out of the Community Shield means that there is a real chance that left-back Nacho Monreal could start in central defence in next weekend's opener against Crystal Palace.
That is not good enough for potential champions with money burning a hole in their pockets.
Calum Chambers looks, potentially, a very promising addition as both a full-back and central defender but nor should Wenger be depending on a 19-year-old kid who has only been at the club for a couple of weeks.
Arsenal are so close, particularly with Alexis likely to play as a central striker and Walcott wide on the right. With Ozil supplying the bullets and Ramsey storming forward from midfield, it seems like they have almost the perfect attacking balance.
Wenger has been stockpiling technically gifted attacking players for years. To make it count, he now needs to fix a problem that's been staring him in the face for years by signing a defensive midfielder and adding centre-back cover.
If he can do so before the transfer window closes, that first Premier League title since 2004 will become a genuine possibility.