The Belgian's transfer to Everton leaves a massive gap in the striking department for the club, but his departure from the club was best for both parties..
COMMENT
By Shikharr Chandra
Back in 2010, when Romelu Lukaku first visited Stamford Bridge for a stadium tour, the then 17-year old stood next to the pitch and made a promise to himself that he would go on to fulfill his dream of playing for the club he supported.
"The day I am playing here in this stadium, will be the only day you will see me crying" he said. Lukaku before leaving the stadium turned back one final time took a picture and told his companion, "This is not a dream, I am going to play here someday, I am sure".
On Wednesday night four years later, after playing fourteen games for Chelsea, it seemed as if the love Lukaku had for the London club had faded away. He completed his move to Everton, thus making him the most expensive transfer in the Merseyside club's history.
For Chelsea though, Lukaku remained just another profit generating player in order to maintain their compliance with the Financial Fair Play regulations. It's a shame that what could have been a journey worth remembering, ended prematurely.
As the likes of Thibaut Courtois and Eden Hazard were set to return to the club following their World Cup exploits, Lukaku instead was set for a whole "new chapter" in his career. A move away from Stamford Bridge was always on the cards. It was a matter of 'when', rather than an 'if'.
When the young Belgian first joined Chelsea under Andre Villas-Boas, his frame along with his playing abilities were very similar to Didier Drogba. Chances were hard to come by for him and he spent most of his time with the reserves.
He was loaned out the following season to West Bromwich Albion. Lukaku scored 17 goals in 35 appearances for the club, ending as the sixth highest scorer in the league as well as leaving all of the Chelsea strikers trailing behind in the goal scoring charts.
As he returned to the west London club a more matured player and alongside a manager he looked upto in Jose Mourinho, it seemed Chelsea's striking issues could be solved by the young Belgian. But all that seemed to end rather quickly when Lukaku demanded a move away from the Bridge on the final day of the transfer window. "A boy who likes to speak" said Mourinho following Lukaku's claims over his exit from Chelsea to Everton on loan.
The major problem with Lukaku has been the striker's attitude and his inability to handle competition in the side. This has not just been the case at club level either. It was seen in the World Cup as well when Divock Origi was subbed in for him. Lukaku refused to shake hands with Marc Wilmots and was left vexed as he sat down in the dugout.
That was also the case at Chelsea last season when Lukaku demanded a move away following the arrival of Samuel Eto'o on a one year deal. A competition for places alongside Fernando Torres, Demba Ba and Eto'o would have been far easier than what Lukaku expected but his perplexing attitude left the club with no choice.
Lukaku thrived under Roberto Martinez at Everton outscoring all of Chelsea's strikers once again who only managed mediocre performances. Chelsea suffered in the long run, but to say that Lukaku would have helped the cause would be a bit far-fetched. The striker has obvious flaws in his game and thriving at mid-table clubs does not necessarily mean he can handle the pressure of a playin in one competing for major honours throughout the season.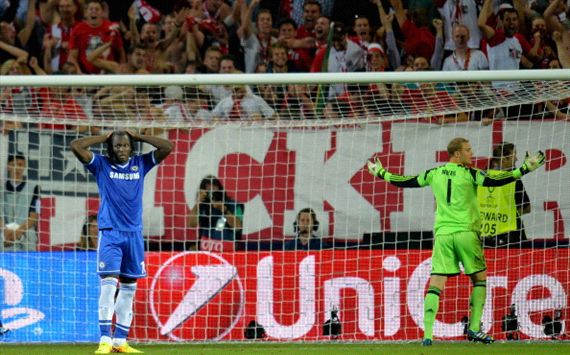 Lukaku no doubt is extremely talented, arguably the most talented teenager to play in the Chelsea academy but his attitude made it really hard for the club to keep tabs on him.
"He wanted to play for Chelsea but clearly only as the first choice striker - and at a club of our dimension it's very difficult to promise a player that status," said Mourinho.
His departure this season though leaves a massive void in the squad. Despite the signing of Diego Costa from Atletico Madrid, Chelsea's reserve options aren't that impressive. Torres' stock has dipped to an extent that expectations of him are modest at best and a 36-year old Drogba does not really have the same influence he did a few seasons back.
Lukaku would have been a very valuable addition in what looked like a complete Chelsea side. The signing of Cesc Fabregas, Filipe Luis and the return of Courtois had strengthened Chelsea in all positions but with Lukaku's departure it seems the club has taken a small step back.
Top strikers win leagues. That has been the case with Robin Van Persie and Manchester United, Sergio Aguero and Manchester City and Luis Suarez was mighty close to doing it with Liverpool. Although Chelsea have Costa in their ranks, an over reliance on him might not be a good idea considering how badly he struggled for fitness towards the end of last season.
Another major problem for Chelsea is that to replace the Belgian, they now have to find a homegrown player to replace him or look to sell two foreign players in order to buy one. The club presently have 18 non-homegrown players.
Over the course of the last two seasons, Lukaku has managed 32 league goals, third highest in the league behind Suarez and Van Persie. He managed 15 last season in the league, four behind what all three Chelsea strikers managed in 68 appearances in total.
There is little doubt in Lukaku's abilities and that he would have only gone on to strengthen the side. To offer Lukaku the first choice role in the striking department would have been a massive gamble considering how little experience he has on the European stage and Mourinho's decision to persist with Costa seemed to be the logical option.
It's ironic how Drogba, the man who Lukaku was destined to replace, the man he considered his idol turned out to be his replacement at the club he supported. Chelsea might miss Lukaku as the season goes on and even in the long run for that matter, but for an owner who demands instant success, it seems Mourinho's decision was the logical one and might well turn out to be the right one.