Arturo Vidal
is a man of many nicknames, and they tell you all you need to know about the man lined up by
Louis van Gaal
as
Manchester United's
No.1 transfer target this summer.
Some need no explaining, such as 'King Artur', or 'The Warrior' - first
El Guerrero
in Chile before it became
Il Gurriero
in Turin. And then there's 'Celia Punk' - a fusion of Celia Cruz, his favourite singer, herself dubbed 'The Queen of Salsa' - and punk because of his elaborate hairstyles.
But the latter could just as easily describe his style of play. He is perhaps the ultimate box-to-box midfielder in world football, combining vision, creativity and his fair share of goals with fierce tackling, awe-inspiring work rate and aggression. He is both beauty and beast.
And he knows it: "There are a lot of players out there in my position who try to play just like me and want to copy my style of play," he said in January.
"But it's quite clear for me that I'm the best in my role. Nobody puts in as much defensive work as I do and then scores a lot of goals on top of it as well.
"I am the best player in the world in my position. That's simply the way it is for me."
It would be wrong to say Manchester United have been crying out for this kind of force of nature since Roy Keane left the club in 2005, given their extended success over the last nine years thanks to Sir Alex Ferguson, his variety of formations, tactics and star names, but they have certainly never replaced the no-nonsense midfielder like-for-like.
Now, with last season's batch of midfielders either vastly underwhelming or about to be sold,
Vidal has been identified as the man to come in and shake things up.
Ander Herrera has already been brought in for €36 million, but with Van Gaal set to play three in the middle, whether in a 4-3-3 or even a 3-5-2, players like Tom Cleverley, Marouane Fellaini and Anderson just will not do.
Vidal
will
do, and then some. The Chilean made 130 tackles in Serie A last season, the third highest in the league, and one every 19 minutes. That number would've been enough for second place in the Premier League and Ligue 1, he would've been top by 11 tackles in the Bundesliga, and fourth in La Liga (a whopping 37 behind Espanyol's Victor Sanchez).
But what sets him apart from specialist defensive midfielders like Sanchez is his desire to follow the play once he has won the ball, charging into the opponent's area and getting himself into dangerous positions.
He scored 18 goals for Juve last term, setting up five more, and in Serie A he ranked 11th with a shot conversion rate of 23 per cent (of those who scored more than 10 goals). That would have been enough for first place in the whole of Ligue 1. In terms of central midfielders, nobody got near his 23% in Italy, Spain, or Germany. In England, only Steven Gerrard (who scored 10 penalties) and Yaya Toure (a set-piece specialist) ranked higher.
To provide a specific example, the Chilean also offers more than Toni Kroos, one of the stand-out midfielders of the last 12 months and a player coveted by United before his move to Real Madrid.
For Bayern Munich last season, Kroos created 26 fewer chances from open play than Vidal, made 76 fewer tackles, 23 fewer interceptions, scored nine fewer goals, had a worse shot accuracy and a shot conversion rate of just 5.56% to Vidal's 23%.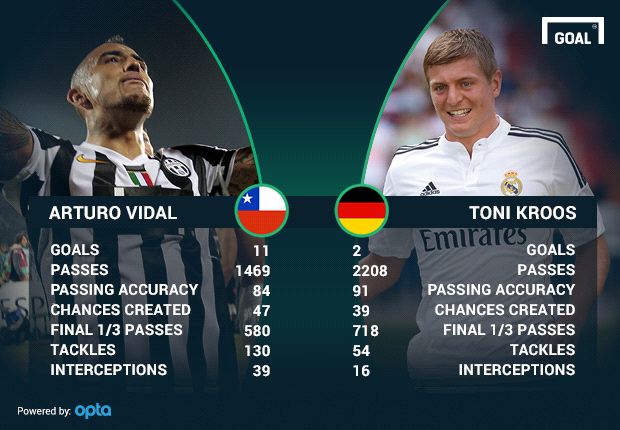 Domestic stats from the 2013-14 season
Needless to say, Vidal's numbers dwarf most at Old Trafford, too. He created 44 chances from open play alone in Serie A last season, one every 55 minutes. At United, Wayne Rooney and Patrice Evra were joint top with 38. Michael Carrick did his best from midfield with 28, but Cleverley (9), Fellaini (4), and Anderson (4) hardly flourished.
He also leads his potential team-mates in numerous other areas. His tackle count of 130 was 51 higher than Evra, United's best, his shot conversion rate nearly twice Cleverley's 12.5%, his 48 shots bettered only by Rooney's 81.
But more than the stats, as illustrative as they are, Vidal has offered something unquantifiable to Juventus since joining in 2011; he has become the heartbeat of a team which has won three consecutive titles, each more impressive than the last.
He sets the tone with his all-action displays and provides the type of energy and tenacity which former coach Antonio Conte brought to the table during his own playing career. He pops up everywhere, doing everything.
ACTION MAN |
A typical Vidal performance, taken from February's 3-1 win over Inter
Conte always recognised the value of the Chilean, as well as France midfielder and fellow transfer target Paul Pogba, and insisted to his board that the two should be retained at all costs as he looked to strengthen his champions year on year.
Conte, of course, left his role at the start of last week, and while it is clearly something he considered for a long time, the prospect of losing one or both of Vidal and Pogba likely played some part in his decision.
Juve, it seems, are ready to cash in on Vidal, Van Gaal has long been a fan, and
United are, supposedly, flush with cash. If the Red Devils are as serious as their chief executive makes out
, they will exploit the situation and do what they have done only fleetingly in their history: bring in a truly world-class player at the peak of his powers.
Whatever they call him, United need one man this summer.