---


BY BRENDON NETTO |

Follow @BrendonNetto

---
The announcement on Friday that Philipp Lahm was retiring from international football was largely greeted with shock and bewilderment. The German skipper is widely regarded as the best full-back of his generation and could walk into any team.
He finally led Germany to the pinnacle of world football and they don't look like they're going to ease up in a hurry. Even at this early stage, the reigning World champions have already been tagged as favourites for the 2016 European Championships. Surely the Bayern Munich man would have had a shot at lifting even more silverware on the international stage if he chose to stick around.
In September 2013, Joachim Low declared that Lahm was "nowhere near past his best". No one could argue with that then and that claim holds true even today. The 30 year-old is on top of his game and performing at an impressive level. He could comfortably remain a mainstay in the national side for the foreseeable future.
As a player, he's been the epitome of consistency and excellence. Ever since his international debut in 2004, Lahm's never strayed from his path and developed into one of the finest full-backs the game has seen. He never had the flair that modern full-backs often boast but he has always been a defender in the truest sense.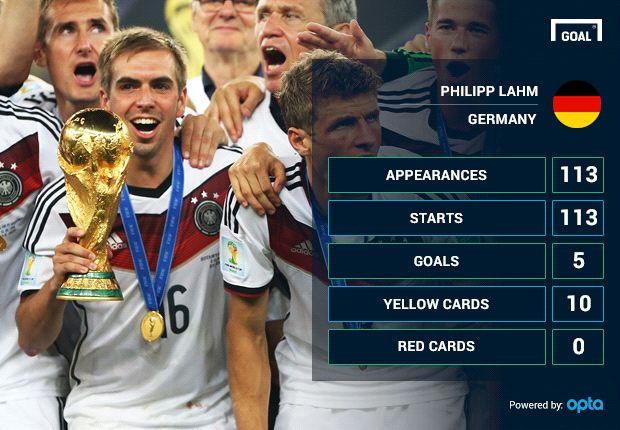 He also has the drive to get forward, the intelligence to work openings and the quality to provide assists and chip in with the odd goal. However, what sets him apart is not only his incredible versatility that has seen him play on both sides of defense as well as in midfield, but the quality he delivers in every role.
Such is his consistency that he has never made a substitute appearance in his international career. He was named in the first eleven for every one of his 113 appearances. He also has the distinction of never being sent off for Germany, enhancing his reputation as a composed individual.
Pep Guardiola hailed him as the most intelligent player he's ever coached as he frequently uses him in midfield to orchestrate his possession based system. That's quite a statement when you think about the phenomenal technical talents the Spaniard has tutored in Lionel Messi, Xavi Hernandez and Andres Iniesta.



"Philipp Lahm is the most intelligent player I have managed in my career. I'm delighted to be here, just because I get to manage him."





- Guardiola
As a captain, Lahm is communicative and vocal without being pompous. He leads by example and chooses to encourage his troops rather than lambast them for every error. While Bastian Schweinsteiger is a leader in his own right, there's a reason why Lahm was picked as Bayern and German skipper ahead of his teammate.
Schweinsteiger may be a midfield general and highly influential player but is evidently more emotionally charged than his compatriot. He's an all-action midfielder who wears his heart on his sleeve and his emotions often projects on to the pitch.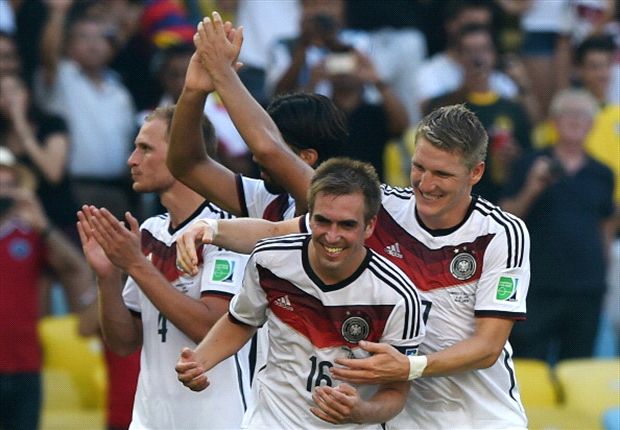 While it's excellent to have a personality like that in the dressing room and on the field, Lahm's calming influence is priceless. He commands authority effortlessly and while you won't often see him bombarding a teammate, he knows when and how to get his message across.
He's the sort of captain a manager can trust to deliver his best and get the best out of his teammates. He can get fired up when necessary and keep the team focused when things threaten to boil over.
Lahm isn't a 'yes man' though, he has his views and isn't afraid of voicing them. In fact, that was made clear when Bayern fined him €25000, their heaviest disciplinary fine, back in 2009 when he spoke out against the club's transfer policy.



"He has a natural authority, takes on responsibility, is communicative and is an absolute leader."





- Low
Furthermore, he's just the kind of leader you want in despair. In the 2012 Champions League final, Bayern were beaten by Chelsea on penalties after dominating the game on their own ground no less. But while his teammates lay on the pitch distraught, Schweinsteiger included, Lahm stood tall.
He urged his troops to their feet before marching up to the podium with his chin up as they received their runners-up medals. He carried himself like the proud captain of a great team and twelve months later, he lifted that coveted trophy.
Apart from his outstanding service as a player, it's that character that he will be remembered for. His retirement comes as a blow for Germany despite the fitting end but Bayern stand to benefit a great deal from it. They have their captain all to themselves and with Guardiola putting so much faith in him, there's no doubt that he'll remain integral to the Bavarians for years to come.
Was it the right time for Lahm to retire from international football? Leave your comments below or discuss with the writer on Twitter @BrendonNetto.
How do you stay up with football when on the move? With http://m.goal.com –your best source for mobile coverage of the beautiful game.