The only place on Earth that can replaicate the intensity of emotion at the Maracana on Sunday is Rosario, the Argentinian hometown of Lionel Messi, Angel Di Maria and Ezequiel Lavezzi.
World Cup fever has gripped the locals for a month and transformed the town to such an extent that the authorities have drawn up a special security plan to prevent trouble in anticipation of wild celebrations.
Around 50,000 people gathered at the central Flag's Monument to celebrate the semi-final victory over Netherlands. More are expected if Messi lifts the trophy even though hundreds have also left for Brazil.
Although they are highly over-priced, all bus and plane tickets north are sold out, while Di Maria has hired a private flight to take 10 of his friends to Rio de Janeiro.
A town usually divided by the rivalry of Rosario Central and Newell's Old Boys is united behind the national team's dream and the crowning of Messi, their prodigal son.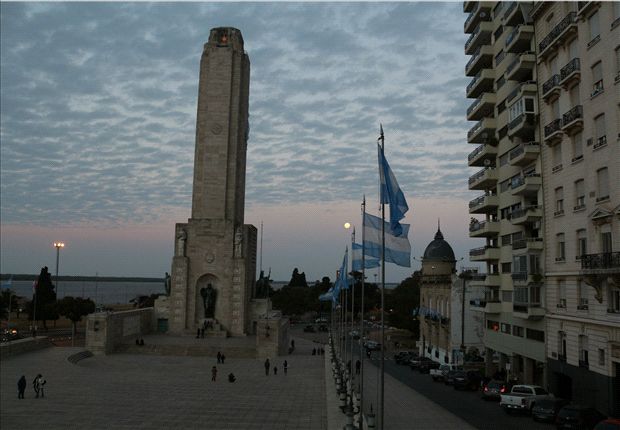 MESSI'S MONUMENTAL MOMENT | Argentina fans will gather here in their thousands
Neighbours of Messi's family from General Las Heras district are confident that their man will make the difference in the final. One said simply: "It is his destiny."
A passionate Argentina supporter, Nacho Catullo, told
Goal
: "I understand that there are more important things than football, but I'm not able to admit that.
"I respect and admire those who fight every day for a better world, but to me, at this moment, I do nothing but mourn, suffer, laugh and rely on a group of players, who give us something magical.
"I am not able to think about the strategy and tactics. I have no space in the chest for much emotion. Only a heart that is allowed to stop working if Leo becomes the winner."
On the Copa Copacabana in Rio, it is a similar story. Music and passion are always in fashion, but instead of samba songs and yellow shirts, the tunes tell tales of Maradona and Messi; the colours in vogue sky blue and white. The Argentinian invaders have taken over the world's most famous beach.
Argentina's Ministry of Transport estimated around 42,000 people travelled to Rio on Friday and Saturday. Many others were already in Brazil, some even for the entire month, having driven thousands of kilometres, hitch-hiked, camped or slept on the sand.
A large percentage of those fans will watch the game on the beach at the Fan Fest in Copacabana, however, as tickets on the black market sell for as much as $20,000. Cheaper deals are available courtesy of disappointed Brazil fans, but not in Rio.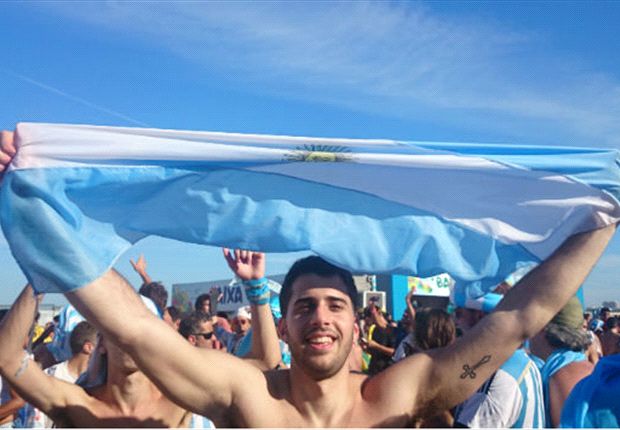 LIFE'S A BEACH | Argentina fans in Copacabana
"We had to be here," said Daniel Perez, a 34-year-old fan from Buenos Aires. "It's the chance to see Argentina win the World Cup - and it's right on our doorstep."
Two others, Martin Fernandez and Gaston Garcia, have spent the whole month in Brazil - albeit on a tight budget. Fernandez said: "We drove from Cordoba and it took us a couple days to get here. But Brazil's fun and the chance to see Argentina not only win a World Cup, but win it in Brazil... we weren't going to miss it."
Another supporter, Sebastian Lopez, says Messi and the Maracana together is a story comparable to Maradona and the Azteca in 1986. "Great players are consecrated in great stadiums and on great stages. There is no greater player and no greater stage..."

Follow Ben Hayward on