---


BY BRENDON NETTO |

Follow @BrendonNetto

---
Nothing is forever. When you rise to the very top, it's a long way down, so Spain have learnt. With the manner in which they excelled and dominated for the last few years, the inevitable fall from grace was always bound to be dramatic. 'The bigger they are, the harder they fall', and all that.
Spain's 2-0 defeat to Chile sent the reigning world and European champions plummeting out of the World Cup. Of course, there is still the small matter of a meaningless game against Australia left to prolong their nightmarish tournament.
After a 5-1 trashing at the hands of Netherlands, a response was expected from what will still go down as one of the best national teams of all-time. The Spanish were expected to fight and roar their way back into contention for the knockout stages but sadly, such retaliation was not forthcoming.
On the surface, Vincent del Bosque appeared to ring the changes but in truth, nothing was really altered. Perhaps Pedro's inclusion from the start was a step in the right direction but benching Xavi Hernandez while fielding Sergio Busquets was certainly a step back.
However, this defeat wasn't exactly a replica of their humiliation against the Dutch. That was a result of tactical excellence coupled with sheer moments of brilliance from big players. Chile's victory though was built on stamina, desire and dynamism, blended perfectly with just the right amount of quality.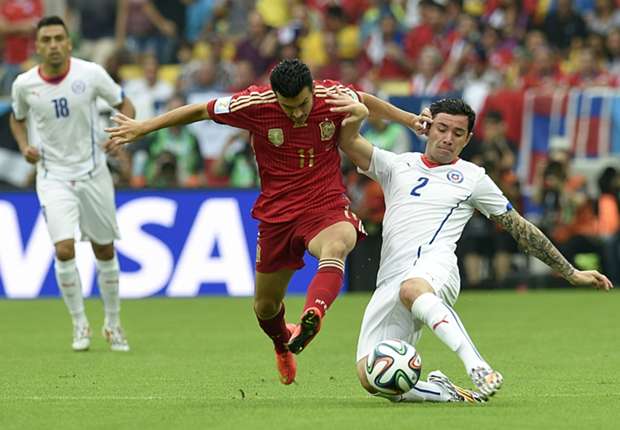 Chile pressed Spain relentlessly in the first half, often putting pressure on them high up the pitch, a ploy that led to the opening goal. Even in the 69th minute when a chance came their way, it was the two wing-backs who found themselves the furthest forward, serving as a testament to the Chileans' excellent work-rate.
In a way, it's great and even heartening to see that basic hard work and commitment can still go a long way in football. Spain on the other hand, showed none of those qualities. They were evidently out-run and out-muscled by their opponents.
But apart from their blatant lack of desire in comparison to their opponents, the team selection and tactics were also shockingly passive. Del Bosque's initial squad selection was questioned as he left out Alvaro Negredo and Fernando Llorente who enjoyed good domestic seasons while Fernando Torres made the cut despite his continued underwhelming spell at Chelsea.
For this game in particular, the absence of Koke from the starting eleven was dubious. He not only possesses the range of passing and technical ability that's so important to the Spaniards but also the legs and combative nature to match up to Chile's dogged midfield.
Del Bosque's rather docile approach to chasing the game was baffling. All he did was to introduce like-for-like substitutions. When on the brink of elimination, surely one must gamble and bring on an extra striker instead of replacing one with the other. And when you have your all-time leading goal scorer on the bench as well in David Villa, how do you justify denying him a chance?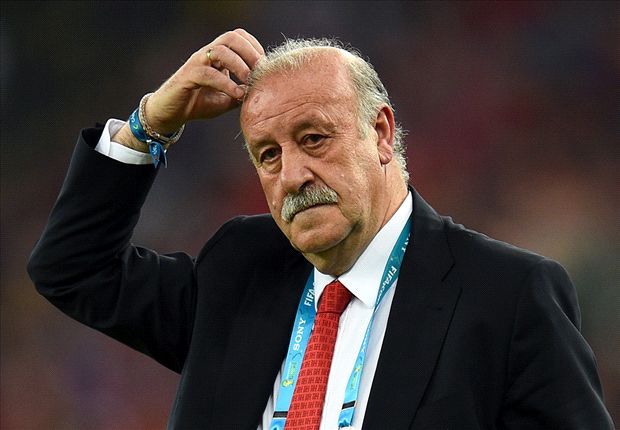 The formation and system remained exactly the same. They continued to play a 4-3-3 and resisted the long ball forward until stoppage time. Why keep Busquets on, a man hardly known for his attacking prowess as he so aptly demonstrated when he missed a tap-in from three yards out?
Why not take a defender off as well and switch to a 3-5-2 or 3-4-3 formation? Desperate times call for desperate measures. With your survival on the line, you throw everything you have at the opposition, including the kitchen sink.
What's increasingly striking about Spain's calamitous World Cup campaign is the fact that the Champions League final was played between two La Liga clubs. They blew away the rest of the contenders but on the world stage, they've put up the meekest of title defenses.
As absurd as that is, it should also serve as an eye-opener for Del Bosque. Atletico Madrid and Real Madrid were the ones who dominated Europe last season, not Barcelona. Their style of play is in stark contrast to the tiki-taka brand of football that the Catalans are slaves to.
Del Bosque must recognize that his national side need not become slaves to that style of play. They have the players and the know-how to adapt and offer something more dynamic, more versatile. All Spain need to do is embrace change because their stubborn persistence with possession based football is in danger of quickly descending from arrogance to utter ignorance.
What do you think Spain needs to change? Leave your comments below or discuss with the writer on Twitter @BrendonNetto.
How do you stay up with football when on the move? With http://m.goal.com –your best source for mobile coverage of the beautiful game.