SPECIAL
By Shikharr Chandra
| | |
| --- | --- |
| | |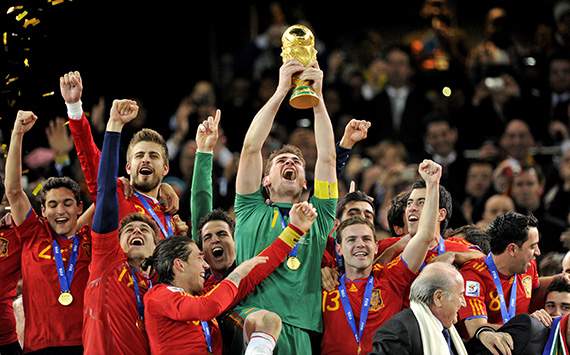 ProfileTitles:
FIFA World Cup (2010), European Championship (1964, 2008, 2012)
Top Scorer:
David Villa (56)
Most Appearances:
Iker Casillas (153)
FIFA Ranking
: 1st
Star Man: Andres Iniesta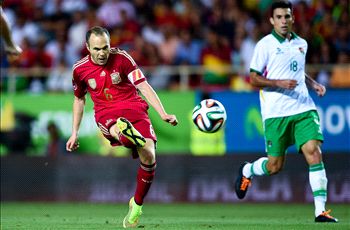 Appearances: 95
Goals: 12
Formation
4-2-3-1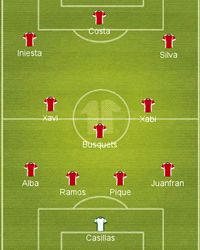 Coach
Having managed for over 20 years, Vicente Del Bosque comes across as one of the most experienced managers in this summer's tournament. The former Real Madrid manager took over from Luis Aragones back in 2008 and has since led the side to European Championships and World Cup titles.
How they set up
Del Bosque will look to set up his side in the usual 4-3-3 formation with Sergio Busquets playing the role of the defensive midfielder. The former Madrid manager will have the likes of Andres Iniesta and David Silva from the wings to provide width as well as the ability to cut inside often. Xavi and Xabi Alonso will play a key role in spraying passes around and dictating play. What will be interesting to see is whether Del Bosque goes with an out and out striker or revert to a 'false nine'.
Key Players
While there is no shortage of talent, Andres Iniesta holds the key for Del Bosque's side. The 30-year old has often turned out to be the match-winner for
La Roja
. The Barcelona man will be ably supported by the likes of David Silva and Costa both, who have had outstanding league seasons for Manchester City and Atletico Madrid respectively.
The in-form Sergio Ramos and Gerard Pique will provide defensive stability. Iker Casillas is in good form ahead of the World Cup having just lifted Real Madrid's tenth Champions League title.
Strengths and Weaknesses
While Spain don't look as strong as they were four years ago, they are still one of the tournament's favourites. The addition of Diego Costa comes as a bonus and could allow Del Bosque to finally solve the striker conundrum but the major question will be his fitness and whether he can adapt to Spain's tiki-taka setup. Spain have based their play on quick passing and keeping possession something different to the way Costa played with Atletico.
The players are also aging. Xavi, Xabi Alonso and Casillas might well be playing their last World Cup this summer. Their strength still remains in their ability to control the play and thus not conceding many goals. Del Bosque's side have kept 10 out of 10 clean sheets from their knockout games in the World Cup and the European Championships in 2008 and 2010. The impressive form of Cesar Azpilicueta and Juanfran provides two very good options in the right-back department for Spain.
Expectation
Spain will once again go into the tournament as the favourites to lift the coveted cup. Del Bosque's side have won the last two European Cups and a win in this World Cup as well will cement their status as the greatest international side ever. But history does not favour
La Roja
as no international side has defended the FIFA World Cup.
Despite suffering an unlikely hiccup against Brazil in the Confederations Cup last summer, Spain will look to prove their doubters wrong this time around.
| | |
| --- | --- |
| | |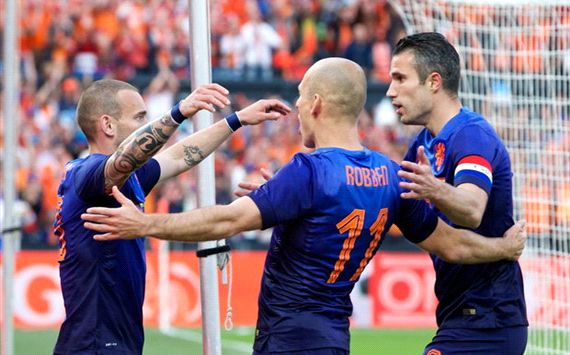 ProfileTitles:
World Cup runners-up (1974, 1978, 2010); European Championship (1988)
Top Scorer:
Robin Van Persie (43)
Most Appearances:
Edwin Van Der Sar (130); Present - Wesley Sneijder (99)
FIFA Ranking:
15th
Star Man: Robin Van Persie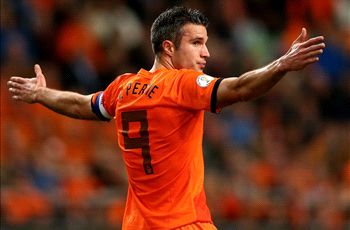 Appearances: 84
Goals: 43
Formation
5-3-2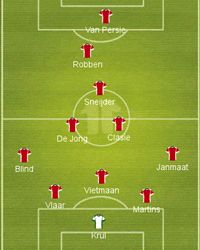 Coach
Appointed as the new manager of Manchester United for next season, the World Cup will be Louis Van Gaal's final tournament with the Dutch side. Known for his high temperament and the ability to get the best out of his players, Van Gaal will be hoping to get a fond farewell from his side. With an experience of over 20-years in management which includes the likes of Bayern Munich and Barcelona, Van Gaal will know how to deal with pressure situations. This is his second spell in charge of the national team and has guided them to the top of the standings in the World Cup qualification group.
How they set up
Despite opting for a 4-3-3 formation for the most part of the qualifiers, Van Gaal has opted for a 5-3-2 approach in the absence of injured midfielder Kevin Strootman. The 5-3-2 approach will allow the Dutch a more flexible option in changing to a 3-5-2 as well in attack and will provide more freedom to the likes of Van Persie and Arjen Robben.
This approach will allow the wing-backs to bomb forward with the presence of the two defensive midfielders providing cover.
Key Players
Over the past few years, Robin Van Persie has made a name for himself as one of the most lethal strikers in European football. The Manchester United forward is the Dutch top scorer and would look to add to his impressive tally. Alongside Van Persie, Arjen Robben and Wesley Sneijder will play a key role in attack. Right-back Janmaat has made a name for himself with his attacking skills and could flourish as a wing-back in this formation.
Strengths and Weaknesses
The major blow for the
Oranje
will be the injuries to Strootman and Rafael Van Der Vaart. The Roma midfielder played a key role in the 4-3-3 formation and in his absence, Van Gaal has chosen to alter his tactics as he hasn't found an able replacement. Van Der Vaart would have provided some additional quality alongside Robben and Sneijder in the attacking third.
The 5-3-2 formation though could see Sneijder flourish as it will allow him to play just behind Van Persie in the attack. The Galatasaray man has flourished as an attacking midfielder and even though his defensive contribution has not been that great, both Nigel De Jong and Jordy Clasie will provide able support in the defensive midfielder roles. Another major weakness for the Dutch could be their defense as the likes of Ron Vlaar and Stefan De Vrij have looked vulnerable at the back on regular occasions.
Expectation
Despite being handed a rather demanding group alongside Chile and Spain, the Dutch are expected to go through to the second round but will have to make sure that they avoid finishing second in the group. A runners-up finish for Van Gaal's side could see them face host nation Brazil in the second round.
| | |
| --- | --- |
| | |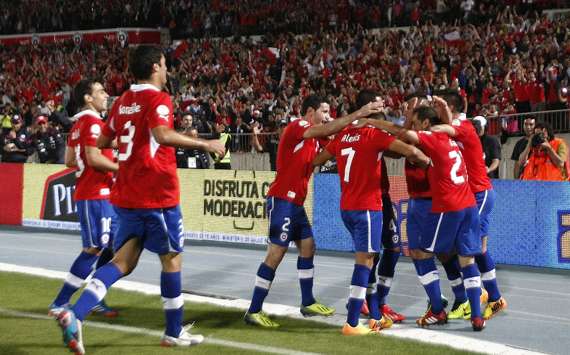 ProfileTitles:
None
Top Scorer:
Marcelo Salas (37)
Most Appearances:
Leonel Sanchez (84)
FIFA Rankings:
14th
Star Man: Arturo Vidal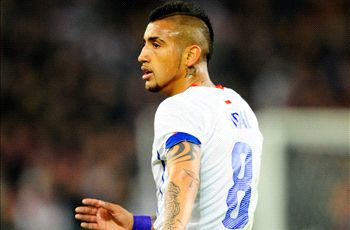 Appearances: 53
Goals: 8
Formation
4-3-1-2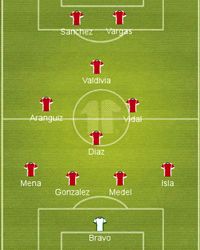 Coach
Another one of Marcelo Bielsa's disciple, coach Jorge Sampaoli has based Chile's game on quick counter attacks and high pressing. Taking over from Claudio Borghi back in 2012, Sampaoli has changed the fortunes of this Chile side who won three of their last four World Cup qualifiers to book a place in Brazil.
How they set up
Chile go into this tournament as one of the most unpredictable sides. Despite favouring a 4-3-1-2 formation with Alexis Sanchez and Eduardo Vargas leading the line, Sampaoli has often changed to a 4-3-3 or a 3-4-3 formation depending on the opposition.
The presence of a three man midfield in Arturo Vidal, Marcelo Diaz and Jorge Valdivia makes up one of the most lethal midfield pairings. Whereas Gary Medel will marshall the defense despite playing as a defensive midfielder for his club.
Key Players
Juventus midfielder Vidal holds the key for the South Americans as he will look to link up in attack. The presence of in-form Barcelona forward Sanchez will add more bite upfront. The 25-year old has a knack for scoring goals and with his blistering pace and quick movement, he can provide the moment of inspiration that is needed in these competitions.
In the defense Marcelo Diaz will have a lot of mopping up to do as the attacking full-backs will require him to stop any counter attacks.
Strengths and Weaknesses
Chile's major weakness comes in their defense. While Medel has done well to slot in as a center back, the lack of quality options in that area, could prove to be fatal for the South Americans. The Cardiff defender has looked vulnerable from crosses. The major problem with their high pressing game is that the team needs to be swift in reverting to their shape when defending. The wing-backs offer options in attack but need to be far more focused in the defense.
They are strongest when they are on the front foot. The presence of Sanchez and Vargas makes up for a good forward line with both being able to provide goals on regular occasions.
Expectation
There is no doubt that Chile have improved drastically under new manager, Sampaoli but with the likes of Netherlands and Spain in the group, the chances of qualifying to the next round look bleak.
| | |
| --- | --- |
| | |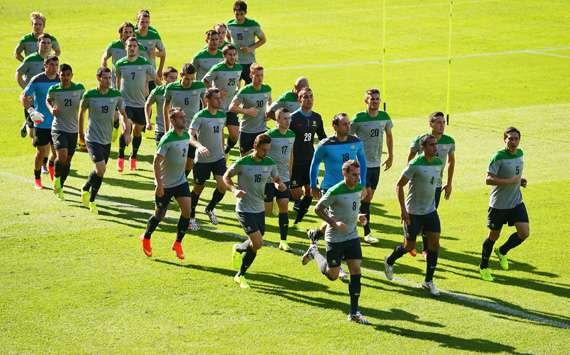 ProfileTitles:
None
Top Scorer:
Tim Cahill (32)
Most Apearances:
Mark Schwarzer (109)
FIFA Rankings
: 62nd
Star Man: Tim Cahill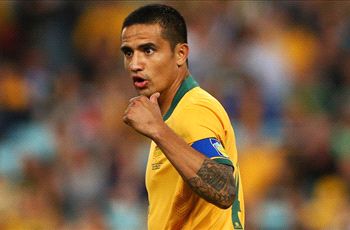 Appearances: 68
Goals: 32
Formation
4-2-3-1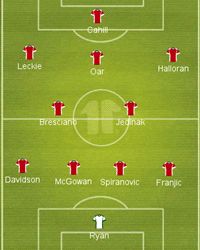 Coach
48-year old Ange Posecoglou comes across as one of the more inexperienced coaches in this summer's tournament. The former Australian defender took over the
Socceroos
midway into 2013 and has had little time preparing the side for the World Cup having been in-charge of just two games since taking over.
How they set up
Posecoglou like his predecessor seems to have opted a 4-2-3-1 formation which allows the side to get the best out of their attacking talents in Oar, Halloran and Tim Cahill upfront. Australia will basically look to keep posession of the ball with Tim Cahill often dropping deep.
The two wingers in the side Leckie and Ben Halloran will provide pace and the crosses that Cahill often thrives on.
Key Players
Former Everton forward Cahill could provide the much needed experience in this rather youthful Australia side. The forward's aerial ability could be put into good use with the two widemen bombing in the crosses from the flanks. Crystal Palace captain Miles Jedinak is a vital cog in the national side as he shields the defense and moves forward with the ball.
Strengths and Weaknesses
Their weakness going into the World Cup for Australia is their lack of experience. Postecoglou has got rid of the experienced players such as Mark Schwarzer and Lucas Neil who together made a total of more than 150 caps for the nation. The injury to winger Robbie Kruse has left the left wing spot up for grabs and could be a major blow for the side.
The trio of Oar, Leckie and Halloran have the capability of unlocking some of the best defenses and with Cahill upfront, they could prove to be a threat.
Expectation
There is little expectation from this Australian side. The squad is in transition and anything more than a point from this group will be seen as an achievement for the side.
PREDICTION: 1. Spain 2. Netherlands 3. Chile 4. Australia