There is an old saying in Argentina which has seeped into the vocabulary of almost every citizen.
'God is Argentine', they claim in reference to the country's enviable geographical position and natural riches, a combination of factors which to the millions of impoverished immigrants who crossed the Atlantic Ocean from Spain, Italy and elsewhere must have seemed like heaven on earth.
In 2014, with the Roman Catholic church's highest authority, Pope Francis, a native of Buenos Aires and the world's best footballer born a few hundred kilometres up the road in Rosario, that idea of divine right once more fuels hopes of victory in the World Cup.
A kind draw has also raised expectations. After the less than terrifying prospect of Bosnia, Nigeria and Iran in Group F, the nation has a manageable run into the semi-finals if results go as expected elsewhere. But if Argentina are to triumph for the third time, there are plenty of more down-to-earth reasons why this could be the case.
The Albiceleste's previous victories in football's most important competition have been fired by attacking talent. In 1978, Valencia star Mario Kempes' six goals dragged the nation to success on their own turf, albeit not without certain controversy along the way.
Eight years later it was the turn of Diego Maradona to make the World Cup his own, scoring one of the greatest goals ever seen on his way to becoming a football immortal.
This time, it is the moment for Lionel Messi, a man who has fought harder than anyone for recognition from his own fans, to show he can follow in those illustrious footsteps. But 'La Pulga' will not be alone in Brazil.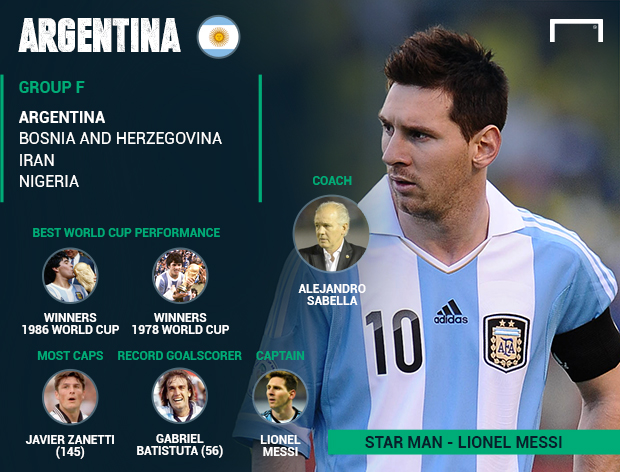 Argentina go into the World Cup with the best offensive line-up of any of the 32 competing nations. It is this firepower, coach Alejandro Sabella hopes, that will outscore any opponent that comes into their path, sealing victory by the simple virtue of hitting the net more times than their opponents.
Messi is of course crucial to his nation's plans. The Barcelona star lines up in a similar 'false 9' position that he is employed in at his club, playing in a slightly more withdrawn role to become a hybrid between traditional playmaker and orthodox striker. He showed exactly what international football means to him during the qualifying process; smashing 10 goals to finish second-top scorer, and spearheading his team's efforts in the final third.
Taking on the four-time Ballon d'Or winner is a daunting task by itself. But Messi has the luxury of taking to the pitch alongside no less than three top attacking talents who will also be hungry for glory.
Gonzalo Higuain matched his team-mate almost goal for goal with 10 during the qualifiers and has proved after an impressive debut season in Napoli that he is up there with the game's finest centre-forwards. Sergio Aguero can pop up anywhere along the forward line and has the talent, intelligence and, perhaps most importantly, the unselfish streak to cement himself as the third member of that attacking trio.
The key to Argentina's success, meanwhile, may lie a little further up the pitch. A storming performance by Angel Di Maria during Real Madrid's Champions League triumph over neighbours Atletico helped mask indifferent showings from Cristiano Ronaldo and Gareth Bale. His runs from deep down the left, and ability to stretch the defence wide open, have made him such a crucial piece of the Albiceleste puzzle since Sabella worked out the best way to use the winger.
Di Maria is almost the antithesis of Messi. He idolises boyhood club Rosario Central, while 'La Pulga' is a Newell's Old Boys fanatic in the pair's hometown. He stars for Madrid, while Messi has become a living legend for bitter rivals Barcelona. But together, the pair combine to create an attacking force that is capable of taking down any opponent in their path.
Not all, of course, is perfect for the South Americans. The defence still fails to convince, although the emergence of Ezequiel Garay as a first-class centre back and Pablo Zabaleta's consistency have done much to plug the gaps at the back. Behind them, goalkeeper Sergio Romero is a possible liability for the team; out of practice as a Monaco reserve, and responsible for some embarrassing errors on his rare outings in the team.
Argentina's response will be to minimise exposure to those weak links. Teams will be pressured right from their own area, harried and harassed across the pitch. If that fails, Javier Mascherano is there to destroy in the middle of the field, sticking the boot in and retrieving possession. The team's key for success is to intimidate sides into not pushing forward and countering with such pace and precision that it becomes almost self-defeating to try and attack Sabella's men.
It is a risky strategy. But if any team has the players and the know how to make it work, it is Argentina. Twenty-eight years is a long time for the country not to win a World Cup and with a little help from their attacking demi-gods in the final third, they have a great chance of ending that drought.
Follow Daniel Edwards on