COMMENT
By Greg Stobart at Stamford Bridge
When
Jose Mourinho
proudly rolled back into town last summer as the returning Messiah, he could not have predicted that the final home game of the season would be greeted by boos and the
Chelsea
players would walk a 'lap of honour' in a half-empty stadium.
But that is what happened after their title challenge was all but mathematically ended with a goalless draw with Norwich at Stamford Bridge on Sunday.
In some respects, it was a fitting way to end a season that has offered encouragement - they will finish at least third and were Champions League semi-finalists - but exposed the attacking deficiencies in the squad.
On a beautiful sunny day in west London, the Blues were lethargic from the outset and never really looked like scoring, despite hitting the woodwork twice through Andre Schurrle and David Luiz.
It is a problem Chelsea have struggled with all season, when lesser sides come here to defend with men behind the ball. Mourinho may be a tactical genius but he is yet to work out a way to break down the very gameplan with which he has had so much success in big games this season.
Mourinho has steered Chelsea to a brilliant record of 16 points from a possible 18 against their top-four rivals, but the Londoners' title challenge has faltered against bottom half sides that sit deep and play "19th Century football".
Chelsea's sense of frustration will be rooted in the fact that they have dropped so many unexpected points. Since the turn of the year, they have drawn home matches against West Ham and Norwich while they have lost against Aston Villa, Crystal Palace and Sunderland.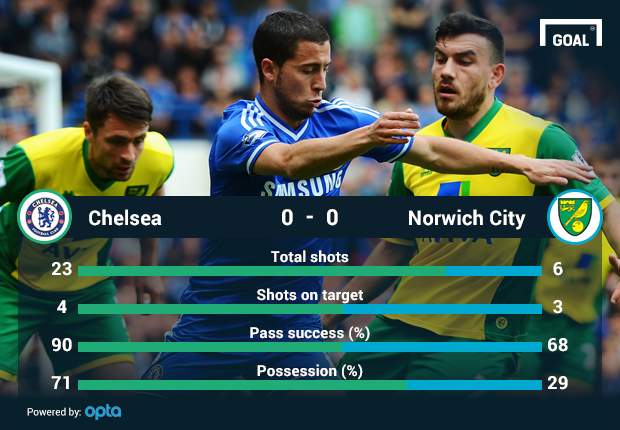 Incidentally, all of those results have occurred since Juan Mata - their best player in the two previous seasons - was sold to Manchester United in January.
Mourinho has long sought to play down Chelsea's title prospects, but he must privately feel that they have blown it.
On Sunday, Chelsea's season effectively ended with a whimper. The rollercoaster slowly returning to its station after a week when they won away at title rivals Liverpool and lost their Champions League semi-final tie against Atletico Madrid.
The hosts lacked intensity in their passing and were short of ideas, particularly during a dreadfully insipid first-half performance when most of the players seemed to have their minds more on the beaches of Rio de Janeiro and the World Cup than the Premier League title race.
They were lucky to avoid coming in behind at half-time and down to 10 men after Norwich were denied a blatant penalty when Ashley Cole and John Terry both took out Martin Olsson in the penalty box early on.
The obvious problem, as has been the case all season, was the lack of a top quality striker.
The anticipated €42 million deal to sign Diego Costa in the summer
should solve that problem and take some of the burden away from Eden Hazard.
Hazard has been the go-to man to get Chelsea out of trouble throughout the season but found himself on the substitutes bench here after his public to-and-fro with Mourinho this week over the team's tactics.
Mourinho criticised Hazard for his unwillingness to sacrifice himself for his team-mates, and made his point by relegating the Belgian to the bench.
Yet after such a poor opening period, Hazard was summoned at the break to inject some life into Chelsea's performance, going some way to proving the attacker's claim that he is often "asked to do it all by myself".
Hazard showed why, whatever his relationship with Mourinho and whatever the rumours about a summer transfer, he must stay at Stamford Bridge next season.
ACTION AREAS | Chelsea dominated but couldn't break through
The Professional Footballers' Association's Young Player of the Year has scored 14 goals and provided nine assists in 33 Premier League games this season, and here played with vibrancy and creativity for 45 minutes.
He looked like the only player capable of breaking Norwich's stubborn resistance as he dribbled at defenders as though he had Velcro on his boots, always looking to play in team-mates with a clever pass or flick.
Hazard forced Ruddy into his only save of note when he danced through the penalty area and powered a low shot toward the bottom corner. It was the team's only shot on target in the second half.
He also had a huge claim for a penalty when he skipped through defenders before clashing with Canaries centre-back Ryan Bennett.
But the tactic of relying on Hazard is not enough - particularly if he's also expected to track back to his own byline.
Chelsea will improve next season, certainly. They need to build around Hazard and find ways to offer him support.
If they do, the players could be lifting the Premier League trophy in front of a full house after their final home game next season.
Follow Greg Stobart on