PROFILE
By Robin Bairner
Few
Romanisti
knew much about Rudi Garcia when he was handed the reins of the Serie A outfit last summer. Many treated his appointment with trepidation - and even vice-captain Daniele De Rossi confessed that he had to google his new boss to find out who he was.
"I remember that I went on the internet and I typed in his name and the first thing that came up was a video in which he plays the guitar. I cursed and thought: but who is this?," said the World Cup winner.
Fast forward 10 months and it is safe to say that the Frenchman has well and truly silenced his doubters. The 50-year-old may end the season without a trophy, but it has been a historic campaign for the
Giallorossi
. With 79 points from 33 games, and only two losses, no Roma team in history has obtained this many points at this stage of the season.
The capital outfit will only be denied the Scudetto by a Juventus squad who have themselves embarked on an historic run - winning 28 of their 33 matches.
Roma were one of the great underperformers in Italy last season, finishing sixth and therefore out of the European berths amid a flurry of goals inspired by Zdenek Zeman's gung-ho nature and then, once the veteran Czech had been sacked in February, interim boss Aurelio Andreazzoli's more measured approach.
Despite leading Roma to the Coppa Italia final, a 1-0 defeat against Lazio prompted then-Roma forward Pablo Osvaldo to brand Andreazzoli "incompetent" and the board to appoint a more experienced successor.
Although he was not Roma's first choice – erstwhile AC Milan boss Massimiliano Allegri rejected their approaches as did Walter Mazzarri – Garcia was the man ultimately chosen to lead the Eternal City's most successful side.
The Frenchman quickly outlined an ambitious plan for Roma, promising expansive, exciting football with the ultimate aim of an ambitious top-three finish.
"Now the important thing is that we get back into Europe – if that is through the biggest door [the Champions League] then that would be better," he explained when presented in mid-June.
"I am afraid of nothing and I'm here to win with a side that enjoys playing football and entertaining the fans."
President James Pallotta had high hopes for his new man, too. "We are very excited and confident that Rudi Garcia is the right coach for AS Roma," he explained. "He is a proven winner with a great football mind who we believe fits in perfectly with our vision for the future."
GARCIA'S COACHING CAREER IN NUMBERS

CLUB
GAMES
PTS/GAME*

Roma
37
2.38
Lille
256
1.77
Le Mans
38
1.48
Dijon #

128
1.52
Saint-Etienne
12
0.83
* Win in cup = 3 pts. Draw = 1 pt.
# includes matches at professional level only
The Boston-born businessman, after several failed attempts, had chosen his coach wisely.
Garcia's mindset, which is more typical of his Andalucian ancestry than his French contemporaries, fitted perfectly to his new outfit. A long-time exponent of offensive football, he would offer the expansive game that Zemen favoured yet tempered this with pragmatism the Czech was never able to show during his second spell with the Stadio Olimpico side.
"My objectives and football philosophy are without doubt offensive, but I am well aware that in order to win a game you also need an excellent defensive base," he would admit.
Crucially, the coach who plays guitar and owns an interior design boutique has a track record of success with such a methodology.
Having graduated from physio, to scout, to assistant coach, Garcia's initial steps at a top job were not straightforward as he failed to save an embattled Saint-Etienne side from relegation, yet since he has been nothing short of a roaring success.
Dijon strengthened under his leadership, while unfashionable Le Mans were led to a top 10 finish in Ligue 1.
After only one season with the Sarthe club, Lille gambled on the promising coach, who spent much of his playing career with the outfit, and were to be quickly rewarded as the stony-faced Garcia piloted his side to a fifth-place finish synonymous with a Europa League place. Garcia was actually sacked due to this performance, but after some boardroom wrangling, which saw a director removed that the coach could not agree with, he was promptly reinstated.
It would be a move that Lille would not regret as Garcia used his skill to develop players such as Yohan Cabaye, Adil Rami, Eden Hazard and Gervinho, leading the Nord outfit to the zenith of the French game in 2011 with a league and cup double.
By the time his era ended last summer, LOSC had come to the end of a cycle and it was probably best for both parties that they were given a new start.
The Nemours-born boss has maintained his principles since moving to Italy and inspired Roma to sit second in Serie A - already assured of a Champions League playoff and eight points clear of third-placed Napoli.
Like his champions at Lille, who were built around the foundation of established performers Florent Balmont and Rio Mavuba, Garcia has been happy to allow Roma greats Francesco Totti and De Rossi to inspire the side.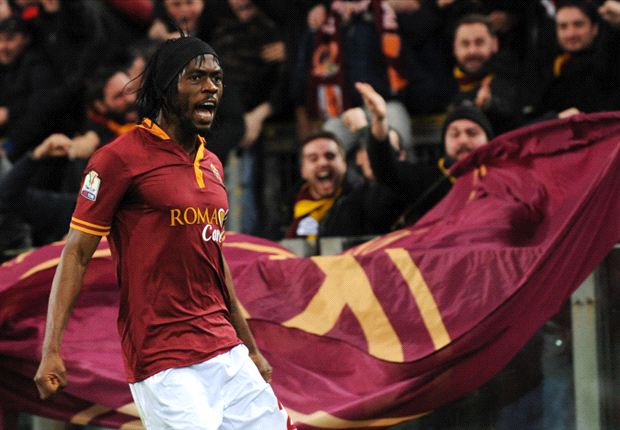 Inspired | Gervinho admits his return to form is due to the coach
But the Frenchman has added an extra dimension to Roma. Having already signed Gervinho for both Le Mans and Lille, he plucked the Ivorian winger away from his nightmarish spell at Arsenal, offering him new life in a system suited to his direct style.
"The difference between Roma and Arsenal? The coach," the 26-year-old told
Sports Illustrated
.
"Here my coach, Rudi Garcia, gives me confidence; I know that he believes in me. When I wake up in the morning, I like to come to work, I cannot wait."
He has turned a player ridiculed at the top level due to Arsene Wenger's misuse of him in a slow passing game into one who is genuinely feared once more.
His other signings have been effective, too, with Kevin Strootman - prior to his injury - and January arrival Radja Nainggolan catching the eye in midfield while Mehdi Benatia has brought additional strength to the rearguard. The Moroccan has been arguably the best defender in Serie A this season and has formed a superb partnership with Brazilian Leandro Castan. Roma have conceded just 19 times in the league, less than anyone else - including Juventus.
Garcia's next step will be to topple the almighty Juve next season in Serie A and launch an assault on the Champions League. Based on the pattern of his career so far, you would not bet on Garcia failing.