COMMENT
By Andrew Wychrij
As Luciano Spalletti trudged down the Petrovsky Stadium tunnel after Zenit St Petersburg's dour 0-0 draw against lowly Tom' Tomsk, he painted the image of a man whose job had long held a charmed existence.
Much has changed since the heady days when he was named Russian Coach of the Year in 2010 and 2012, as initial success descended into a footballing soap opera of almost farcical proportions. In recent months the threat of the sack dangled perilously over Spalletti's head; it was always simply a question of when the axe would finally fall.
And so it did last week.
AVB'S COACHING CAREER TO DATE


British Virgin Islands
Academica
Porto
Chelsea
Tottenham
Zenit
1998-99
2009-10
2010-11
2011-12
2012-13
2014-

Andre Villas-Boas is the man ordained as the Italian's replacement after being confirmed as Zenit head coach on Tuesday, arriving with a CV that combines Europa League success at Porto with turbulent spells at Chelsea and Tottenham. His return to coaching will offer no honeymoon though – the Portuguese will step into a cauldron at the Petrovsky and has some real work to do if he is to clear up the mess that Spalletti has left in his wake.
"It was not a big surprise," former Zenit and CSKA Moscow defender Denis Mashkarin told
Sportbox.ru
after Spalletti's departure.
"Zenit have some great players but lately their game has been all wrong. In addition, half the team has been in conflict – the situations with [Igor] Denisov and [Roman] Shirokov are direct consequences of an unhealthy situation. This abscess has been brewing – and finally it burst."
Spalletti was guilty of a multitude of sins whilst at Zenit and, for all of his credentials as a coach, there was little surprise when it was announced that the club hierarchy had relieved him of his duties. There have been underlying tensions in the Zenit team for some time now, prompted by the club's decision to bring in Hulk and Axel Witsel for a combined €80 million in September 2012.
The move was meant to be a signal of intent, the inspiration for Zenit to establish themselves among Europe's elite. Instead, it spawned almost instant resentment within the squad, creating divides that are yet to heal within the
Zenitchiki
ranks. Zenit's Russian players were infuriated by what they saw as an unjustified disparity in the club's wage structure, with the foreign stars granted huge contracts, and demanded pay rises.
Denisov was the ring-leader but his demands were echoed by other Russian internationals - Aleksandr Kerzhakov, Vladimir Bystrov, Aleksandr Anyukov and Roman Shirokov. Spalletti had a mutiny on his hands. Denisov refused to play until his requests were granted; they weren't. He subsequently earned a demotion to the reserves for his show of dissent before being unceremoniously dispatched to Anzhi Makhachkala in June 2013.
That was far from the end of the issues, the simmering resentment persisting to this day – Spalletti's decision to loan Shirokov to Krasondar in January testament to that fact. The message to the Russian players, many of whom were instrumental in their side's Uefa Cup triumph in 2008, was clear – they were not going to be accommodated.
The resulting disunity has rocked the club and has been evident in their results and displays ever since. Certainly, if one takes caretaker boss Sergei Semak's coaching debut – a damaging 1-0 defeat to title rivals CSKA on Saturday – the extent of Zenit's weakness becomes clear.
For all the array of attacking talent on show for the Petersburgers, with strikers Hulk, Kerzhakov and new signing Jose Salomon Rondon all on the field in the second period, the midfield was weak and directionless, unable to impose themselves on their opponents. What a difference a combative Denisov and sturdy Shirokov could have brought in terms of midfield stability.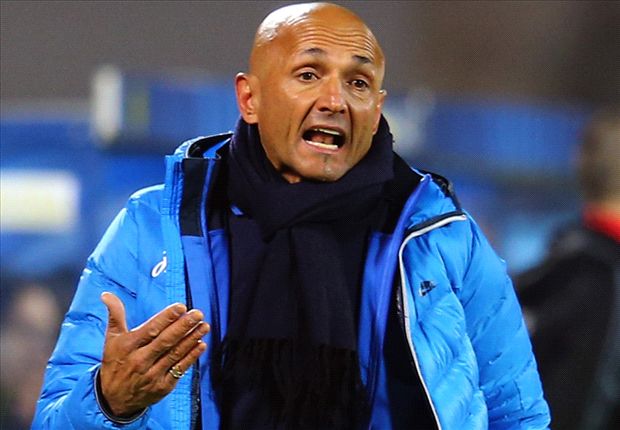 Out of the frying pan |
Spalletti never had full control during a tumultuous spell in charge
From reading this, it would appear that Spalletti was his own worst enemy and preferential treatment for his imports ushered him towards the exit - that this was all his own fault. In Russia, though, things are never quite so straightforward.
"As far as I know, Spalletti wanted neither Hulk nor Witsel," Russian pundit Aleksandr Bubnov told
SportFM
this month.
"But at the last moment the club said: 'Here's Hulk, here's Witsel.' And as a result of such a transfer policy there is a very serious split in the team."
With Gazprom's roubles bankrolling the transfers, it would be fair to assume that the Italian was never in complete control. Indeed, with the Russian government owning a majority stake in the energy company – and Gazprom Deputy Chairman Alexei Miller a regular at the Petrovsky - it seems Zenit are the state's chosen representatives on the continental stage. They have been given the generous funds to be Russia's Champions League flag-bearers and the lack of return on that investment was never likely to be tolerated.
Spalletti, then, could only watch the inevitable unfold – if he made any mistake, it would have been to renew his contract in December 2011. The 55-year-old is surely too talented and experienced to remain without a job for long with Oympique de Marseille mooted as a possible destination.
This is the snake-pit that Villas-Boas has entered and it is a challenge that the 36-year-old does not look likely to excel at. Zenit need a diplomat, a man like Alania's Valery Gazzaev, who can speak well and mould a fractious squad into a cohesive unit whilst appeasing a demanding club hierarchy.
The Portuguese coach has endured high profile run-ins with players and employers alike whilst in England, which ultimately cost him his jobs. While Chelsea owner Roman Abramovich and Spurs chief Daniel Levy may not be the easiest characters to handle, he will find no respite in St Petersburg.
There is little hope of overturning a 4-2 Champions League last 16 first leg deficit against Borussia Dortmund on Wednesday night but that is the least of Villas-Boas' worries. He has a daunting task: high expectations, internal divisions, big egos and overbearing owners. For his sake, let's just hope his time in England has taught him something.