COMMENT
By Ben Hayward | Spanish Football Writer
It had all seemed so promising. Lionel Messi was back among the goals, Neymar fit again, a cup final reached and a tough test at Manchester City overcome. But Real Sociedad brought Barcelona back down to Earth with a bang on Saturday night and, worse still, the Catalan club very much engineered their own downfall.
City coach Manuel Pellegrini will have been watching this - and the Chilean will have been an interested observer. This was how to play against Barcelona on home turf: brave, high-tempo, physical, strong - Real Sociedad stood up where the English side stood off. And the Basques received their reward.
But Barca handed the initiative to the home side on a plate. Inexplicably so. Coach Gerardo Martino earned praise on the last
Blaugrana
visit to Anoeta, a 1-1 draw just 10 days ago which saw Barca advance to the final of the Copa del Rey. That night, the Catalans kept possession and frustrated the home side for long periods, taking the lead and missing several chances to put the game out of reach before Antoine Griezmann's late leveller.
So having discovered a successful formula in that match, only Martino will know why he changed it on Saturday. Barca have failed to beat Real Sociedad at Anoeta in La Liga since 2007 and this trip to the Basque Country - along with the
Clasico
at the Santiago Bernabeu next month - was probably Barca's most difficult away game left this term.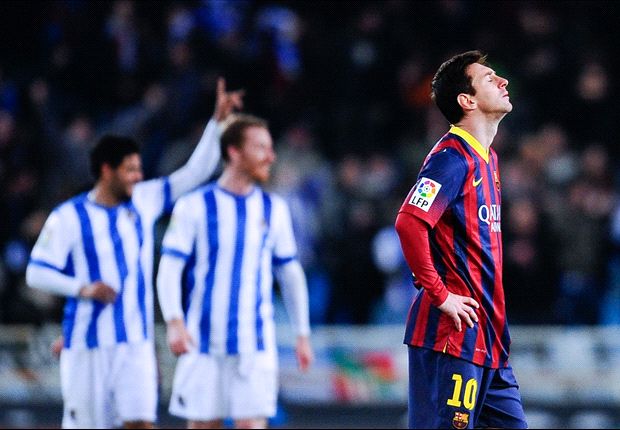 Crestfallen | Messi shows his frustration as Real Sociedad celebrate


It could barely have been worse. A slow start became a bad start as Alex Song headed an own goal past Victor Valdes in the 32nd minute. But Barca, to their credit, reacted rapidly as Lionel Messi levelled just three minutes later with a lovely left-footed drive.
That, however, turned out to be nothing but a brief respite as Griezmann fired the home side in front nine minutes into the second half and David Zurutuza took advantage of more dreadful defending to make it 3-1 just short of the hour mark. And after that, a Catalan comeback never looked likely. On the contrary, Carlos Vela should have made it 4-1 later on as he hit the post from close range and was then allowed to waltz through the Barca back line and have another go.
Indeed, if the result at City was sublime, this was ridiculous - and Martino must take his share of the blame. Quite why he felt the need to pick Song alongside Sergio Busquets in midfield is unclear. Presumably the idea was to add strength defensively ("I thought it would be sensible to play with a double pivot, in order to control the long balls," the Argentine said later), but Barca have long shown they are a stronger side when they have the ball. When Song plays, they see less of it - and the Cameroonian's signing to cover both central defence and the midfield holding role remains one of football's greatest unsolved mysteries.
Behind those two, Gerard Pique was slow, cumbersome and clumsy - a parody of his former self - while Marc Bartra still struggles against very physical teams and inadvertently set up Carlos Vela in the build-up to Real Sociedad's second.
Certainly, the midfield missed genuine ball players like Cesc Fabregas and Xavi (whose furious facial expressions on the sidelines summed up Barca's woes late on). "We weren't comfortable on the ball," Andres Iniesta said afterwards. "We didn't interpret the game as we should have and we paid for that."
"The possession is our strength and they took that away," Pique said. And he added: "It's not too much of a worry - we are still just one win from the top."
Perhaps Pique should be concerned by his own performance, however, in a backline crying out for the intensity of Javier Mascherano.
LA LIGA AFTER SATURDAY'S GAMES
Further forward, things weren't much better either. Neymar started but looked short of full fitness and struggled after taking a knock in the first half. Why he stayed on is unclear. Messi, meanwhile, dropped deep into the opposition half and rarely threatened, aside from his goal, when the ball was not played to his feet. One man cannot do it all on his own, of course, but this was far from the Leo of old.
Martino, who was sent to the stands for calling the assistant a
pelotudo
(Argentine slang for idiot), conceded he got it wrong tactically. "My reading of the game wasn't up to what the match demanded," the Argentine admitted. "Perhaps delaying the change [Fabregas for Song] was a mistake, but the two goals came close together." And he added, with some irony: "Rotation is great, just as long as the results are good."
Earlier on, Madrid also started slowly but beat Elche 3-0 to extend their unbeaten run to 26 games and move to the top of the table, where they now sit three points clear of Barca and Atletico (who face a tough trip to Osasuna on Sunday).
There are still 13 rounds of La Liga left after this one and it is worth noting that both Pep Guardiola and Tito Vilanova won the title after losing league games at Anoeta, but the momentum in this Primera Division race is now very much with Madrid and, for that, Barca have only themselves to blame after Saturday's shambolic show.
Follow Ben Hayward on