COMMENT
By Carlo Garganese

Since the rebranding of the Champions League 22 years ago, no team has successfully defended football's most prestigious club trophy. Some winners have come mightily close - four losing in the final and six in the semis - but Arrigo Sacchi's AC Milan remain the last side to capture the formerly named European Cup in consecutive campaigns way back in 1990.

This hoodoo has reached such spellbinding proportions that it has become known as the 'Champions League curse', a follow-on from the 'Cup Winners' Cup curse' which saw a new victor crowned in every year of the now defunct Uefa competition.

Breaking the trend was never really a possibility for a number of Champions League winners. Olympique de Marseille were unable to defend their 1993 title following the Valenciennes bribery scandal, Porto sold many of their 2004 heroes, while Borussia Dortmund '97, AC Milan 2007, Inter 2010 and Chelsea 2012 were all handicapped by ageing squads that needed rebuilding.

In terms of pedigree, the teams best placed to retain the Champions League were Louis van Gaal's Ajax in 1996, Marcello Lippi's Juventus a year later, Vicente Del Bosque's Real Madrid in 2003, the following season's Milan of Carlo Ancelotti and Pep Guardiola's Barcelona in 2010. Fabio Capello's Milan of 1995 and Sir Alex Ferguson's Manchester United of 2009 could be added to this list by virtue of the fact they were eventual finalists.

However, when all factors and circumstances are considered, none of these clubs have been as well positioned to defend their trophy as Bayern Munich this season.
IN NUMBERS
Bayern in 2013-14

99
Goals Bayern have scored this season in all competitions from 35 games.
30
Number of victories. They have failed to win on just five occasions, one of these a penalty shootout success.
21
Clean sheets from keepers Manuel Neuer and Tom Starke this term.
16
Number of points Bayern are clear at top of the Bundesliga.
13
Matches that Bayern have won on the bounce in the Bundesliga.
0
Bundesliga games lost this season.
Since the beginning of 2013, Bayern have played 62 games. They have won 55, drawn four and lost just three times - two of these inconsequential Champions League reverses when qualification was all but secure. They have scored 179 goals and kept 36 clean sheets. Die Roten are on a 13-match Bundesliga winning streak, are unbeaten in the league for 16 months and have captured five trophies in the last year.
The statistics are mind-blowing. Individually, collectively, technically, tactically, physically, mentally – Bayern are the complete team. There is star quality in every department – goalkeeper Manuel Neuer, defenders David Alaba and Dante, midfielders Philipp Lahm, Bastian Schweinsteiger and Thiago, offensive talents Franck Ribery, Arjen Robben and Thomas Muller – the list of stellar names goes on and on. And that is without mentioning coach Pep Guardiola, who boasts an enviable Champions League record – two titles and two semi-finals from his four seasons in charge of Barcelona.

"I expect and I am convinced that we will be the first team in history to win the competition back to back," Bayern scout, and former midfield star, Paul Breitner confidently proclaimed to Goal.
Bayern may not be the best team of the Champions League era, but never before has a holder been so far ahead of the rest of the competition. In the mid-nineties, Ajax had a magnificent Juventus side to compete with – a group who would reach three finals on the bounce. The Italians themselves were challenged the following campaign by both a Dortmund squad full of Germany icons and a blossoming Manchester United.

The Madrid Galacticos of Zinedine Zidane, Luis Figo, Raul and Ronaldo were unlucky to participate in one of the strongest-ever Champions League editions in 2002-03. Eventual finalists Milan and Juventus were world class sides, while Inter and Valencia were also exceptional outfits. When Ancelotti's Milan failed the following term, many of these teams were still around - as were the Arsenal Invincibles and Roman Abramovich's nouveau-riche Chelsea.

Guardiola's class of 2010 – with their beautiful tiki-taka and superstars such as Lionel Messi, Andres Iniesta and Xavi - looked odds-on to end the jinx, but it is often forgotten just how formidable their semi-final conquerors Inter were. Jose Mourinho's treble-winners erected perhaps the last great European back line, a virtually impenetrable wall marshalled by Lucio and Walter Samuel.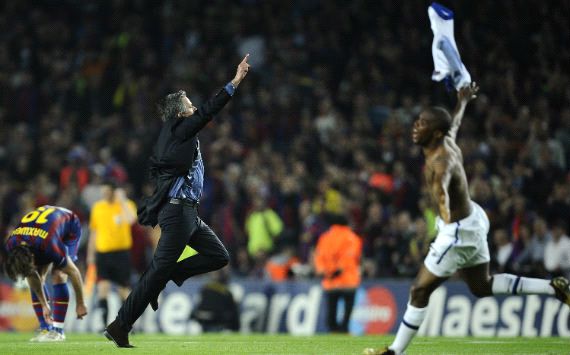 Mourinho Magic | Jose celebrates eliminating holders Barcelona at Camp Nou in 2010
The pretenders to Bayern's crown this season are nowhere near the level of these past party-poopers. Barcelona are in decline despite their fine win in Manchester on Tuesday, Atletico Madrid lack numbers, Man Utd are at their weakest for a quarter of a century, an exhausted Arsenal need a miracle to progress to the last eight, while Man City are all but eliminated and are way off the European elite. Real Madrid, PSG and an improving Chelsea certainly cannot be ruled out, but Bayern are in another stratosphere.

Their strength in depth is unparalleled. Despite missing Bastian Schweinsteiger, Javi Martinez, Arjen Robben, Franck Ribery and long-term absentee Holger Badtsuber for extended periods this term, Bayern have still broken record after record. Guardiola even felt safe enough recently to exile Toni Kroos and Mario Mandzukic. With the exception of Capello's Milan – who infamously stockpiled talent – no Champions League holder has been blessed with such an embarrassment of riches and could cope so comfortably when faced with an injury crisis or congested calendar. "We have the best squad ever. We have 25 players and most of them are internationals," Breitner noted.

And with Bayern 16 points clear at the top of the Bundesliga, Guardiola can continue to rotate his side and ensure there is plenty of fuel left for the business end of the Champions League. By the end of next month, Bayern will have probably already retained their Bundesliga crown. The Premier League and La Liga title races, on the other hand, are as intense as ever with multiple teams battling it out at the top. Come March, April and May, a fresher Bayern - who were also rejuvenated by Germany's one-month winter break - will hold the upper hand physically. Few champions have enjoyed such an advantage.

And Bayern are not only fresh, they are hungry. With a new coach in Guardiola, a new formation and no one assured of a first team place, there is zero chance of complacency. This has not always been the case in the past – Ancelotti's Milan cruised to a 4-1 first-leg lead in their 2004 quarter-final against Deportivo but took their foot off the gas and were inexplicably thrashed 4-0 in the return leg in Galicia.
"Due to the change in coaches, the players cannot lie back and relax," Bayern's 2001-winning captain Stefan Effenberg told Goal.
"Plus there is a World Cup approaching. They have to give 100 per cent in every match. The players are greedy. They want to achieve something that nobody before them has managed. This is their motivation. I can feel it here in Munich and you can see it in the players' interviews."
Ribery confirmed as much in one such interview with bundesliga.com: "I can promise you one thing: I'm still hungry for more. We want to continue winning everything and create history by becoming the first team to defend the Champions League."

And this brilliant Bayern side may just create history. If they don't, then we may as well accept that the Champions League curse is never going to be broken.

Follow Carlo Garganese on