The players who probably excite Liverpool fans the most are Luis Suarez and Daniel Sturridge. Ever their perennial hope, the Anfield faithful typically look to them to score goals. After Liverpool's 5-1 mauling of Arsenal, Raheem Sterling arguably deserves to stand in similar stead.
Liverpool have always had a good youth policy. Signing Sterling from Queens Park Rangers for £500,000 was a shrewd bit of business although it seemed a gamble at the time. It was an awful lot to pay for an unproven 15 year-old, but then manager Rafa Benitez made the call.
Over the next few years as he grew, everyone saw the boy had huge potential. However, many youngsters start with a bang and are then lost in the wilderness. Come February 2014, after a journey that was by no means easy, you can now confidently say-Raheem Sterling is here to stay.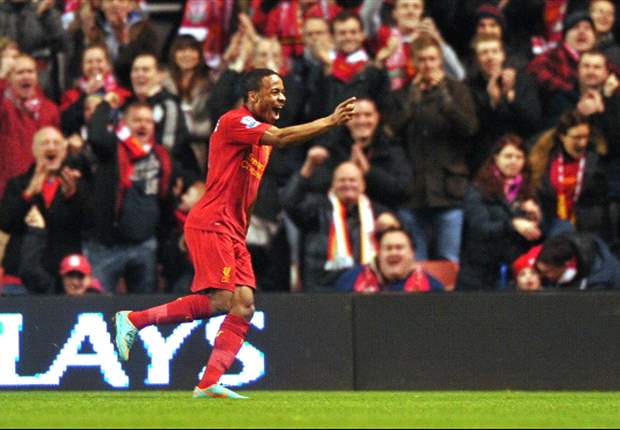 Early signs of Sterling's brilliance were on display when he scored 5 goals in a 9-0 win over Southend United for Liverpool's academy. That performance got him on a flight with the first team on a European night, raising hopes that he would become Liverpool's youngest ever player.
However, he did not make manager Kenny Daglish's bench for the game. Daglish later said he took the youngster along for the experience as he was not ready yet. It was another year before Sterling finally made his appearance as a substitute for the first team. He came on against Wigan Athletic in March 2012, to become the second youngest player to play for the club.
It was after the arrival of Brendan Rodgers in 2012 that Sterling truly got a chance to prove himself. Rodgers had a reputation of grooming young players and his philosophy suited Sterling's pacy style well. He played in almost every game during the first half of the season, putting in some effective displays.
He even started the first league game of the new season against champions Manchester City. He made a useful contribution overall. By the halfway point in the 2012/13 season, he had signed a new contract, had made his debut for England and was featuring in every game for his side. Things were moving at a rapid pace for him. Maybe a little too fast to handle.
It was then that he began to regress a bit. The standard of his performances dropped. A thigh injury then put him out of action for a while. The serious injury coupled with off field problems, including making court appearances for assault did not help.
He made just one league start in 9 months. It seemed that his career was quickly spiraling out of control, and if he did not take charge fast, it would be too late. He is blessed with tremendous pace, and is technically good while his finishing and perhaps decision making, has been worked on. Sterling got an opportunity to impress again a couple of months ago as Sturridge was ruled out for 6 weeks, and he took it well.
His first match back against Hull City was one to forget as Liverpool lost 3-1 and he looked short on match practice. Though not to be solely blamed for the team's shortcomings, it did not stop the fans from making him a scapegoat.
Rodgers would have been forgiven for leaving him out for the next game against Norwich City, but to his credit he kept the faith and Sterling delivered. He scored a neat goal and gave an assist to Suarez in the 5-1 win.
He admitted recently that one of his problems that led to the dip in form was that he was overawed at playing with superstars his Suarez and Steven Gerrard in the same team. He said it led to a loss of faith in his own ability and his uncle had to set him straight. "I realized I need to stop being shy among the senior boys. The best way of proving yourself is on the pitch. I had to be more confident," he said.
"I wasn't confident enough to have a shot myself and instead I'd pass it to someone like Luis Suarez. I needed to be more confident again - you have to respect the senior players around you but you have to stamp your own mark on the game."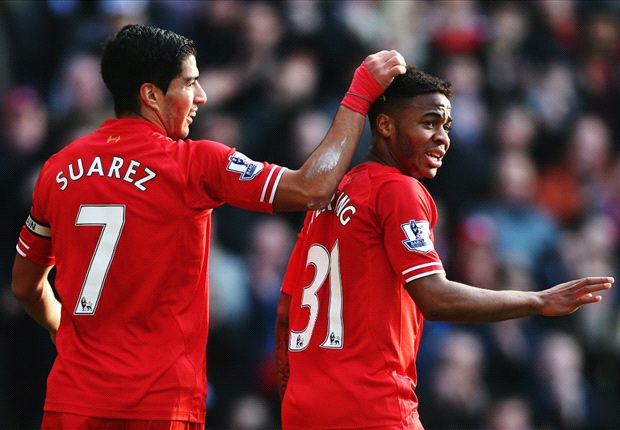 With that issue resolved, he was back to his best. He scored against Tottenham Hotspur a week later in a 5–0 hammering and against Cardiff City the following week in a 3–1 win. He excelled on the right in 4-0 win over fierce rivals Everton in the Merseyside Derby, constantly getting the better of a top quality full-back in Leighton Baines.
Rodgers used to deploy him on the right flank earlier but played him on the left against Arsenal and Sterling went on to score twice in the 5-1 demolition of the Londoners. His pace left the Arsenal defense clueless and he could have had a even more as he found himself in few great goal scoring positions.
He already has 5 goals and 2 assists in 20 games in the league. There are already calls for him to be included in Roy Hodgson's squad for the World Cup. With Theo Walcott ruled out, Sterling may well play a huge part in England's campaign. He's only 19 mind you, but it seems like he's been around for a while. Rest assured, if Sterling continues to perform like this, he will be on that plane to Brazil.