COMMENT
By Robin Bairner
Benjamin Franklin once famously said that the only two certain things in life are death and taxes. But back in the 18th century USA there was no concept of a tax haven such as little Monaco, whose big-spending football team have lately caused quite a stir by their ability to avoid the latter of these two great inevitables.
A deal that will allow the principality side to retain their headquarters in Monaco was struck only last month and means that the club, who are the biggest spending in world football over the course of the season, will continue to avoid paying French tax rates for their foreign players. The criticism of such a get-out clause has been muted, with only Jean-Louis Triaud and Louis Nicollin, president of Bordeaux and owner of Montpellier respectively, speaking out to any notable degree against the pact.
There remains, however, a lingering feeling that Monaco could yet become a blight on Ligue 1, with their outsider status forcing critics to cast furtive glances towards the state perched precariously on a rocky outpost on the Mediterranean coast.
Monaco's history – and the way they are currently set up – suggests that the reverse could very well be true.
For years the principality side have had one of Europe's elite youth academies. Manuel Amoros and Bruno Bellone, who were amongst the France squad that won Euro '84, were predecessors to the likes of Emmanuel Petit, Lilian Thuram, David Trezeguet and Thierry Henry, players who have attained genuine greatness in the national side.
And while Monaco can afford to bring in expensive big-name purchases such as Radamel Falcao, James Rodriguez and Joao Moutinho, they have continued impressively with their ploy of grooming excellent young French players. Left-back Layvin Kurzawa has been a constant in the defence all season and has been rewarded with an extended deal, while vice-captain Valere Germain, Jessy Pi and the promising Marcel Tisserand, who is now on loan at Lens, have all featured on a weekly basis in the squad this season.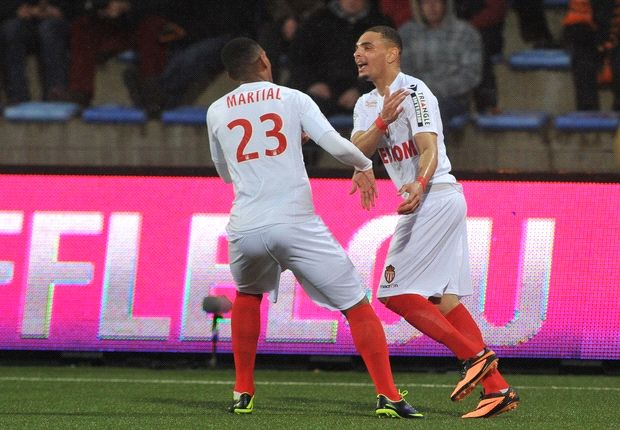 Rising stars | Kurzawa celebrates a goal with another promising youngster, Anthony Martial
In addition, Monaco can boast that during the 2012-13 season, 40 professional players in Ligue 1 and Ligue 2 had come through their academy.
This is in contrast to great rivals Paris Saint-Germain, for whom only Adrien Rabiot has made a real impression on the first team this season, although the arrival of Yohan Cabaye has seen him pushed further down the pecking order.
The signing of a Frenchman at Parc des Princes is actually something of a novelty. The capital side have successfully built a team capable of winning the Champions League, though the absence of local players in their squad is notable. Aside from Blaise Matuidi and Adrien Rabiot, no Frenchman has yet made 10 appearances in Ligue 1 this season, and the majority of Rabiot's have come from the bench.
Even with Cabaye on board, this ratio is unlikely to improve as it is anticipated the three players will squabble over one spot in the side.
It is ironic, therefore, that a Monaco team often made to feel like an outsider, particularly in relation to their rivals from the great aristocratic capital, have five Frenchmen to have breached that threshold, plus France-born Morocco international Mounir Obbadi. Moreover, all of these players have made at least half of their contributions from the beginning of games.
FRENCH FANCIES: The regular French faces for Monaco in Ligue 1

| | | | | |
| --- | --- | --- | --- | --- |
| Eric Abidal | Layvin Kurzawa | Emmanuel Riviere | Jeremy Toulalan | Geoffrey Kondogbia |
| | | | | |
| Ligue 1 apps: 22 | Ligue 1 apps: 21 | Ligue 1 apps: 19 | Ligue 1 apps: 17 | Ligue 1 apps: 14 |
PSG may be the bannermen for Ligue 1 in Europe at present, but is their setup genuinely beneficial for the promotion and nourishment of young French talent? In comparison to Monaco, who have often been portrayed as wealthy ogres since winning their place back in the top flight last summer, they are lagging.
Of course, the project the capital side have embarked on has been a success so far within its own parameters, yet it is ironic that it has been built around Italy duo Marco Verratti and Thiago Motta, most notably because Monaco threatened to leave France for Serie A when the tax row initially erupted.
Indeed, PSG's blueprint bares many of the hallmarks of the Inter side that became European champions in 2010 based upon a formidable squad of expensively assembled foreign players. That summer, Italy were humiliated in the World Cup, including one of the great nadirs of the national team when they were held to a 1-1 draw by New Zealand.
While the two factors are not mutually exclusive, a strong PSG full of the cream of French talent would no doubt be ideal both for Le Championnat and the national side, yet their supposedly ugly sister Monaco are outperforming them significantly in this regard.