COMMENT
By Enis Koylu
When Kevin De Bruyne received a warm reception from the Stamford Bridge crowd during Chelsea's first game of the season against Hull City, it seemed like a vindication of the determination he showed over the summer.
BACK IN THE BUNDESLIGA
The view from Germany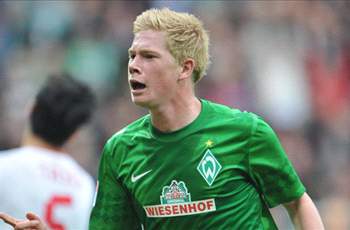 Goal Germany editor Falko Bloding:

"There is not one Werder Bremen fan who would not want Kevin De Bruyne back - he saved the club from relegation almost single-handedly. He was an instant hit in a team in serious stagnation. He impressed with his work-rate, he had good technique and even though he played many different positions, he was a constant goal threat. He scored 10 times and assisted another nine. It's not hard to see where Bremen would have ended up without him."
After an excellent loan spell at Werder Bremen last term, the Belgium international returned to his parent club with a host of suitors across Germany. The Weserstadion outfit acknowledged that they would be able to bring him back to the club for another season but Borussia Dortmund and Bayer Leverkusen were both interested in his services as a replacement for Mario Gotze and Andre Schurrle, their star players sold during the summer.
However, he was resistant to a move. The 22-year-old wanted to stay in west London and prove he was worthy of a regular place in the Chelsea team ahead of the likes of Oscar, Eden Hazard, Juan Mata and Schurrle. Just five starts and four months later, he is on his way once more.
So what went wrong at the Bridge? He appeared to be a player fancied by Mourinho early on. An impressive pre-season even tempted Mourinho to single him out for praise, saying that while "he may be a kid, he is a man on the pitch". The Portuguese had also no qualms about using him against Manchester United at Old Trafford.
But the strong start soon faded though. The decent performance against Hull was followed by a quiet game against United and, by September, Mourinho was singling him out for the wrong reasons.
Ahead of a Champions League tie against Steaua Bucharest, Mourinho was asked why De Bruyne had been left out of the squad. He said: "With Kevin, I didn't like the match he played against Swindon [in the Capital One Cup], and I didn't like the way he was training."
It was in total contrast to his spell at Bremen. Strong, committed, he was the sole bright point in a woeful season for Thomas Schaaf's side, which culminated in the long-standing coach's sacking towards the end of the season.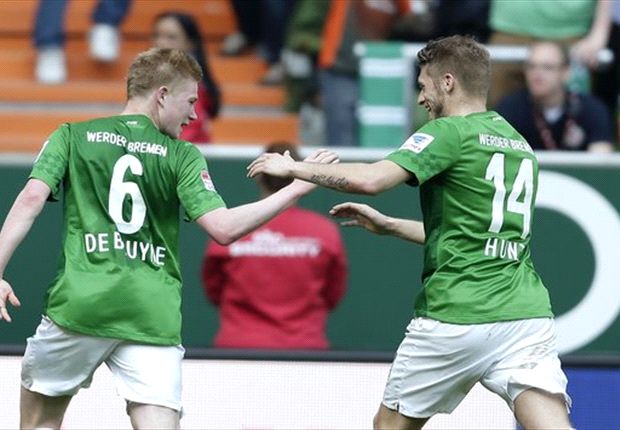 Happier Times | De Bruyne celebrates one of his 10 Bremen goals
De Bruyne was baffled by Mourinho's sudden change in attitude and it ultimately led to his departure from Stamford Bridge. Speaking to Belgian newspaper
Het Laatste Nieuws
earlier this week, he said: "I still don't know why I lost my place after the game against Manchester United. I've also never asked Mourinho. He has never told me: 'Kevin, you don't train well.'
"It's a pity he told a press conference that I wasn't doing well on the training pitch. That's not me. I'm always a player who gives the full 100 per cent in training. Those remarks created a wrong image.
"At the end of December I had a chat with Mourinho. He told me things about competition and he also told me he wasn't keen to let me go, even on loan, saying: 'You're a good player.' But what could I do more? After the press conference in Bucharest I even started training harder, even on my days off. I lost three kilos and two per cent fat. My situation has never changed. That's why I asked him in a friendly way to please let me go."
BY THE NUMBERS
De Bruyne's spell at Bremen


1

Times substituted

9


League assists provided

10

League goals scored

33

Starts - most than any other outfielder

38

Percentage of goals scored or assisted

2965

Minutes played - more than any other outfielder
A move to Wolfsburg - fifth in the Bundesliga - gives De Bruyne the chance to start afresh. Reunited with Klaus Allofs, the man who brought him to Werder Bremen to great effect in the first place, De Bruyne has a chance to be a part of a growing team.
Since Dieter Hecking took over as coach back in December 2012, Vfl have made slow, but steady progress. After being a team with talented players but dogged by inconsistency, they have become a solid outfit, thanks in part to the heavy investment of local car giants Volkswagen who were also instrumental in bringing Luiz Gustavo to the club in the summer.
And Wolfsburg are certainly a good place for De Bruyne. They may not boast the pedigree and history of Chelsea, but he is familiar and more than comfortable in the Bundesliga and can be assured of minutes ahead of Belgium's World Cup campaign, in which he will be eager to play an integral role.
He told
Het Laatste Nieuws
: "I didn't leave Chelsea because I have to go to the World Cup - it could be over after three games - but just because I lost my joy."
After being a wildcard - almost a rookie - in the Premier League, he will be the star man in a team in good nick, for whom a top-six finish would be a massive success, given the instability that has surrounded them since their famous Bundesliga title of 2009.
Moreover, he has a chance to restore his own reputation. After being one of the most sought-after players in one of Europe's top leagues, he became a laughing stock in another, forced to train with the youth ranks.
Wolfsburg could feasibly be in the Champions League before too long, and De Bruyne may yet get the chance to show Mourinho just how wrong he was.