COMMENT

By Julian Bennetts at the San Paolo
As
Arsenal
's wounded players trooped out of the San Paolo, it seemed almost as if they had just been knocked out of the
Champions League
. In fact, some wags might suggest that they already have been.
Wednesday's 2-0 defeat at Napoli was not quite the disaster that it could have been; if Jose Callejon had scored the hosts' second even two minutes earlier, then Arsenal really would have faced a fight for their lives, knowing that a defeat by three goals would have eliminated them.
Instead, they are left facing up to a second-placed booby prize, courtesy of Borussia Dortmund's late win at Olympique de Marseille. A draw would have secured top spot and a potential last-16 tie against the likes of Olympiakos or Schalke. Instead, they will face one of Atletico Madrid, Barcelona, Bayern Munich, Paris Saint-Germain or Real Madrid in Monday's draw.
VIEW FROM THE SAN PAOLO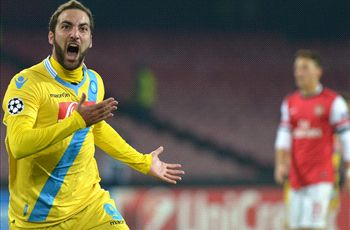 By Julian Bennetts

So, Arsene Wenger, is your glass half-full or half-empty? When the draw was made, second place behind Borussia Dortmund would not have been sneered at but this was a real opportunity missed. Arsenal were in control in Naples but let it slip and they paid a heavy price with their potential opponents in the last 16.

They created few opportunities and were punished when Gonzalo Higuain scored, with Jose Callejon's late, late strike counting for little. Ultimately, though, this was a fantastic Champions League group, the first time that three sides have finished on 12 points. Napoli were unfortunate and Dortmund lucky, while Arsenal probably got what they deserved for slackness on the final day.
In terms of Arsenal's European hopes, it is a disaster – and, with the two games now certain to be hugely testing, it could have a huge effect on their Premier League form, too, with a tricky trip to Stoke City to follow the second leg.
The Gunners would be considered clear underdogs against Bayern (to whom they lost at the same stage last year), Barcelona (their conquerors in 2009-10 and 2010-11) and Real Madrid.
On paper, Atletico or PSG would would appear the easiest options, but the former have won 13 and drawn one of their 15 league games this season, and five of six in Europe, while
Les Parisiens
are top of the French league and have a certain Zlatan Ibrahimovic in their line-up.
Yet Arsenal's players said all the right things after the game, insisting that they can still make the most of their own missed opportunities.
"To be the best, you have to beat the best," full-back Carl Jenkinson told
Goal
.
"If we didn't play them in the next round it would have been further into the competition. We would have liked to have topped the group and got an easier draw but that is how it turned out and we have to beat them at some stage. It will be tough but that is what this competition is all about.
"It was difficult against Napoli as we were cautious about not conceding early on. It is a different game [in the last 16].
"It will be a clean slate in the last 16 and a game of football where there is nothing to worry about as such and we can go out and play our normal game.
"So, we aren't too worried. We will be very confident going into it and we will have to continue the run we have been on."
That was a sentiment goalkeeper with which Wojciech Szczesny agreed.
"It will be tough but, at this stage of the competition, the teams are the best in Europe so it doesn't matter who we face," said the Pole, who looked worryingly like his old self in Naples as he kicked a clearance against Gonzalo Higuain and was fortunate to see it roll wide.
"What have we learnt from our group? That we are doing alright against the best teams in Europe. We have managed to get a very good win in Dortmund and we had a fantastic home record so we have shown people we want to challenge for the Champions League trophy this year. But let's see who we get in the last 16 and try to go and win it."
Could this be a blessing in disguise for Arsenal? No matter how hard they try to play it down, they have a genuine chance of winning the Premier League. Games against Manchester City and Chelsea will push them to the limit but an early exit from European competition would allow them to focus on domestic issues come March, April and May.
We must first see how they react to this setback, though. Second place in a devilishly tough group is not to be sneered at but Arsenal missed an opportunity to move seven points clear against Everton on Sunday, and a chance to secure top spot in their Champions League group in the south of Italy.
Fatigue will also be a factor. Of the 23 major games that Arsenal have played this season in the Premier League and Champions League, eight of the side have started 18 or more. Jack Wilshere, Mikel Arteta and Mathieu Flamini are not too far behind and it is no surprise that Aaron Ramsey, for example, looks to have suffered a slight dip after his wonderous early-season form.
Wenger will have to manage his squad to ensure that they are fresh for whatever challenges they face at home and abroad come the New Year.
They say you have to beat the best to win the Champions League - now Arsenal must prove that they can.