COMMENT
By Mark Doyle
It was previously thought that Massimiliano Allegri had done a fine job in qualifying AC Milan for this season's Champions League, given the coach had had to deal with a dreadful start to the 2012-13 Serie A campaign precipitated by the summer sale of his two best players, Thiago Silva and Zlatan Ibrahimovic. However, it emerged on Sunday night that the credit for the
Rossoneri
's remarkable turnaround lay elsewhere.
"Last season, after a disastrous first half of the campaign," club owner Silvio Berlusconi explained, "I took a closer interest in Milan - and we snatched third place. I think that the team needs more of my help again today."
Allegri must be as offended as he is fearful. Milan are indeed struggling once more, with Saturday's 2-2 draw with Livorno having left them ninth in the table, a staggering 22 points behind leaders Juventus, and 14 adrift of third-placed Napoli.
The one saving grace has been their relatively respectable European form, with Milan only needing a point from Wednesday's clash with Ajax at San Siro to progress to the knockout stage of the Champions League.
THE DUTCH VIEW ON DE BOER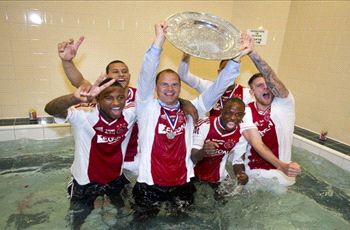 "De Boer stands for the style of play that made Ajax a huge club in the 1970s and mid-90s: lots of possession, high pressing and always trying to dominate the game. It doesn't matter if the opponent is Barcelona or RKC Waalwijk, De Boer doesn't change his approach.
"If he has a flaw, it's that he sometimes expects his players to be as talented as he was. That's why assistant coach Hennie Spijkerman has an important role to play.

"He's the better man-manager so De Boer effectively has that aspect of coaching covered as well. De Boer has also used Dennis Bergkamp, Wim Jonk and Marc Overmars cleverly. Together, they have changed not only the first team, but the youth academy.
"Just like in his playing career, though, De Boer wants to achieve as much as possible. In Amsterdam, though, he's already at his peak and he knows that he can't win the Champions League with Ajax. A move to a bigger club is inevitable and a club like Arsenal or Barcelona would suit him best because these teams play the way he wants.

"The fact that he's a disciple of Cruyff really gives him the advantage in terms of the Blaugrana, even though Johan and the Barca board aren't on speaking terms at present."
Floris Koekenbier | Goal Netherlands
However, defeat at home to the Dutch champions would surely result in the sack for Allegri, particularly now that Berlusconi has decided to take a more active role in the running of the club.
Remember, the ex-Italian Prime Minister wanted rid of the former Cagliari boss last summer, having had his heart set on bringing former
Rossoneri
midfielder Clarence Seedorf back to Milanello as coach.
Berlusconi was ultimately persuaded to persist with Allegri for one more year by CEO Adriano Galliani but there will be no stay of execution for this dead man walking should Milan bow out of Europe.
Pippo Inzaghi, who is now in charge of the
Primavera
, is in the running to be the next coach of Milan but Seedorf remains a firm favourite of Berlusconi's. However, whenever the Milan supremo does finally decide upon a change of leadership, he would be better advised to turn to another Dutchman, the one who will be in the opposition dugout at San Siro on Wednesday night.
Frank de Boer has done an incredible job since being promoted from within the Ajax youth ranks to the senior side in 2010. The former Netherlands international has led the Amsterdam outfit to three successive titles, but it is not his trophy haul that marks him out as the ideal candidate for the San Siro hotseat. There are a number of other far more compelling reasons.
Firstly, there is the fact that De Boer took charge of Ajax at a time of bitter internal warfare, with the club's supervisory board ultimately resigning over a court ruling that upheld Johan Cruyff's case against the appointment of Louis van Gaal as CEO.
These were two men who De Boer idolised; two men that have heavily influenced his coaching philosophy. Yet he handled the situation with the kind of class, composure and perception he exhibited during his playing days.
"It's a real shame that they don't seem to get along," the former centre-half mused. "They have much more in common than they think. They both really love Ajax, enjoy attacking football ... but are pretty stubborn."
Marco van Basten was just one of those impressed by the way in which De Boer managed to put all the politicking to one side and lead Ajax to the title that season, with the iconic forward having found the internal divisions too much too handle during his return to Amsterdam in a coaching capacity in 2008.
"There are many people at Ajax who try to interfere with all sorts of things, but Frank remains very quiet," the former Netherlands international explained. "For me, the power of Ajax is Frank de Boer."
Having honed his skills of diplomacy in Amsterdam, De Boer would therefore hardly be intimidated by the current power struggle raging at San Siro between Berlusconi's daughter, Barbara, and Adriano Galliani.
Furthermore, De Boer would have little trouble in dealing with Milan's newfound prudency in the transfer market. The aforementioned sales of Thiago Silva and Ibrahimovic were essential in terms of balancing the books at Milanello and, while they remain a major player in the Italian market, they simply can no longer compete with Europe's elite.
However, one could argue that De Boer would not only handle such parsimony, but embrace it. Ahead of last year's Champions League win over the Abu Dhabi-backed Manchester City, De Boer stated: "We don't have their kind of money so we have to be creative. I like our style better because buying players is a lot easier."
Given his background in Ajax's fabled youth academy, De Boer would also fit in perfectly with Milan's aforementioned desire to rejuvenate their squad, while at the same time addressing their recent overreliance on prima donnas - like Ibrahimovic and, currently, Mario Balotelli - just as he immediately did at the Amsterdam ArenA with Mounir El Hamdaoui.
"Football is a team sport, not an individual sport," he reasons. "[Ajax's] strength is that we are not dependent on one person."
Likewise, De Boer's strength is that he is not dependent upon one point of view. Not only does he surround himself with talented ex-team-mates for whom he has the utmost respect, he has also drawn on the teachings of both Van Gaal and Cruyff to create arguably the perfect coaching model for Ajax.
Could it work at Milan? It would be difficult, but there is clearly no-one better qualified than De Boer to make it happen. To put it simply, he is the best man for the job.
Follow Mark Doyle on