DEBATE

By Carlo Garganese and Peter Staunton
The biggest talking point ahead of Juventus' do-or-die Champions League clash with Galatasaray on Tuesday centres around someone who won't even be playing in Istanbul.
Andrea Pirlo will be unable to assist his team-mates in earning the point they need to qualify from Group B, after being ruled out for at least six weeks with a knee ligament injury.
The 34-year-old's contract at Juve will expire next summer and so far the two parties have yet to agree on a new deal. Goal's Juventus correspondent Romeo Agresti understands that the 2006 World Cup star wishes to remain in Turin and is requesting a two-year contract. But Juve, who will not make their final decision until February, are only willing to propose a one-year extension with the option of a second. They also plan to reduce Pirlo's annual €4 million salary by between €700,000 and €1m.
So, are Juventus right to play hardball and thus risk losing their legendary midfielder? Or should they rethink their strategy and ensure they tie down the ex-AC Milan star?

Goal's Carlo Garganese and Peter Staunton go head-to-head over the issue.
"JUST LIKE MILAN, JUVE WOULD REGRET LOSING PIRLO"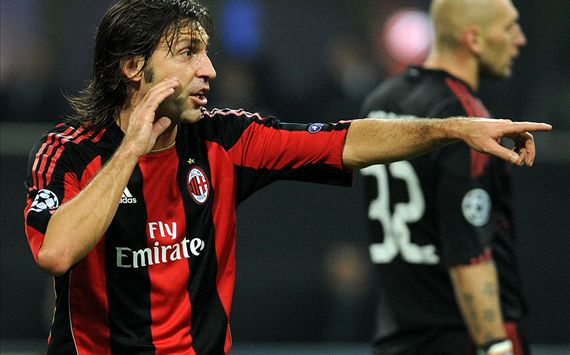 By Carlo Garganese
If Juventus lose Andrea Pirlo at the end of the season, they will live to regret it. Just as AC Milan did back in 2011, when Adriano Galliani refused to alter his policy of offering one-year rolling deals to players over the age of 30.
Pirlo may turn 35 next May, but he is a timeless footballer. He has never boasted pace, physique or stamina – not even at the peak of his powers back in 2006 – but he is so uniquely intelligent that he can easily star on the biggest stage for at least another couple of years.
Like a Francesco Totti or Frank Lampard, the Brescia native won't shine three times a week at a high intensity – but, managed properly, he will continue to be an indispensable member of the Juventus team. Furthermore, Pirlo is set to retire from international football after the World Cup - which will increase his rest periods.
After two successive Scudetti, Juventus are comfortably the strongest side in Italy and their next step is to conquer the Champions League. In order to achieve this, they will need to switch formation to a 4-3-3 or 4-2-3-1, which will require new full-backs and outside-attackers.
Were they to release Pirlo, instead of improving these areas, Juve would waste a large chunk of their transfer budget signing a replacement in centre midfield – the one area of the pitch where the Bianconeri can currently match any side in Europe. It would take a bid of at least €20m to secure his natural heir, Marco Verratti.
And if we are to further extend the economic argument, commercially Pirlo is - along with Gianluigi Buffon - a huge asset in markets such as Asia. The equally brilliant Arturo Vidal and Paul Pogba are not.
From both a sporting and economic standpoint, it would be suicide for Juventus to let Pirlo go.
Follow Carlo Garganese on

"PIRLO IS PAST HIS BEST & CAN NO LONGER DELIVER"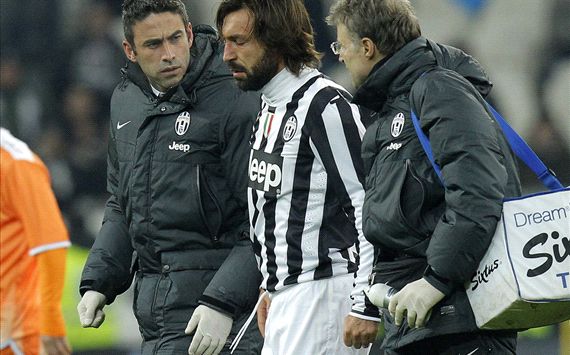 By Peter Staunton
After what will be another 40 or 50-match season and another summer of tournament football, it is worth asking just how fit and useful Andrea Pirlo will be heading into the 2014-15 campaign.
To offer a multi-year deal, at €4m-€5m per annum, to a 35-year old midfielder coming off the back of a knee ligament injury would be folly of the highest order. Juventus did not hang around when it came to renewing Arturo Vidal's contract but Pirlo's situation does not seem to be the same kind of priority.
It's time that Juventus began to embed a new way of playing - with Paul Pogba replacing Pirlo at the heart of midfield. That's the long-term plan. They need the energy of Vidal and Pogba in there, along with the probing capabilities of Claudio Marchisio. Vitally, all three can press more intensely than Pirlo, who has never provided that sort of athleticism in the engine room.
While Pirlo has flickered this season, it is clear that he is past his best. Ponderous play on the ball has seen him repeatedly caught in possession, while he lacks the requisite thrust to track counterattacks when Juventus lose the ball. He deteriorates as games go on and has had to be replaced on occasions. And when the important games roll around, especially in the Champions League, Pirlo can no longer deliver.
He remains a player who dictates the pace but Juventus are noticeably slower for his presence. Furthermore, as Bayern and Mario Manduzkic showed last season, if a team can prevent Pirlo from playing his natural game, Juventus are as good as neutered. To be so reliant on one man is not a position a club the scale of Juventus should be in - and coach Antonio Conte knows it.
It is true that no single player has done more to reinvent Juventus as a winning team since 2011. But it's time to cut him loose.
Follow Peter Staunton on