Brendon Netto


COMMENT | England

Follow on
"Who needs Wesley? We've got Cleverley" – That was the bullish banner revealed by the Manchester United fans at Wembley when their side overcame a two-goal deficit in the second half to beat rivals Manchester City in the 2011 Community Shield. It was in reference to United's long, complicated and ultimately unsuccessful pursuit of Inter Milan's Wesley Sneijder.
Following Cleverley's impressive showing in pre-season that summer, particularly in the win over Barcelona, some supporters believed he was the natural heir to Paul Scholes and that his presence rendered the Dutchman's snub irrelevant. In that game at Wembley, the 22 year-old was brought on for the second half and turned the game around as United pushed forward and scored thrice to win 3-2.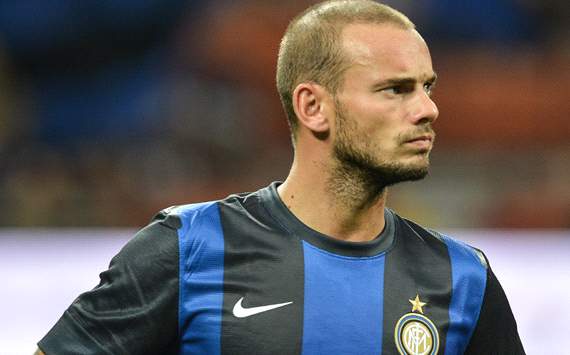 United failed to Wesley Sneijder
In the early part of the 2011-12 season, Cleverley forged an exciting midfield partnership with Anderson as United played some swashbuckling football. They scored 21 goals in their opening 4 games including 3-0, 8-2 and 5-0 results against Tottenham Hotspur, Arsenal and Bolton Wanderers respectively.
United were brimming with youthful exuberance and Cleverley was central to their success but he was injured in the Bolton game and missed six weeks including the 6-1 catastrophe at home to City. He made a brief return before being sidelined again for another couple of months. Since then, we've only seen glimpses of the confident youngster that seemed keen to take up any challenge.
In retrospect, his loan spells at smaller clubs may have elevated expectations. He was Player of the Season at Watford with 11 goals in 33 games and was impressive at Wigan Athletic as well.
Sir Alex Ferguson said in 2011: "He, to my mind, is probably the best midfield player in Britain, potentially. He has fantastic promise."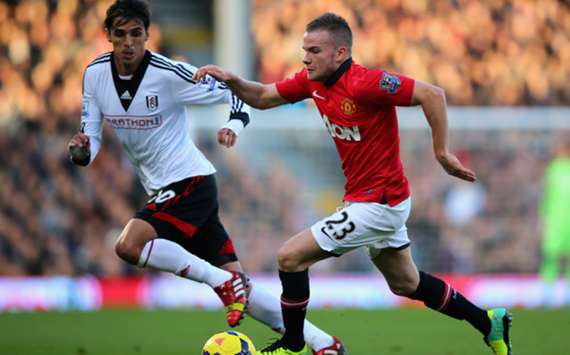 Cleverley was United's great midfield hope
However, his progress has been stunted by frequent injuries and dips in form. The concern is, he's been at the club since he was 12 and now that he's twice that age, the 'budding' period is effectively over and it's time to deliver on that early promise.
When he's in form, Cleverley possesses excellent short passing and is clearly at his best when he advances into the final third and links up with the attackers. He has the ability to play first-time through balls or execute quick one-twos.
However, he doesn't have the authority to orchestrate play and command United's midfield and that's probably the aspect of his game he was expected to develop in time. He does not have the capacity to play long diagonal passes which are crucial to United's wide-play and he continues to disappoint when getting into goal-scoring positions.
He hasn't scored enough goals
When he first burst onto the scene, he had the guile to create openings from the edge of the opposition's box and that was an exciting quality but the more he's tried to affect play from a deeper area, which is what United need, the more he's struggled to make any impact at all.
He seems to have lost confidence as well. Despite having the energetic Phil Jones beside him against Spurs, Cleverley never made it into advanced positions. He put in a tremendous shift no doubt but apart from his running, he didn't bring much else to that midfield. He can't spread play from the center circle so he needs to get closer to the forward line when given the chance. Without that, he just doesn't pose a threat at all.


"Tom has been there quite a few years now and has done okay. But it's time Tom kicked on. He does play a lot of games and he is a quality player. That is emphasised when he gets in the England squad. Now it's time he went on to the next level at Manchester United."



- Paul Scholes
He came under plenty of criticism for his performance away to Cardiff City and rightly so. He was anonymous throughout the game and despite boasting a passing accuracy of 88% in the draw at White Hart Lane he only played one long-ball forward on the break that saw Danny Welbeck create a chance. In fact, he seemed to use his work-rate to compensate for his lack of contribution on the ball.
Season

Club

Games

Goals

Assists

2008-09
Leicester City (loan)
15
2
0
2009-10
Watford (loan)
33
11
5
2010-11
Wigan Athletic (loan)
25
4
2
2011-12
Manchester United
15
0
3
2012-13
Manchester United
32
4
4
2013-14
Manchester United
14
0
0
Cleverley's statistics at club level
All is not lost for Cleverley though. About a decade ago, Darren Fletcher, another academy graduate, was a frequent topic of debate among United supporters. Many felt he wasn't fit to wear the shirt and simply didn't have the quality to play for the club.
Over time, he developed into an integral player. His controversial absence in the 2009 Champions League final against Barcelona is bemoaned to this day. Of course, there's little chance that the Scot could have made too much of a difference but the fact that his suspension was so grievously lamented spoke volumes of the recognition he earned.
Fletcher paid tribute to Roy Keane for the frequent scolding he got from him earlier on, citing those confrontations as the reason he eventually developed into a quality United player. There's no Keane around now but perhaps someone needs to rattle Cleverley and force him into being the player he was touted to become.
In some ways you could even liken Cleverley's situation to that of Aaron Ramsey last season. The Welshman was also adored initially before an injury and his subsequent poor form made him a scapegoat for Arsenal fans. But he looks rejuvenated this term and has arguably been their best performer. Cleverley should be encouraged by the way Ramsey and Fletcher made their way back into their respective teams so emphatically.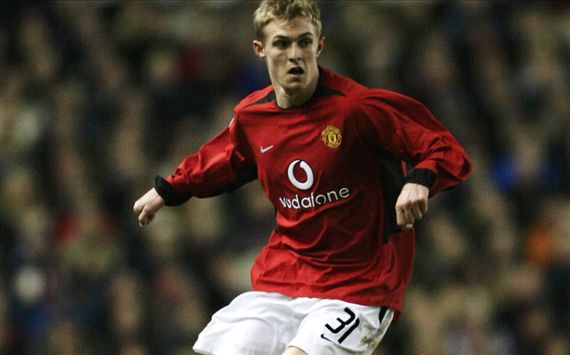 Fletcher eventually became a key figure
United are still in search of a creative central midfielder that could revolutionize their play. They've scoped the globe for that elusive player but two years ago, they thought they had unearthed a saviour from within their own ranks in Cleverley. Perhaps he was built-up too much at a club that's always desperate to see more youth academy products making the grade, especially local lads.
With Everton's visit to Old Trafford next, Cleverley may be handed another opportunity to impress and it's vital that he starts to make these chances count because whether he realizes it or not, he's running out of time.
Soon you expect midfield targets will be signed and he may be pushed down the pecking order or even offloaded to accommodate new arrivals. His options are simple - either become the player United need or see himself replaced by the same. It's now or never for the English midfielder.
Is Cleverley's time up? Send in your thoughts in the comments below or discuss with the writer on Twitter

@BrendonNetto.
How do you stay up with football when on the move? With http://m.goal.com –your best source for mobile coverage of the beautiful game.