COMMENT
By Ben Hayward | Spanish Football Writer
It was the sight no Real Madrid fan will have wanted to see. Cristiano Ronaldo, clearly in discomfort, was hurt and was asking to be replaced. With a grimace on his face, the world's most in-form footballer stayed behind the goal and walked straight down the tunnel to leave
madridistas
everywhere wondering what exactly had happened - and just how serious it might be.
The answer came quickly and it was good news: the Portuguese had suffered nothing more than a knock. "It's nothing serious," he said afterwards. Later, coach Carlo Ancelotti added: "I don't think it is anything important because he isn't feeling any pain. He got a kick in the first half and felt the muscle somewhat tight. It is just a precaution."
Ronaldo, who netted the opening goal after three minutes and saw Madrid add four more following his departure, will undergo tests back in the Spanish capital on Monday to determine the full extent of the problem and establish whether the forward can play a part in Wednesday's Champions League clash at home to Galatasaray.
NO MESSI, NO PROBLEM FOR BARCELONA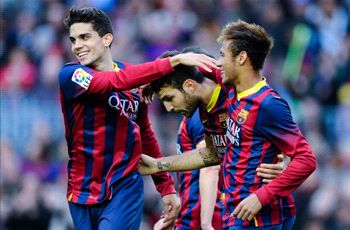 No Messi, no problem. Messi presented his Golden Shoe to the Camp Nou crowd and then watched on from the stands as Barcelona beat Granada with some ease in a rare afternoon kick-off in the Catalan capital.

Andres Iniesta's first-ever penalty for Barca opened the scoring, before Cesc Fabregas made it 2-0 from the spot. Alexis Sanchez and Pedro then netted a goal apiece late in the game after Manuel Iturra had been sent off for a second bookable offence.

It wasn't classic Barca, but it didn't really matter: the Blaugrana stay three points clear at the top of the table and remain unbeaten under Gerardo Martino.

"I think the fans are enjoying themselves a lot more than you say," Martino told reporters.

And those fans were treated to a glimpse of the future as 17-year-old Adama Traore made his debut with a lively cameo in attack and Sergi Roberto also came on for a rare appearance in midfield.

Cristiano will want to start. Before Saturday's enforced exit, the Portuguese had played every single minute of every game for Madrid this season. The 28-year-old has also just completed two whole matches for Portugal against Sweden, propelling his nation to next summer's World Cup with decisive displays in the space of five days.
Ancelotti was asked about the possibility of resting Ronaldo in his pre-match press conference on Friday and replied that the team's leading light would be due some time off soon - in the Copa del Rey in early December.
Madrid have been drawn against Segunda B side Olimpic de Xativa over two legs in the last 32 of the competition and Cristiano cannot feature anyway after he was sent off in the final defeat to Atletico last season.
"Next week I will give him a few days off," the Italian told reporters on Friday. "If he looks tired, I will give him time to recover, but at the moment he doesn't look tired to me. He looks fresh."
Thorough tests on Monday are likely to indicate whether or not Ronaldo does need an extended break and if there are any doubts about his fitness for the forthcoming fixtures, safety should come first.
Madrid sit top of Group B in the Champions League and need only a point from their last two matches (at home to Galatasaray and away to Copenhagen) not only to qualify but also to top the standings. And. with a vastly superior goal difference to both of those teams, Ancelotti's men are already virtually guaranteed to advance in first place. So unless he is fully fit, there is really no need to risk Ronaldo on Wednesday.
Madrid will hope that the problem really is nothing more than a knock. However, players are much more susceptible to such strains and niggles during periods of extreme tiredness or fatigue.
And that is how, back in early April, Lionel Messi's injury problems began with Barcelona - just after an international break and, as with Cristiano now, in a period in which he was scoring goals and breaking records for fun. Now, the Argentine is sidelined until the New Year following his most recent muscle problem.
Ronaldo's rich vein of form and desire to claim the Ballon d'Or (voting now closes on November 29, two days after Madrid host Galatasaray), will mean the Portuguese will be eager to return in time to impress one last time before the deadline closes. He will need, however, to be honest with himself, while Madrid must take heed of Barcelona's problems with Messi to ensure something similar does not happen to their own prized player.
Follow Ben Hayward on