Brendon Netto


COMMENT | Premier League

Follow on
With nine wins and just one defeat in their last 12 meetings, it's evident that Manchester United have largely dominated their fixtures with Arsenal in recent years but this season presents as good a time as any for the tide to change. The Premier League champions have started slowly and find themselves languishing in 8th place while their opponents will march into Old Trafford as league leaders who are already threatening to pull away from the pack even this early in the campaign.
Arsenal's title ambitions have restored a competitive edge to this fixture, which was lacking over the last few years. Robin van Persie's transfer to the red half of Manchester last summer served to rekindle some of the animosity between the two clubs but challenging United for their crown certainly takes it to a whole new level, or perhaps a familiar one.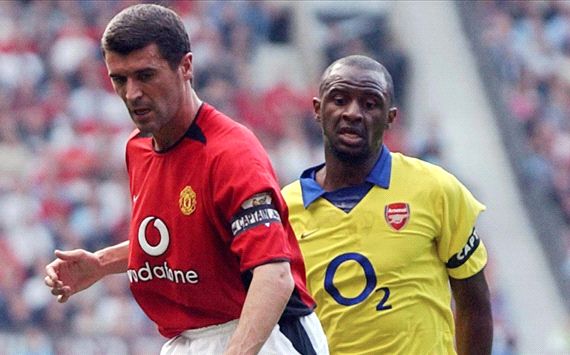 A return of the famous rivalry?
Apart from the backdrop and significance of this game though, the biggest alteration is that United will not be able to bully, hassle and harry Arsenal off the ball and catch them on the counter-attack because they finally have some bite and maturity to them.
No, this Arsenal side is a completely different animal, one that hasn't reared its ugly head for the better part of a decade, one that's been wounded and now thirsts for redemption. The run of games they've had of late was deemed a test of their title credentials and despite faltering against Chelsea in the Capital One Cup and suffering a narrow defeat at home to Borussia Dortmund, wins against Napoli, Liverpool and Dortmund away from home have seen them make the grade so far.
In fact, that result against Dortmund speaks volumes of how far Arsenal have come. They've always been susceptible to the counter-attack and the German side are renowned for their expertise in that very ploy. While the Arsenal of old may have left themselves open and vulnerable, this time around, they showed plenty of resolve even in the absence of Mathieu Flamini.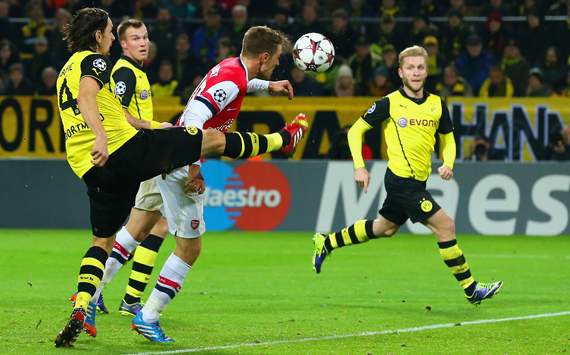 Arsenal showed grit & resolve to beat Dortmund
Moreover, they managed to grind out a win - how many times have they done that over the last few seasons? They weren't the better side, Dortmund had far more attempts at goal but when an opportunity fell to Arsenal, they were clinical. Beyond that, they resisted the Bundesliga side's onslaught and showed maturity in shutting up shop and securing three vital points.
Arsenal seemed to lack leaders in the past but this season, there are quite a few emerging. Mikel Arteta, Per Mertesacker and Mesut Ozil are a few of the experienced players who have shone. During the final ten minutes against Dortmund, Mertesacker and Arteta got into a bit of an argument as the German wanted the midfielder to show for a pass but was instead forced to play it back to the keeper.
That's a fantastic sign if you're an Arsenal fan because it's not one of a disjointed team but one of a side desperate to win. They were focused on getting the result, consumed by it. Too often Arsenal players have been criticized in recent years of lacking that sort of fiery passion and will to succeed but not this time.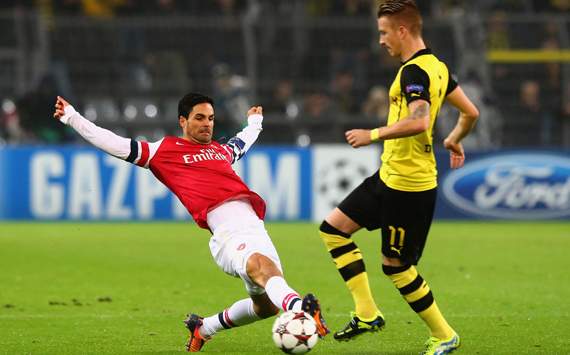 Leaders, fight, maturity - Do Arsenal finally have it all?
So where does this leave a United side desperately lacking cohesion and perhaps confidence as well? While Arsenal's midfield is probably the strongest in the league and their best asset, that department is where United are well short of the necessary quality to match them. It stands to reason then, that their best chance is to stifle Arsenal's midfielders by working profusely to close them down and going around them in attack.
Apart from playing at home, United have the added advantage of an extra day's rest while few of the players who featured for 90 minutes away to Real Sociedad will be involved on Sunday. The likes of Michael Carrick, Robin van Persie, Wayne Rooney and Adnan Januzaj should be fresh while that applies to Rafael and Tom Cleverley as well if they are fit to start.
Most of Dortmund's chances in midweek came from their full-backs overlapping their wingers and creating a two-on-one situation against either Kieran Gibbs or Bacary Sagna. That could be put down to Arsene Wenger missing his regular wingers through injury as Santi Cazorla and Tomas Rosicky weren't the most enthusiastic when having to track back.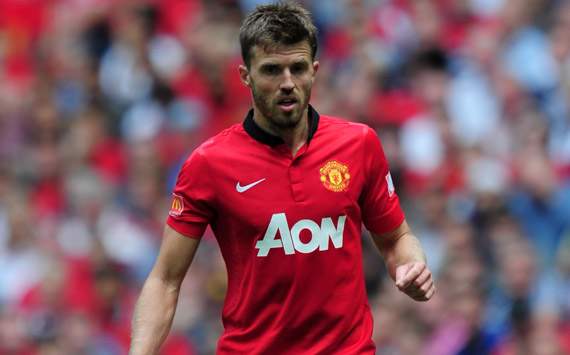 Key players were absent in United's last game
After an intense game in Europe, it's hard to see the duo shadowing United's full-backs for 90 minutes on Sunday and therein lies the slightest chink in Arsenal's armour that David Moyes will aim to exploit, primarily because it plays into one of United's strengths at the moment as well.
With United severely lacking creativity and cohesion through the middle, their route to goal has predominantly come down the flanks. However, the poor form of their wingers apart from Januzaj has demanded frequent forays forward from Rafael and Patrice Evra, something they've done reasonably well.
Even though that's easier said than done, it still represents the best chance United have. Arsenal will undoubtedly dominate the middle of the park and rather than flying into tackles and manhandling The Gunners off the ball like they have done in the past, United may have to soak up the pressure and spread the ball wide when they get hold of possession.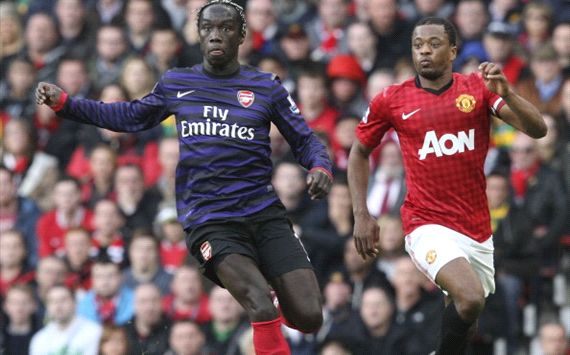 Overlapping full-backs the way forward for United?
A defeat for the hosts would see them fall 11 points adrift from their opponents and perhaps the fear of conceding a gap like that so early in the season should motivate them to get something out of this game. It's hard to see Arsenal slipping up too often at the moment and that's precisely why it's time United took things into their own hands, however clumsy they've proven of late.
Old Trafford may not be the overwhelming fortress it was whilst Sir Alex Ferguson's intimidating aura loomed large but if there's one side in this league that could halt Arsenal in their tracks while they're in such scintillating form, you reckon United would be the most likely to burst their bubble. Maybe that's plausible because of the storied rivalry these teams have shared in the past or perhaps from United's point of view, it simply comes down to necessity.
Can United stop Arsenal? Send in your thoughts in the comments below or discuss with the writer on Twitter @BrendonNetto.
How do you stay up with football when on the move? With http://m.goal.com –your best source for mobile coverage of the beautiful game.