COMMENT

By Peter Staunton
After the conclusion of another evening of high drama on Tuesday, we now know the identity of 21 competitors in next summer's World Cup. However, we've also learned that first-time qualifiers Bosnia and Herzegovina should not be taken lightly and that both Belgium and Colombia are now nailed on for 'dark horse' status in Brazil.
Tuesday's action threw up several other talking points, though, with Fifa's flawed seeding system and Mexico's inexplicable qualification for a play-off place chief among them ...
Bosnia bristle with offensive verve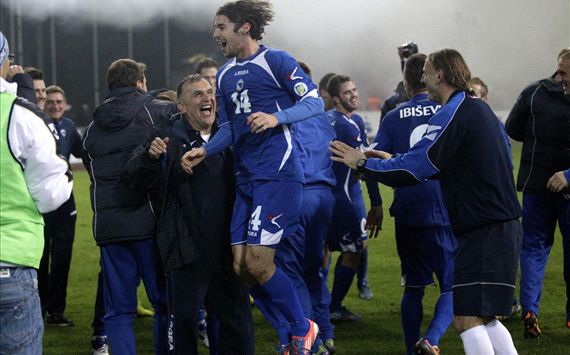 It may have been nervy in the end, as Bosnia-Herzegovina edged out Greece to an automatic qualification place with a narrow win in Lithuania, but Safet Susic's side are worthy contenders at next summer's finals.
After double heartbreak in the play-offs against Portugal in the run-up to World Cup 2010 and Euro 2012, Bosnia-Herzegovina will be relieved to have the campaign over and done with before November this time around.
They were fearless at times during qualification and more often than not entertained with their intrepid attacking play. This is a team refreshingly built around its offensive talent, with captain Edin Dzeko and strike partner Vedad Ibisevic scoring 18 of the side's total of 30 goals between them. It was the latter who netted the vital one on the final matchday.
"It would be unfair to the fans, to the game and to us if we were to supress such a talent and such a skill," Susic told
World Soccer
in September. Behind them, Miralem Pjanic was peerless in midfield while the talents of Zvjezdan Misimovic and Senad Lulic were also exploited.
Bosnia-Herzegovina are certainly a team to avoid for the seeds at the World Cup as they have the capability to shock and disrupt even the best of opposition. Tragedy at home during the 1990s needs no examination here but for a country only entitled to participate in Fifa events since the 1998 qualification phase, Bosnia-Herzegovina's ascent has been steady and, now, fruitful.
Fancied Belgium's challenge has only just begun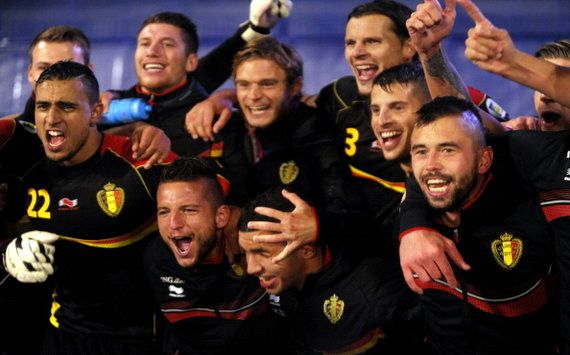 Well, they got there. And they got there pretty easily in the end, qualifying from a poor section to take their place at the finals. They are, of course, Belgium, now everybody's second-favourite team and, amazingly, fifth in the betting for winning the World Cup trophy outright.
"To me, football is about big moments and achievements. I am proud of my country and I am proud of our team. Let's improve and be the best," captain Vincent Kompany said after qualification was assured.
Stacking 26 points from a possible 30 and conceding only four goals, the Belgians were indeed among the very best teams in Europe during the campaign. Belgium, however, have been labelled "dark horses" for so long now that they will be marked out as one of the chief threats in Brazil next summer.
No doubt it is fortunate for them that a good generation of players has emerged as one. It must be remembered, though, that the English Premier League enjoys the most bombastic praise of any championship in the world and the presence of so many of the Belgium contingent in that league seems to have inflated their standing in the eyes of observers.
What the Red Devils do have is a crop of good talents, many of whom are unproven as winners at club level and in the international game. It is not their fault that they have come to be so highly regarded because of their players' prominence in England. Kompany, Vertonghen, Fellaini, Dembele, Hazard, De Bruyne, Lukaku and Benteke are under more pressure and scrutiny than any team other than Brazil. For a side flying on their potential, their task has not even begun.
Disgraceful Mexico pardoned by USA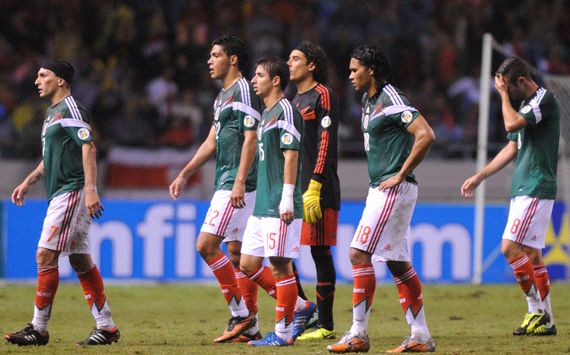 Good sentiment alone is not sufficient to qualify a team for the World Cup. Panama discovered in the most agonising way possible what goes along with being a contending team and not an also-ran. With seconds to go in the Concacaf qualification campaign they were on their way to an intercontinental play-off against New Zealand at the expense of Mexico who lost to Costa Rica.
The USA contrived to score twice, sending two daggers into the hearts of the Panamanians and rescuing the playoff berth for their great North American rivals at the death. Drama on the final day of qualification was the preserve of North and Central America.
Mexico's campaign has been a total disaster and yet with four of six teams in the Hexagonal qualification structure they still stand a chance of making it to Brazil. Mexico have been through three managers, have won only two matches of 10, scoring just seven goals and conceding nine. The country as a whole enjoyed one of its most successful ever years in 2012, with Olympic and under-age titles secured, but 2013 has been a severe derailment of ambition.
Gold Cup embarrassment followed Confederation Cup humiliation and, although on paper they are superior,
El Tri
have no guarantees about beating OFC kings the All-Whites in a two-legged encounter.
"Sometimes they think they are Spain," Costa Rica striker Joel Campbell told the press before the final qualifier on Tuesday. "Mexicans have to learn to show respect." Confidence is not high in the Mexican ranks at the moment, however, and things could get even worse.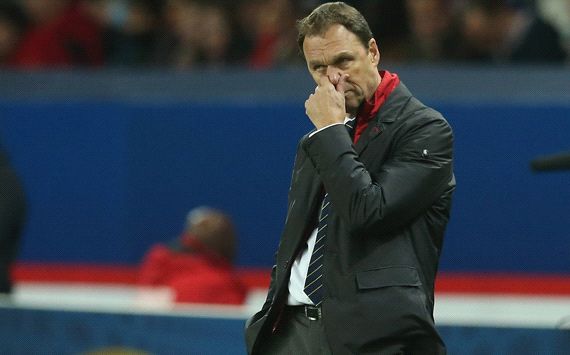 Two 6-0 defeats would be hard to survive for any manager but for Holger Osieck, the now-deposed coach of Australia, the losses to Brazil and France were the straw that broke the camel's back.
The Socceroos laboured to qualification for the World Cup, betraying their status as one of the AFC's strongest teams. They struggled against Thailand and Oman, incredibly, and were reliant on a late Joshua Kennedy header against Iraq in June to book their tickets. In between they lost to Jordan. It was too much to bear for a generation of Australia fans brought up on the achievements of the "Golden Generation".
Unfortunately, it is that generation of Schwarzer, Neill, Wilkshire, Cahill and Bresciano who still form the core for Australia a long way past their peaks. New players, like Tommy Oar and Tom Rogic, were not sufficiently trusted by Osieck, meaning the next wave of Australian players are without the sufficient match experience for a challenge like the World Cup.
The FFA decided to dispense with Osieck and the Aussies are back to square one ahead of of the tournament. There is no Guus Hiddink to inspire them this time around. Local coach Ange Postecoglou seems to be the popular choice while Aurelio Vidmar is in caretaker control.
The next man in has problems. He has to improve the football, integrate players and drop under-performing veterans. No easy task ahead.
Colombia to light up World Cup 20 years late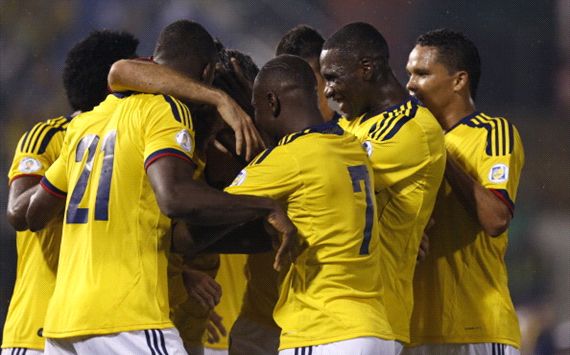 This is, perhaps, a better group of players than the one which claimed the 2001 Copa America title. It is probably the best Colombia side since Francisco Maturana took the favourite team to the World Cup in 1994. That challenge unravelled in murky, tragic circumstances but now a formidable, thrilling Colombia team have a chance to leave a positive impression on the World Cup for the first time since 1998.
"The trust that Colombians have in their team is explained precisely by the fact that suddenly there is a new golden generation," former captain Carlos Valderrama told
AFP
last week. There was scarcely a doubt that Argentina would emerge top of the draining Conmebol section but the battle for automatic slots in South America is always intriguing.
Such is the quality of the opposition, a bad run rarely goes unpunished as play-off entrants Uruguay would confirm. After dispensing with rugged former defender Leonel Alvarez, Colombia appointed the Argentine Jose Pekerman, who has left a positive impression in his time in charge. He is widely credited with giving Colombia back their confidence after the tentative 2011 Copa America campaign. He has extracted goals from Radamel Falcao, who has scored almost half of his total under Pekerman following a fitful international career before his appointment.
He has helped translate good European club form to the national team and carry Colombia into the top five in the Fifa ranking from a position of 36th when he started. There is much more to a good team than the names of excellent individuals on a team-sheet. Colombia have surpassed that stage. With the likes of Falcao and James Rodriguez excelling in the yellow, Colombia will be among the best teams in Brazil.
CAF administration costly for Cape Verde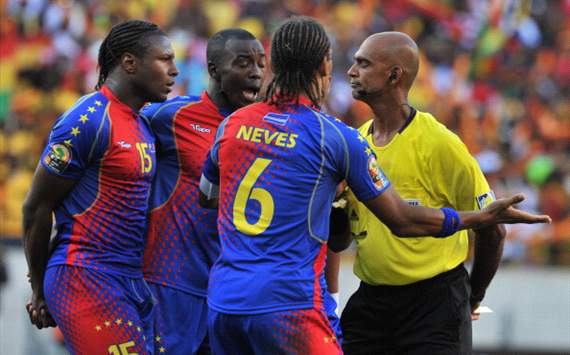 Things took a turn for the Kafkaesque after the final matchday of the second round of World Cup qualification in Africa. The Cape Verde Islands, who eliminated Cameroon from the running for the 2013 Africa Cup of Nations, were at it again. They capped a fine campaign with a 2-0 win against Tunisia to take their place in the Caf regional playoffs.
Fifa, however, had other ideas and it declared the match in favour of the Tunisians. No incident better illustrated the chaotic administration infesting African football at the moment. Fifa ruled that Cape Verde had fielded an ineligible player, Fernando Varela, because he failed to serve the entirety of a four-match ban. He earned the suspension in the away tie at Equatorial Guinea earlier in the group stage. That 4-3 defeat was declared void and the win awarded to Cape Verde as Equatorial Guinea themselves were guilty of fielding an ineligible player, Emilio Nsue, who scored a hat-trick.
Cape Verde argued that since the Equatorial Guinea result was expunged from the records, Varela's suspension should no longer stand. They lost their appeal however and Lucio Antunes' men were eliminated.
"It's very unfortunate that mistake happened," said the coach to local reporters after the decision. "It doesn't reflect the true strength of our team and we believe we were better that Tunisia even if they won on paper."
It was not the only case of clerical errors costing teams points in Africa during the qualification phase but it was the costliest. Ethiopia, Sudan, Burinka Faso, Gabon and Togo all kept Fifa's disciplinary department busy with various breaches of player eligibility rules. The most farcical of all was the case of Charly Moussono. Having won 10 caps for Gabon Fifa ruled after a qualifier against Niger that the Cameroon-born player was not entitled to play for Gabon at all after representing the country of his birth in the 2006 Fifa Beach Soccer World Cup in Brazil.
Fifa sow the seeds of bafflement as Italy drop the ball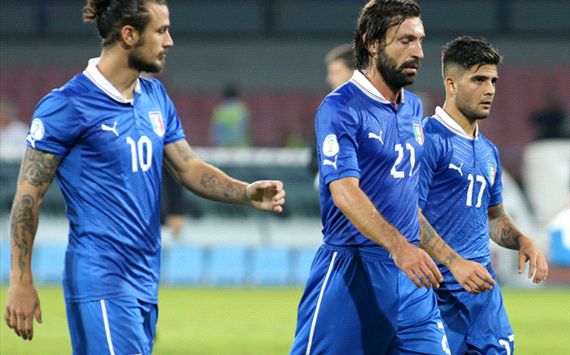 Brazil, Spain, Argentina, Germany, Belgium, Switzerland, Colombia and Uruguay. Those are the top eight seeds for the World Cup draw on December 6 in Bahia as things stand. Brazil, as hosts, as well as world champions Spain are inevitable picks at the sharp end of the draw. Germany and Argentina, rampant in the qualification phase are deserving of their places too.
Look again and you might be surprised to see that Italy are not among the top eight. Neither will the Dutch be unless Uruguay somehow lose a playoff to Jordan. Fifa has opted to use the World Ranking for October (released October 17) to sort its seeds for the World Cup instead of using November's batch. This, ostensibly, is to prevent countries taking part in play-off matches from gaining an unfair advantage.
What it has done is give the top teams in the World Cup groups an odd complexion. Fourteen matches unbeaten, Switzerland certainly deserve plaudits but can anyone argue that they are among the best eight qualified teams for the World Cup? Similarly, Colombia, a side in fine form, and Belgium, have little in the way of recent renown or pedigree in international tournaments.
The Italians have, ultimately, paid the price for taking their foot off the gas against Armenia on the final matchday. Unfortunately, it is symptomatic of Italian teams to treat with disdain any match they do not have to win. For that they are punished harshly.
It means, however, that we may be in for some enticing group-stage action at the World Cup proper with the likes of Italy, the Netherlands and England all hoping to avoid the big guns. There is more seeding drama in store, however, for the European playoff ties on October 21. Croatia, Portugal, Greece and Sweden will face France, Ukraine, Romania and Iceland for a place at the World Cup proper.
Japan will be the World Cup's next first-time winners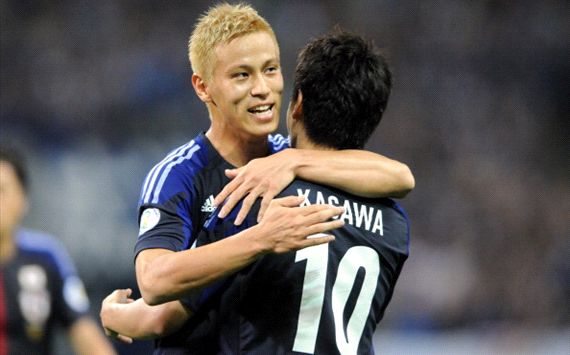 The Samurai Blue are on a development curve to rival any in Europe or South America and the results will be brought to bear in the coming years. There has been a huge increase in the number of outstanding Japanese talents plying their trade in Europe lately and this is no coincidence.
Radical overhauls to how the game was taught and how strategies implemented have seen Japan grow to the status of the strongest team on the continent. Implementation of academies at Fukushima, Kumamoto and Osaka in the last half-decade or so have helped forge a Japanese football identity and help prime talents flourish.
Kohzo Tashima, the Vice President of the JFA, has been at the vanguard of player and coaching development in Japan since the J-League launched in the 1990s. "We want to be a world-class football nation, so we have structures in place that can be tailored to nurture and strengthen individual players of different ages," he told Fifa last month.
Japan were fourth at last year's Olympics and are reigning continental champions. Alberto Zaccheroni's side easily topped their sections in AFC qualification for the World Cup with Shinji Okazaki leading the goalscorer's chart. At Mainz, Okazaki is just one of a number of Japan internationals on the books of Bundesliga clubs while the likes of Shinji Kagawa, Yuto Nagatomo and Keisuke Honda are established household names.
By seamlessly slotting one age group with another, Japan are achieving holistic growth. It is this writer's opinion that the next first-time winners of the World Cup will be Japan.