Brendon Netto


COMMENT | England

Follow on
It's been a strange season for Manchester United so far. The larger-than-life persona of Sir Alex Ferguson has been sorely missed, they suffered an embarrassing transfer window and their squad is lacking a number 7, literally and in the greater sense as well. Wingers have always been integral to United's style of play but the quality of those being used at the moment fall well short of what the club deserves.
The 4-1 humbling at the hands of Manchester City substantiates United's need to rid themselves of their recent conservatism under David Moyes and turn to flair and creativity. 'Conservative' has never really been their style and it clearly isn't working. They're renowned for their attacking verve, gallant recoveries and fearless performances.
City trounced their neighbours
The likes of Ashley Young and Antonio Valencia are simply far too one-dimensional for United's taste. One of the main features of City's play on Sunday was their intricate quick passing in the final third while the visitors laboured on with their slow, unimaginative exchanges for the majority of the game which rendered them predictable and drab.
City began with a tempo that United just couldn't handle and deservedly played them off the park. However, it could be argued that Moyes never gave his side a chance to keep up because the personnel he deployed were simply not fit to compete with the hosts in that department. By leaving out their more creative players and the ones most comfortable with the ball at their feet, United never really had a chance.
The only thing worse than trying and failing is not trying at all and at the moment Moyes isn't making an attempt to fully exercise his squad's attacking potential. His cautious approach is no longer feasible. The thinking behind playing Young and Valencia during these opening few weeks was perhaps to ensure that the team remained solid and difficult to beat over the course of their challenging run of fixtures.
Their wingers were ineffective in attack and liable in defense
Understandably, Moyes may not have had faith in the defensive efforts of Shinji Kagawa, Nani or even youngsters like Wilfried Zaha and Adnan Januzaj but the lack of penetration offered by those who played ahead of them was equally detrimental to the side if not more.
Furthermore, United's wide men were mercilessly exposed at the Etihad Stadium. Valencia in particular was guilty on a number of occasions of not tracking the runs of Aleksandar Kolarov. On the opposite flank, Patrice Evra received little to no support from Young when facing Jesus Navas. Their defensive attributes were supposedly what earned them starting berths but they failed miserably in that aspect while hardly fulfilling their primary duties in attack.
One of the main concerns for United through most of the game was the amount of possession City retained. It's hardly surprising though when you consider the players they had on the pitch. Much has been made of Jose Mourinho's speculative refusal to play Juan Mata but a similar situation brews in Manchester with regard to Moyes' reluctance to utilize Kagawa.
United were desperately short of players who could mimic the kind of passing City boasted even to a small degree but in Kagawa, they criminally wasted the one player who could have had the biggest impact from the bench on that aspect of the game. With Robin van Persie out injured, the natural option should have been to use the former Borussia Dortmund star in the hole behind Wayne Rooney.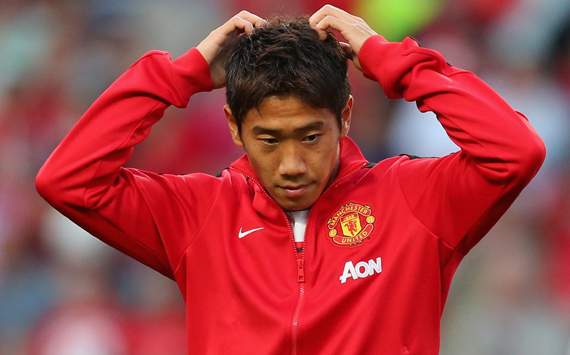 Kagawa's spell on the sidelines must end
Even though the Japanese international only had an average night against Bayer Leverkusen, there was every chance of him faring better in his more familiar central role. He may not be Player of the Season at his club for two years running like Mata is but he has the quality this United side were crying out for and he's aching for the manager to have faith in him.
Moyes chose to deploy Danny Welbeck in front of Rooney instead, a young striker with a poor scoring record who's just back from an injury and seems perpetually off balance. Predictably, he put in a good shift but could not hold up the ball with any sort of authority.
When Van Persie leads the line, the Dutchman's sublime first touch, his excellent maneuvering of the ball in tight spaces and ability to play in others gets attacks going. Playing the ball up to Welbeck however in a game of this magnitude only seemed to result in losing possession more often than not.
As a result, Rooney was stranded with very little to work with in the final third due to Kagawa and Van Persie's absence. Young and Valencia down the flanks produced statuesque performances in attack as they were utterly incapable of the ingenuity required to beat their respective full-backs. Every time the ball was threaded into their paths, it either came straight back or an aimless cross was launched into the box while several others failed to even clear the first man.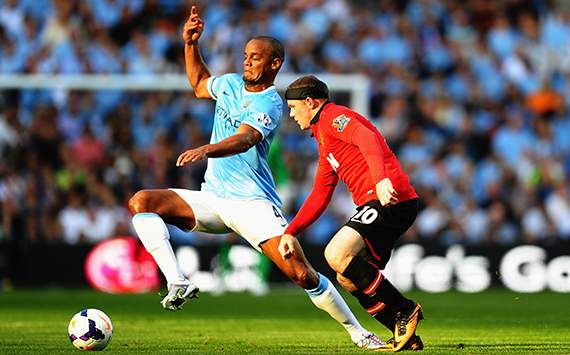 Rooney lacked support in the final third
That's where you'd think the flair and youthful exuberance of Zaha or Januzaj may have come in handy, especially when United were chasing the game but sadly neither were even afforded a place on the bench. Playing it safe is clearly getting them nowhere against the bigger sides and it's time Moyes adopts a braver approach. Hopefully, his frequent chats with Sir Alex will persuade him to do just that.
There are whispers that the club may be in crisis which has been supplemented with concerns over their ability to nail down a Champions League spot, let alone defend their title. However, such anxieties may be a tad premature after just 5 league games, 3 of which were against major rivals. 'Crisis' may not be the most appropriate word; 'transition' on the other hand seems rather apt in this context.
Every club is allowed a transitional phase and after living in a cushy Ferguson-constructed bubble for over two decades, United are finally having to endure theirs. In September 1989, Ferguson suffered a 5-1 defeat away to City but that wasn't the end, as it turned out it was only the beginning as the Scot went on to win his first piece of silverware with the club, the FA Cup.
This is not to say that things will naturally and effortlessly improve or that the criticism and apprehension surrounding United is unfounded. Moyes certainly has to make some changes but he deserves the opportunity to do so. Perhaps he has legitimate reasons for keeping the likes of Kagawa, Januzaj and Zaha off the pitch and it could all come together eventually but United fans must give him the benefit of the doubt and wait until things unfold before reaching for their pitchforks.
When United endured the 1-6 mauling against City at Old Trafford two seasons ago, they regrouped and picked up 8 wins and a draw in their next 9 league outings, 7 of which included clean sheets. That's just the kind of run they need to embark on in order to make their way up the table and brand this latest result a distant memory as soon as possible.
Things change ridiculously quickly in football. A crisis this month can be laughed off as a rough patch the next. Only a few weeks ago Rooney was supposedly 'angry' and 'disillusioned' after being 'forced' to stay at United. Now he's their most in-form player, looks like he's back to his best and enjoying his football.
Can Moyes make changes and lead United's revival?
Fortunately, the path to revival is conveniently laid out for the Red Devils. Their next seven league fixtures are relatively comfortable apart from Arsenal's visit on November 10th. Furthermore, they only have Tottenham to face during the festive period among the 'big sides' and their run-in looks promising as well.
The point being, if they can string a few results together now, they could find themselves in a good position towards the business end of the season. Meanwhile, Moyes will have to wait no further than Wednesday night for his shot at redemption as United welcome Liverpool for their Capital One Cup encounter.
Their performance on the weekend was shambolic and they were unsympathetically punished by a fantastic City side but many have written off United in the past only to eat humble pie because of their unfathomable ability to respond strongly. There are few teams that pull of a comeback quite like the Premier League champions. So the only question is whether Moyes can be gutsy enough to lead this particular revival.
Can United come back from their poor start? Send in your thoughts in the comments below or discuss with the writer on Twitter @BrendonNetto.
How do you stay up with football when on the move? With http://m.goal.com –your best source for mobile coverage of the beautiful game.