COMMENT
By Kris Voakes
When Juventus announced in January that they would add Fernando Llorente to their ranks in the summer, the move was expected to be a win-win scenario for both parties. Having been frozen out by Marcelo Bielsa at Athletic Bilbao, the player was in need of a fresh start - and quickly - while the champions of Italy were adding some strength to an under-performing forward line.
Things have not exactly gone swimmingly since the striker arrived in Turin, though. Such have been coach Antonio Conte's concerns so far, Llorente has played 20 times less football for Juve than he had for Athletic at this stage last year.
The first serious doubts set in during pre-season, with Llorente looking short not just physically but also tactically. Devoid of any notable movement and lacking in understanding of how to marry his skills as a front man with Juve's tried and tested formula, the Spain international appeared a long way from ready to step into the first team.
JUVE WANT LLORENTE FIT IN A MONTH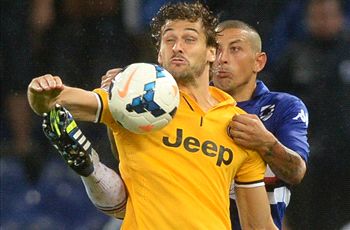 Coming from a complex situation at Athletic Bilbao was always going to be tough for Llorente. So far, he has been working for two months with Juventus, but Conte asks for a certain type of play and implementing this into his natural style will not be easy.

But there is trust between the two parties. Juve wanted Llorente last summer and were even willing to pay €18m. They knew what they were doing. There is no real interest from other clubs and the intention is to get Llorente up to 100 per cent by mid-October.

- Romeo Agresti | Juventus Correspondent

Since then, the striker has been on the outside looking in. Of a possible 450 minutes of play in competitive fixtures this season, the 28-year-old has so far played one, as a late substitute for Sebastian Giovinco in the Serie A season opener at Sampdoria. This was not the original plan.
The party line is that Llorente's transition into the Bianconeri squad has just been delayed somewhat by his lack of first-team opportunities over the past 12 months and his subsequent need to adapt back into full-time football, but there has to be a fear now that Conte will be left with another unwanted striker on his hands.
Nicklas Bendtner's loan always looked like a ridiculous move, with director general Giuseppe Marotta admitting from the very start that the Dane was not the big name they wanted, while Nicolas Anelka was similarly underused after being brought in to cover Bendtner's absence through injury. But the reality is that neither player would ever have donned a Juve shirt had the Old Lady signed the front man they really wanted in the summer of 2012. And that man was Llorente.
Having been linked for long spells to Borussia Dortmund's Robert Lewandowski, it became obvious that Llorente was both their more realistic option and their preferred target. They were ready to offer €18 million for their man, but couldn't push a deal through. As things have turned out they've saved themselves an eight-figure transfer fee by waiting until his Athletic contract had expired but ended up signing Llorente at his lowest ebb.
Had they signed him last summer, they would have been presented with a hot prospect full of confidence and goals alike. His inability to mesh with incumbent team-mates would likely have been dealt with in a much more orderly manner. Instead, they now face up to having a player struggling to rediscover himself as a footballer, let alone a goalscorer. With the plan now being to relaunch the No.14 in mid-October, the very best scenario is that they will be nursing a striker approaching 29 back into action 15 months after they could have had an in-form 27-year-old hitting the ground running.
For the player himself, this couldn't be a bigger season. The first transfer of his senior career has come ahead of probably his last World Cup representing a country whose one perceived weak spot in recent years has been their shallow resources front and centre. In a campaign when Llorente should be making it impossible for Vicente del Bosque to overlook him, right now it is inconceivable that the national coach will bother watching any Juventus fixtures any time soon.
Llorente certainly hasn't been helped by the way that Carlos Tevez and Mirko Vucinic have linked up since being thrown together in the summer. Their form as a partnership over the first few weeks of the season was spectacular, on the one hand giving Juve time to be patient with Llorente but on the other limiting his importance to the Bianconeri over the short and medium term.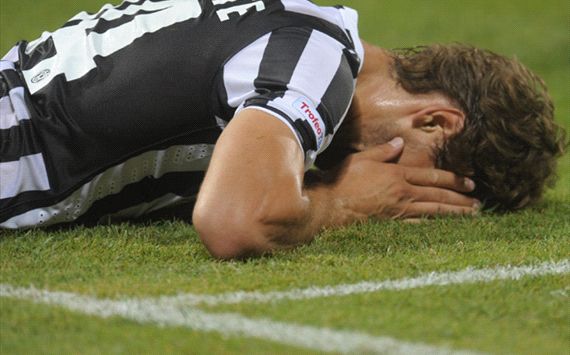 The pain with Spain | Llorente's lack of minutes for Juve could see him miss the World Cup
If Juve's new plan to gradually bring him into the set up over the next month doesn't pay off, then the Llorente situation will become critical as winter sets in. They may not have received a bid for him yet, but they may need one come January in order to get him some football. It is all well and good trying to give a player first-team football bit by bit but Llorente needs more than that.
After his year without regular games with Athletic, he needs a lot of time and understanding. October, maybe even November, may not be time enough, especially considering he will be expected to change his style of play quite markedly. A player well known for his lack of mobility outside of the 18-yard box will need to blend in to a Juve side who placed third in the standings for average metres covered in the Champions League last season behind Dortmund and Ajax. During pre-season there was no cohesion between player and club, precipitating the current hiatus and throwing doubts in the mind as to whether two are right for each other.
Judgement day has been postponed, but clearly all is not well in the early days of Llorente and Juventus' marriage. And while both insist that a divorce is not on the cards, further teething problems will surely mean that a trial separation in January will be the only way to add some spice to their relationship.