Brendon Netto


COMMENT | England

Follow on
Even before Manchester United signed Marouane Fellaini, their interest alone in the Belgian had divided opinion. Some believed that he's exactly what United need having coped with a central midfield that was getting easier to bypass with every season. However, others feared the former Evertonian's boisterous approach would impede United's attacking style of play. Fellaini's first couple of appearances for the club went rather well but to put the debate to bed, he must pass the ultimate test this Sunday; going toe-to-toe with Yaya Toure in the Manchester derby.
United may still be on the lookout for Paul Scholes' heir but one of their biggest problems last season was handling powerful midfield enforcers, a task that proved quite overwhelming for Michael Carrick and whoever partnered him that week. Toure has regularly worried United while they also struggled against Moussa Dembele early on last season while he was still at Fulham. Then of course, Fellaini proved to be a thorn in their side as well at Goodison Park.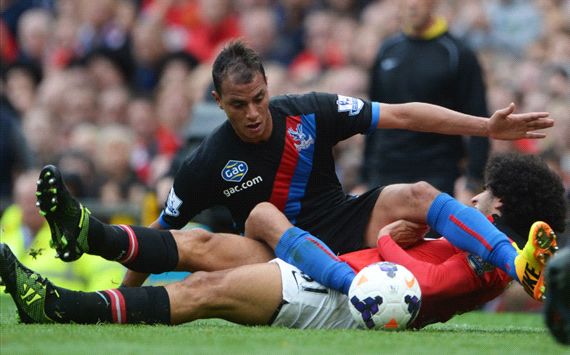 Fellaini offers United the physical presence they've lacked in midfield
Phil Jones was the closest thing to a robust midfielder they had and although he did a good job on Fellaini in the return fixture at Old Trafford in the last campaign, he never really looked totally comfortable in that role. Now that the Belgian has joined the ranks at United, Toure will finally be made to pick on someone his own size when the two Manchester clubs meet.
Speaking of 'size', even the colossal figure of the Manchester City midfielder doesn't match up to that of Fellaini's. The Ivorian is 6ft 3in and weighs in at around 79kgs while United's latest coup is 6ft 4.5in and weighs 85kgs. As far as physical stature goes, Fellaini has a slight advantage and that's why he's vital to United's cause.
Fellaini





Toure




Height: 6ft 4.5in
Height: 6ft 3in

Weight: 85Kgs
Weight: 79Kgs


Stats for 2012-13

Games: 31
Games: 32
Goals: 11
Goals: 6
Assists: 6
Assists: 6
Chances Created: 55
Chances Created: 45
Pass Accuracy: 91%
Pass Accuracy: 89%
Defensive Errors: 0
Defensive Errors: 2
Their 4-2 win over Bayer Leverkusen in their opening Champions League fixture speaks volumes of the effect the Belgian international's presence has had already. The Germans are no pushovers and have been the best team in the Bundesliga behind Borussia Dortmund and Bayern Munich of late. They finished in 3rd place last season, just a point behind Dortmund, and Stefan Kiessling was the league's top scorer.
They are also in 3rd place this season after 5 games but despite that, United were relatively comfortable against them. Of the two goals they conceded, the first was an unstoppable strikefrom range while the second can be chalked up to a defensive error. Apart from that, they didn't afford Leverkusen too many opportunities. Last season however, their midfield was overrun by far lesser teams.
The absence of a formidable midfield pairing left United vulnerable in the last couple of seasons. That's precisely why David de Gea has maintained some of the best statistics among the Premier League goalkeepers despite his uncertain start. The Spaniard's heroics literally saved several points for United. In the last league campaign alone he boasted a 76.36% save ratio, second only to veteran shot-stopper, Petr Cech (77.22%).
The assurance Carrick and Fellaini offered in midfield was palpable against Leverkusen and that's exactly what will hold them in good stead against their neighbours. In relation to the Fellaini-Toure battle, it has to be said that while United finally have someone to tie down the former Barcelona player, Toure still comes out ahead as a complete midfielder.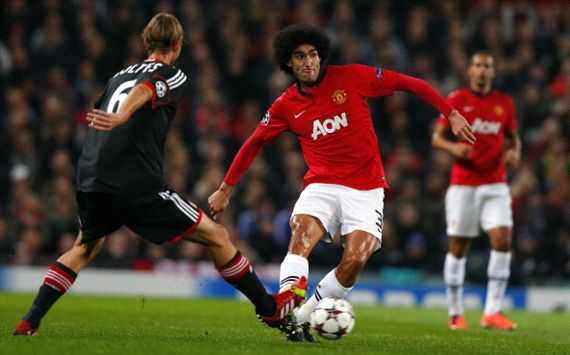 He played a big part in the win against Leverkusen
United fans shouldn't be under any illusions. On the ball, Toure is head and shoulders above Fellaini. The Belgian is no slouch with the ball at his feet though. He is a better passer than he's given credit for and is capable of going past a man on occasion.
However, Toure has proved to be rather more accomplished with his passing, he's also a lot quicker which allows him to drive forward with purpose and he possesses a real threat from range. This season he's even added free-kicks to his repertoire.
Fortunately, United don't need Fellaini to outplay Toure. His primary job will be to stand up to him and keep him on a short leash and he's more than equipped to do that. United's number 31 will certainly enjoy a few forays forward over the course of the season but consolidating their core will be his main objective.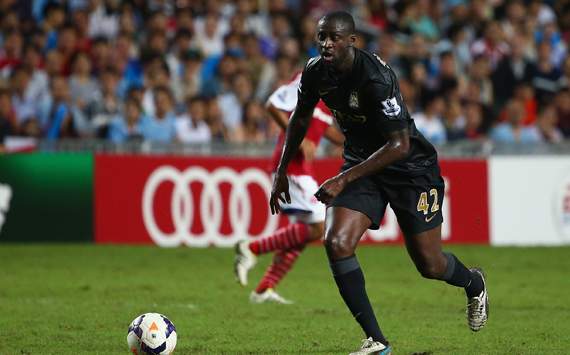 Yaya Toure is still the more complete midfielder
He also adds to United's threat from set-pieces and is equally useful when defending them. In fact, United may well have more players over 6 feet tall in their line-up come Sunday.
Fellaini's presence has allowed Wayne Rooney to focus on linking-up with Robin van Persie up front rather than dropping deep to help out the midfield. Fellaini playing on Carrick's left against Leverkusen was key as he covered for Shinji Kagawa on numerous occasions while the Japanese international was given the license to drift inside from the left flank and collaborate with the two strikers.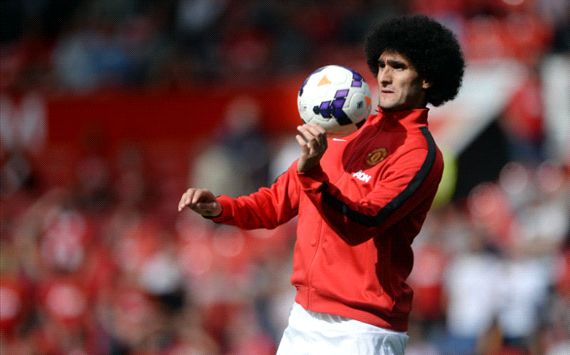 Fellaini levels the playing field
The Manchester derby is normally closely contested (only 3 of the last 18 derbies were decided by more than one goal) but United were made to go into it the last few times with a noticeable air of insecurity stemming from the prospect of being confronted by Toure and co in midfield. With Fellaini now in the red of Manchester, the clash is set up on more of an even playing field.
The fact that City are incorporating more width into their play means a head-on battle between Fellaini and Toure is seemingly on the cards. Winning that battle may not be all-conquering but would certainly go a long way to deciding the outcome of the match.
Will Fellaini be able to compete with Toure? Send in your thoughts in the comments below or discuss with the writer on Twitter @BrendonNetto.
How do you stay up with football when on the move? With http://m.goal.com –your best source for mobile coverage of the beautiful game.