ANALYSIS
By Ben Hayward | Spanish Football Writer
Gareth Bale
's protracted transfer from
Tottenham
to
Real Madrid
has finally been confirmed. The Welsh winger moves from north London to the Spanish capital for a world-record fee of €100m, with the news confirmed by both clubs on Sunday, as the lid was lifted on this summer's worst-kept secret. "Bale was born to play for Real Madrid," Real president Florentino Perez claimed earlier this summer. So the question now is not if, but where.
Bale is known to look up to Madrid's main man, Cristiano Ronaldo, and has openly shown his admiration for the Portuguese on
Twitter
. "Another hat-trick for Ronaldo! I think he's the best all-round player in the world right now. Ballon d'Or 2013!" Bale tweeted after Cristiano hit a treble against Celta Vigo in the Copa del Rey back in January, just days after missing out on the prestigious individual prize.
Bale's position, his powerful forward runs and his superb shooting from distance have seen the Spurs star constantly compared to the Portuguese. "He is our Cristiano Ronaldo," Spurs boss Andre Villas-Boas told the media last season.
Former Madrid president Ramon Calderon claims the signing of Bale is to pre-empt the possible departure of Ronaldo. "I think the president has all his eggs on the table just in case he can't get the renewal of Cristiano. That is my impression," the former Madrid chief said recently.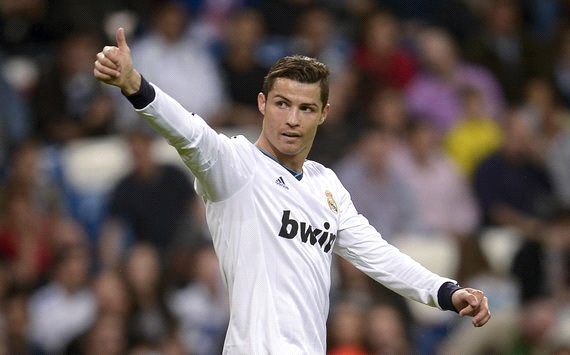 Thumbs Up | Madrid want Ronaldo and Bale to operate in tandem this season
However, Ronaldo looks likely to reach an agreement with Madrid on a new deal and, even so, coach Carlo Ancelotti believes both men can be accommodated in the starting XI. Despite experimenting with Ronaldo as the striker this pre-season and playing the Portuguese further forward in the win over Betis last weekend, the Italian revealed recently that the 28-year-old will operate largely in his preferred position. "Cristiano has to be comfortable, he is a very important player. I don't need to change his position and he doesn't have to work much in defence - he needs to be ready when the team have the ball."
Ancelotti is unlikely to stick with just one formation this term, but be it 4-4-2, 4-3-3, 4-2-3-1 or 4-3-2-1, Ronaldo looks set to roam from his starting spot on the left, just as he did so successfully under compatriot Jose Mourinho, particularly after he struggled in the role of support striker against Betis.
Bale began his career as a left-back but made his breakthrough at Tottenham operating further forward - as a left winger. However, full-back in La Liga can be an attacking role, as both Marcelo and Dani Alves have shown in recent seasons. After his explosive display against Inter in the Champions League at San Siro in October, 2010, Spurs legend Glenn Hoddle commented: "At Barcelona or Real Madrid, he could play as a full-back because they are more like wing-backs over there [in Spain]."
But Bale's best performances for club and country have come higher up the pitch. "Real Madrid's fans will be purring at the thought of having possibly him and Ronaldo in the same team. They can go back and challenge the world again," Hoddle added earlier this month. And he definitely was not referring to a full-back role for the 24-year-old now.
Real Madrid's fans will be purring. [With] Bale and Ronaldo, they can go back and challenge the world again."



- Tottenham legend Glenn Hoddle

If needed, Bale could play in defence, but Madrid would not have paid all that money for a full-back. At the Bernabeu, Gareth's role will be a much more important one. "I don't know what position he will play, but for that type of money, he'll be in the team somewhere," former Madrid and Spurs centre-back Jonathan Woodgate said this week. And he added: "It's a frightening forward line: [Karim] Benzema, Bale, Cristiano Ronaldo."
Indeed it is and Woodgate could also have mentioned summer signing Isco, plus Mesut Ozil and Kaka. Those three players are all best suited to operating through the middle in the 'playmaker' position, which means Bale is unlikely to operate behind the main striker - probably Benzema - even though he excelled in a central role at White Hart Lane last term.
"Bale is seen as an undisputed starter in this team and he will co-exist with Cristiano in what will be one of the world's most impressive forward lines," a Madrid insider told
Goal
. "Where he will play depends on Ancelotti but he and Cristiano can tear teams apart with their pace and their power, while he will also offer a considerable goal threat. Florentino's vision is a team with Cristiano on one side and Bale on the other."
Perez has often been criticised for his lack of knowledge when it comes to football, yet he may just have hit the nail on the head this time around. Because Bale is seen by Madrid's coaching staff as a player who can cut in from the right flank onto his luxurious left foot - much as Ronaldo does on the other side of the pitch.
Many of the Welshman's wonder strikes from last season (including the last-minute winner against Sunderland on the final day of the Premier League campaign) saw him cut infield from the right before unleashing unstoppable drives from distance. Madrid have been taking note and this is precisely how most at the club see him fitting in next season as Angel Di Maria and Ozil both seem set to start on the bench.
However, Bale's flexibility is also seen as a huge advantage by the Spanish side. Our insider added: "He can operate in a number of different positions - and he can switch places with Cristiano. It will be spectacular and our opponents will be left dizzy by those two."
Follow Ben Hayward on