Aditya Bajaj

Comment | Serie A

Follow on
The drought perhaps started with Andriy Shevchenko's departure to Chelsea back in May, 2006 and made worse by the Calciopoli scandal the same summer that broke Juventus and to some extent Milan – amongst the traditional powerhouses of Italian football. Inter became all too powerful with no real competition, which even though culminated in the treble winning season four years later, sucked the life out of the league which saw the departure of one star after the other every summer from Kaka to Zlatan Ibrahimovic (twice) and Samuel Eto'o to Thiago Silva.
There would be no stars replacing them either. The money would aid the improvement of the financial condition of the selling clubs suffering badly over the past few years. Milan are a prime example - Shevchenko was replaced by Ricardo Oliviera, Ibrahimovic with Giampaolo Pazzini while Kaka and Thiago Silva (to an extent by Christian Zapata) were never really replaced. Inter are still struggling to replace Eto'o who left for the riches of Russia while Juventus have slowly and steadily looked towards home to build a competitive side that has won back-to-back league titles apart from the comfort of having a fully owned stadium – a first of its kind in Italy.
Something similar has happened this summer, not unusual to most Serie A fans. Only this time it's been a two way street.
If the league has lost two of its most coveted stars after Zlatan Ibrahimovic and Thiago Silva in Edinson Cavani and Stevan Jovetic, the latter two have been replaced by the likes Gonzalo Higuain, Mario Gomez, Carlos Tevez and Fernando Llorente.
Unlike the arrivals of Ronaldo in 2007 and Ronaldinho a year later from Spain (both were past their sell by dates), the latest stars to have graced the shores of the peninsula are at their peak and raring to go.
Serie A's major signings this summer
Player
From
To
Age

Appeareances
Goals
Fee (millions)
Gonzalo Higuain
Real Madrid
Napoli
25
305
137
€37
Carlos Tevez
Manchester City
Juventus
29
453
198
€9
Mario Gomez
Bayern Munich
Fiorentina
28
373
221
€16
Kevin Strootman
PSV Eindhoven
AS Roma
23
187
21
€17
Fernando Llorente
Athletic Bilbao
Juventus
28
333
118
Free
Dries Mertens
PSV Eindhoven
Napoli
26
172
66
€9
Of course, it's nothing as compared to what it was before 2006 when Serie A was home to some of the biggest stars in Europe, but following a lengthy dry spell the transfer market, this summer has to some extent breathed some life into a league desperately in need of re-enforcements, having fallen behind the Bundesliga last season and in danger of falling even further owing to the crippling financial conditions in the country.
But the way the deals have happened this season is pretty impressive to say the least, given the inflated market prices of players these days. If the sale of Cavani and Jovetic fetched Serie A something close to €90 million, the quartet of Higuain, Gomez, Llorente and Tevez was bought for a sum as less as €65 million. As Gazzetta Dello Sport so beautifully describes it in one of its articles, that's replacing 216 goals with 640 and a profit of something close to €30 million. This is in addition to the winter signings of Mario Balotelli and Giuseppe Rossi by Milan and Fiorentina respectively who are set to start their first full season in the league since their arrival in January.
Now, what's significant about these deals is the fact that the influx of quality forwards this year has created an almost level field amongst the teams - atleast when it comes to attack – which sets the stage to an exciting season. Of course Juventus are still ahead given their overall quality and consolidated performances over the past two seasons but the likes of Milan, Fiorentina and Napoli have nothing to feel shy of as far as the attacking prowess is concerned. One thing that binds them is the fact that they all have that exclusive 20-goal a season striker in their ranks not many even in Europe can boast of.
Juventus have Tevez and Llorente, Milan will be led by Balotelli and Stephan El Shaarawy, Napoli have a genuine goal scorer in Higuain while Fiorentina will see one of the best poachers in Mario Gomez supported by Giuseppe Rossi who, if fit, is easily amongst the best forwards in business despite a lengthy spell on the treatment table. It's imperative to remember, that the former Manchester United, Villarreal and Parma striker was Cesare Prandelli's first choice striker for the European Championships in Poland and Ukraine until a cruel knee injury kept him out of the game for over a year.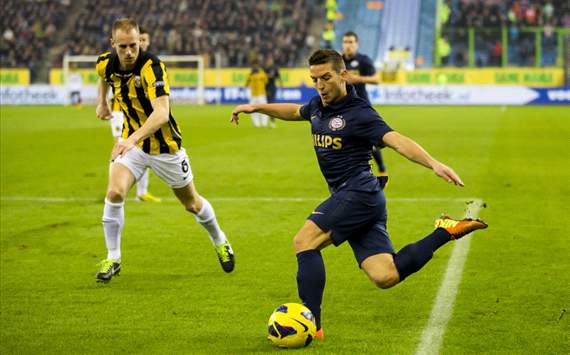 Set to blaze Italy | Belgian international Dries Mertens is set to bolster Napoli's attack
Another important aspect that glues the new arrivals is the tough times each one of them has had to endure at their former clubs last season. Tevez had been looking for a way out of England ever since his self-employed strike post the Champions League game at Munich back in 2011 and having finally got his wish should be eager to prove his doubters wrong. Similar is the case of a former teammate Balotelli who has been able to concentrate more on his game in Milan than his off-field antics that hit his on-field performances real hard during his time at Manchester. Exactly the case with Llorente, Higuain and Gomez who were either forced to sit out due to contract situations and injuries or were victims of not being the first choice of the ones who call the shots in the management.
After a season in hibernation, Llorente has more than one reason to perform at his best as this is also a season preceding the World Cup next year in Brazil and a spot to lead the Spanish attack still up for grabs. Gomez was rather unfortunate, despite coming back of a season where he scored 45 goals, as his lengthy injury last season paved way for Mario Mandzukic to sideline the Germany international from first team action in a treble winning season. He has a case to prove to Joachim Low that he is still very much the man to lead Germany to World Cup glory next year and having won the utmost prize in club football last season, will be eager to once again play protagonist in a city where he would be revered by the fans.
Higuain on the other hand has been a victim of management change at Madrid since 2009. Having been brought in during the Raman Calderon era, the election of Florentino Perez meant he was never the first choice of the man so obsessed with reviving his Galactico project bringing in the likes of Kaka, Cristiano Ronaldo and Karim Benzema. Just like the others, he has a lot to prove and at 25 already has a lot of experience in his kitty to lead a Napoli attack who welcomed him to Naples reminiscing the arrival of former legend Diego Maradona back in 1984.
Feeling wanted once again is an overwhelming feeling but the right medicine to instill confidence and motivation in players desperate to prove they still have what it takes to deliver at the biggest stage and that's exactly what the clubs would be hoping happens.
Were these players surplus to the needs of their former clubs? Yes. Are they finished? Far from it. That's all that matters.
Moving further behind in the field, the decision of Kevin Strootman to snub offers from greener pastures of Europe to join Roma is commendable to say the least. Despite the lack of Champions league football, the Dutchman will get more first team chances at the capital city, something so important for a player his age.
Another aspect worth noting this summer has been the willingness of players like Higuain and Strootman to snub other leagues and join Serie A which endorses the competitiveness of the league and its appeal in the best possible way.
"

Even if some other clubs had tried to intercept talks, he had already chosen Roma. He was struck by the passion of the fans who greeted him in the city when he arrived for a medical.

"



-

Kevin Strootman's agent



The Argentine was not hesitant to join Napoli despite interest from Arsenal, which could be bad news to Arsene Wenger because in a way the former Real Madrid must have felt that Napoli are better equipped to challenge for major honours than the Gunners who over the years have failed to shed the ever growing reputation of not being ambitious enough to challenge in the Premier League. Yes, Napoli met Real Madrid's asking price for the Argentine, but it's always up to the player to give any deal the green signal.
Critics will point out that €37 million is too much for Higuain and to some extent they may be right, but there are other aspects that surround the transfer. There couldn't have been anyone better in the market to replace the outgoing Cavani, as contrary to belief the Argentine international still managed to score 122 goals in 264 games during his seven seasons at Madrid despite at times playing second fiddle to Raul and more recently, Karim Benzema. The club benefits from the revenue generated by ticket sales and merchandising that comes with the signing of a big player, while the fans flock week after week to catch a glimpse of him. You don't need to look any further than last Monday, when 60,000 fans flocked the San Paolo to grace the unveiling of the star signing alongside the likes of Raul Albiol, Jose Callejon, Dries Mertens and Pepe Reina among others.
Yes, Serie A cannot compete with the Premier league, Real Madrid, Barcelona and Ligue 1 financially in the transfer market but the Italians are identifying their needs and going about acquiring the right resources at the right prices and it shows with some big and quality signings this summer. Serie A overall is clearly emerging out as the winner in the transfer market this season. The gulf between the transfer fee Manchester City paid for Fernandinho (€35 million) and what Roma paid for Kevin Strootman (€17 million) points exactly at that. Both are quality players but the former is 28, and is not even a regular at the international stage while the latter at only 23, is amongst the most sought after central midfielders in the world and a full-fledged international for the Dutch national team.
There isn't a Neymar or a Gareth Bale that's been signed, but traditionally Serie A has never really made such mutli-million dollar deals and doesn't really need to. It has breeded players and made them worth that much with Zinedine Zidane, Kaka, Andriy Shevchenko and Zlatan Ibrahimovic a few amongst the gems who have made their mark as amongst the world's bests only to be sold and replaced by the likes of Pavel Nedved et all.
Once again, this isn't the good old golden era of Italian football but at least it's a start to something in that direction.
How do you stay up with football when on the move? With http://m.goal.com –your best source for mobile coverage of the beautiful game.