Ayush Srivastava


COMMENT | Premier League

Follow on
Having done some good business in the transfer window this pre-season, with the hopes of the addition of a couple of 'marquee' signings, the Liverpool faithful were already hoping for a good finish in the next campaign.
The forums have been full of optimistic fans of the Reds, who have commented how the club is likely to challenge for a top 4 spot, 'if Luis Suarez stays.'
But as the days past, that likelihood is looking extremely unlikely.
Firstly the Uruguayan refused to clear the air, on landing in Australia, ignoring questions regarding his future at the club.
And then manager Brendan Rodgers almost conceded defeat in his attempts of keeping Suarez at Anfield, when he commented in a recent press-conference in Melbourne that every player has a value, and the fact that he went on to add that the forward won't be sold unless someone comes up with an audacious bid, would not really have helped.
For in no way does it mean that the player is definitely not for sale, a line that Manchester United have maintained regarding Wayne Rooney, even if that outcome is unlikely. In any case, Rodgers' statements in the press should always be taken with a pinch of salt, as in recent times, even when he has stated a player is not for sale, quite often those players have been moved on, with goalkeeper Pepe Reina looking likely to be the latest on his way out.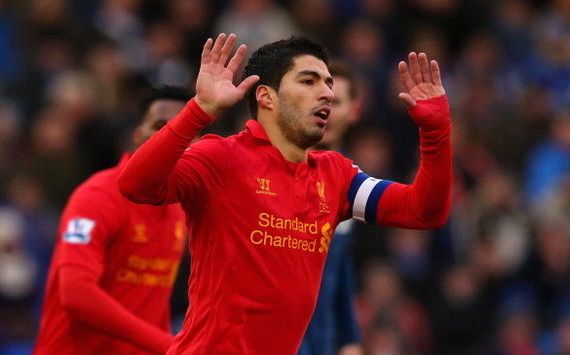 Suarez seems to have given up on his Liverpool career...
As heart-breaking as this scenario might be for the club's fans, who have supported the forward, no-matter how outrageous his antics on the field have been, to finally get rid of the shadow that Luis Suarez has cast over the team, might be a good thing for everyone connected to Liverpool.
Firstly, while Luis Suarez was a pivotal member of the squad, the Reds have in the past decade, successfully replaced two stalwarts in the form of Michael Owen and Fernando Torres.
Especially with a more austere regime in place, the money won't be wasted on another Andy Carroll, if Suarez's 'value' is met by a club, Liverpool would have the financial might to invest in creating a more well rounded team roster.
As mentioned by Rodgers, the club could still do with another centre-back, an attacking midfielder, perhaps another left-back and a cover for Lucas Leiva.
A sum close to 45-50 million Euros would help bring real quality in, and having had several weeks to plan for Suarez's exit, the Liverpool manager must certainly have a back-up plan in place.
Add to that the controversial nature of the forward, which has seen the club's name often being dragged through the mud, like it has never been in its history by a single player.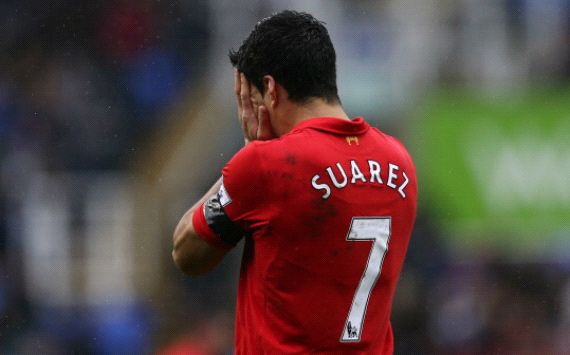 Suarez has often left the fans with their heads in their hands...
Also who is going to say that he won't agitate for a move again in January, when as a player who won't be banned from playing in any European competition, he might be a valuable addition to several clubs chasing continental glory?
He has in the past gone on a strike to force through a move during his stay in the Eredivisie, and it would be an embarrassment to the prestige of a club like Liverpool, if he adopted a similar attitude there, which could be a negative influence for the younger lot. With the club looking to grow steadily, such instability would prove to be harmful for Brendan Rodgers and his wards.
What should seal the deal is the fact that he has six more games to serve on his suspension, ruling him out for a large portion of the early fixtures of the club in the league.
Thus letting him go for a big sum and signing a young and hungry replacement would perhaps be in the best interests of the club, so that they can finally get done with the issue and relieve themselves of the negative baggage that has surrounded Luis Suarez, for the large part of his stay in England.
How do you stay up with football when on the move? With http://m.goal.com –your best source for mobile coverage of the beautiful game.