Brendon Netto


COMMENT | Germany

Follow on
With a few wags of his tongue, a suggestive nod and a look of purpose, Pep Guardiola effectively set Bayern Munich's muscle to the task of wrenching Thiago Alcantara away from Manchester United's grasp. To the dismay of several United fans, it wasn't long before an inevitable agreement between Barcelona and Bayern was agreed over the transfer of the young Spaniard.
From United's perspective, there are numerous questions that will be asked of them. Is their transfer policy holding them back? Is the budget allocated to David Moyes as grand as suggested? Or has the new manager's inexperience on the big stage already cost the club? They seem to have kept most inquisitions at bay by moving swiftly to launch an audacious bid for Cesc Fabregas but on the other hand, they're not the only ones who need to provide answers.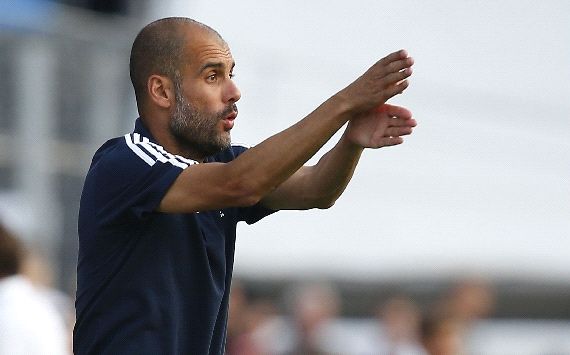 Pep moved swiftly and decisively to land his man
Thiago has been at the centre of one of the biggest transfer sagas this summer. To his credit, he has stayed tight-lipped on the matter but having decided to leave Barcelona because of his lack of opportunities in the first place, his move to Bayern has come under some scrutiny and understandably so.
It's no secret that United have a gaping hole in midfield that has only seemed to widen over the last few years and particularly so after Paul Scholes', presumably final, retirement at the end of last season. Thiago was virtually guaranteed a starting spot at the heart of their midfield but ultimately chose to join a team that's overflowing with talent in that department, and in every other one too, when his former boss came knocking.
To a certain extent, Guardiola's boisterous move for a youngster he brought through the ranks at Barcelona is a tad disrespectful to the central midfield talent he has available to him. Even if Javi Martinez drops back into defense and Mario Gotze is used in attack, Thomas Muller, Luis Gustavo, Bastian Schweinsteiger and Toni Kroos are already among the established names vying for regular inclusion.
Meanwhile, the youngsters coming through can be forgiven for feeling a bit hard done by as well. Mitchell Weiser and Pierre Hojberg are eagerly waiting on the fringes while many expected this campaign to be Emre Can's breakthrough season. Needless to say, Thiago's arrival puts the rest of them further down the pecking order.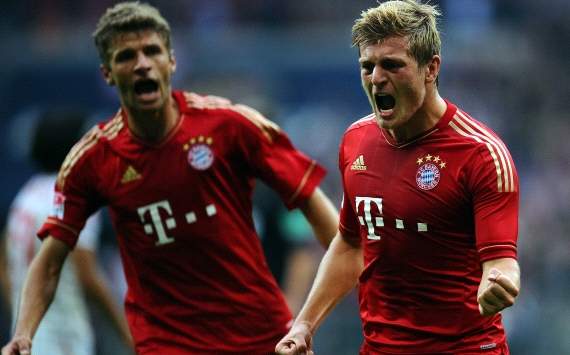 What of the current midfield stars at Bayern?
In the coming season, the spotlight will probably be shared between Gotze and Thiago at the Allianz Arena but while it may serve to flatter the former, it will be meant to scrutinize the latter's every move. The fact is that a fan's favourite is likely to miss out in favour of the former Catalan and should he fail to hit the ground running, the Bavarian support won't have a lot of patience with him.
He needs to settle in immediately especially since the recent transfer saga surrounding him would have caused expectations to soar. Anything less than an outstanding start in a Bayern shirt will draw criticism from the media and Guardiola's judgement may even be called into question if he continues to play his recruit despite his weak performances. There's also the added danger of causing a rift in the dressing room that needs to be considered.
Especially with the World Cup next summer, there will be quite a few in the Bayern camp who won't be pleased with the 23 year old keeping Schweinsteiger, Muller or Kroos out of the team. The youngster's been hyped up over the last month to such an extent that if he fails to establish himself instantly, things could turn sour very quickly.
It's slightly bewildering that Thiago would choose to insert himself into yet another midfield dogfight after being neglected in the shadow of two of the best midfielders in the world in Xavi Hernandez and Andres Iniesta while he had Fabregas to contend with as well.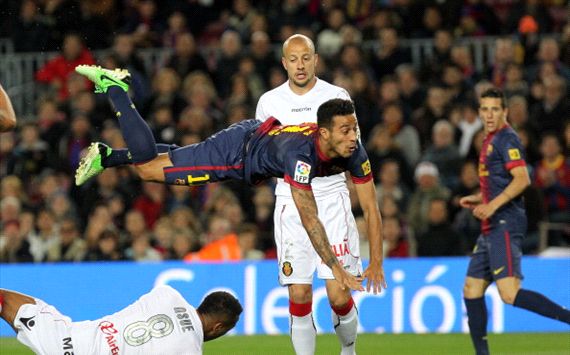 Thiago dives head first into another packed midfield
The blatant reality is that he would have strolled into United's first team but instead he chose to gamble and dive head first into another midfield packed with quality. His confidence and belief is commendable but surely he risks finding himself in the same position he was stuck in at Barcelona if things don't go his way.
On the other hand, the allure of Bayern Munich at this moment in time is perhaps irresistible to most players. The club just won the treble in a seemingly perfect season and now signed one of the best managers in world football. Thiago certainly can't be blamed for choosing to join the dominating force in Europe and reunite with his mentor in the bargain.
Ultimately, there's no doubt that the Spaniard has what it takes to succeed with the German champions so it's only natural that he would back his ability to step up to the plate and deliver. He will certainly have the support of Guardiola as well and so with the world at his feet, Thiago needs to make sure he brings his A-game because anything less could see him drop down the pecking order to where he began.
Did Thiago make the right decision by joining Bayern? Send in your thoughts in the comments below or discuss with the writer on Twitter @BrendonNetto.
How do you stay up with football when on the move? With http://m.goal.com –your best source for mobile coverage of the beautiful game.