---

BY RAHUL BALI

Follow @rahulatma on twitter
---
What does it take to be a coach? Can someone who hasn't played the game professionally don the manager's hat? Is there a course to start with? How many levels?
Day-by-day as the game of football gets ever more popular, several white collared professionals and youngsters alike are keen to explore the field of coaching. While not many view it as a vertical where they could build their careers on, the interest levels to know more on this field is certainly on the rise.
Be it the 'Indian' version of Arsene Wenger, Sir Alex Ferguson, Jose Mourinho or a Pep Guardiola, you aspire to be, one needs to know certain basics which is what Goal aims to do in their series on acquiring coaching licenses.
In our quest to qualm all queries, we speak to Scott O'Donell, who serves as the director of coach education programme at the All India Football Federation (AIFF).
Who can apply for an AIFF D License? Can a person who has not been professionally or actively involved in football, apply for the same? What are the basic requirements for an applicant?
Anyone who is actively involved in football at any level (clubs, academies, football schools, grassroots, etc.) can apply for the AIFF D-License course. A newcomer/amateur can also apply for the same but he/she must possess some knowledge of the game in terms of its laws and must prove his/her physical fitness to become a coach.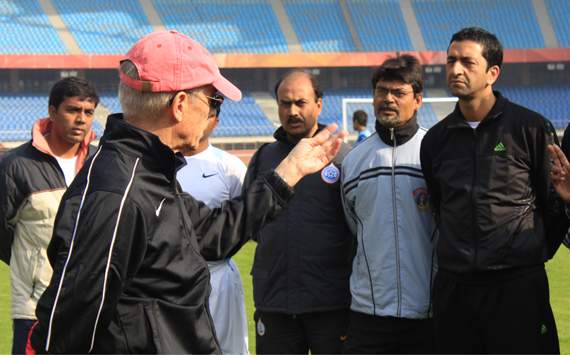 AIFF technical director Rob Baan manning the show
How many courses annually are held by the AIFF for the D License and how long do they last? Any specific venues or who organises it?
AIFF D-Licenses are held on requests of State Associations who intend to host and organize the same. On receipt of an official request from a State Association, the AIFF looks for the availability of an approved instructor after which the instructor is assigned to conduct the course/s at that particular State Association. On an average 10 courses are held every year which might increase/decrease based on requests from State FAs and availability of instructors.

A D-License Course lasts for 5 days. As of now, The AIFF doesn't charge any fee for the D-License as because it is intended to encourage people take up coaching as a profession.
Who are the instructors for the course?
Any coach with a minimum of AFC B-License certificate and who has undergone the AIFF D-License instructor's course conducted by The AIFF and passed the same can be appointed as an AIFF D-License instructor.
What are the details that are focused upon, during the course?
We cover subjects such as the qualities of a coach, the principles of coaching, basic elements of football, attacking and defending, small-sided games, warming-up, fun games, how to organise a training session, nutrition, communication, laws of the game, characteristics of kids behaviour at different ages.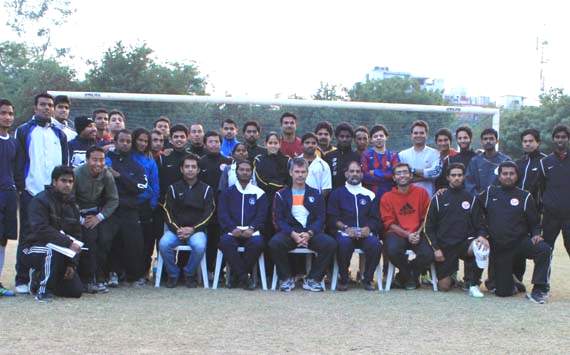 Scott O'Donell with participants of the D-license course
On what basis are the applicants judged? What are the practicals and theory involved? Can they re-apply, if they fail?
It is generally left to the State FA's to select the candidates. The practical and theory exams are based on the content mentioned above. If they fail, they are free to apply for another course.
Is the license given by the AIFF itself or is issued by AFC? Are these licensed recognized by associations like UEFA?
The License is given by AIFF. These are not recognized by UEFA, as of now.
What are the expectations from a successful candidate, and what do they need to do before applying for the next level of licenses?
They need to get involved in coaching at grassroots or junior level and remain committed to stay involved in the game. Once they have obtained their D License and have proven their involvement as a coach at junior levels, they can apply for an AFC C Certificate Course.
Are AIFF D License candidates suitable for employment at youth levels in the I-League or other professional clubs?
AIFF D-Licensed candidates are perfectly suitable for Grassroots and School Football as they form the fundamentals of the game. For employment at youth levels in I-League or other professional clubs, you need to have minimum AFC C Certificate, but we prefer them to have AFC B Certificate.